Published on:
Signs from the Universe
Vacation…a time to relax, rejuvenate, and refresh our bodies and minds. Aruba is home to a thriving wellness community, including spas, yoga retreats, and even a vegan culinary scene. Did you know that Aruba also offers a range of alternative healing experiences that may inspire positive change in your life? Whether you're looking to heal from pain or injury, or embark on a soul-searching journey, Aruba's alternative healing community is one to explore. This is article #2 in a series of three articles about energy healers on Aruba—where to find them, what to expect, and why you should try it.
I previously wrote about my first experience with energy healing—a Regenesis healing session with Ellen Buermans at Pulse Aruba—as an awakening to a new world within me. As cliché as that sounds, I began my research for this series of articles with a host of skeptical thoughts. Energy healing isn't "real," I thought. It can't really help people, I worried. It's just wishful thinking, a placebo effect, I supposed. I can't pinpoint why I was so skeptical, exactly. I'm into mindfulness and yoga, live a vegan lifestyle, and probably appear to others as some kind of hippie flower child. Ellen even told me that I had healing capabilities of my own. Through my experience with healers, I've come to the belief that we all actually have this healing capacity, to heal ourselves and others. But more on that later.
Days after my Regenesis healing session, I went to visit Jamie Bareño at Yogi Vibes Aruba. Jamie's healing space is the back patio of her beautiful modern home in Alto Vista, where she teaches weekly yoga classes for kids, hosts spiritual ceremonies, and conducts individual energy healing sessions.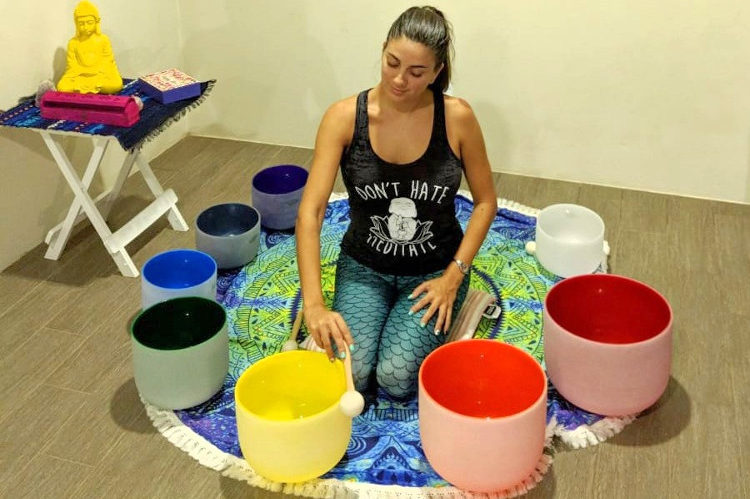 Jamie started her yoga journey taking classes with Rachel Brathen at Manchebo Beach Resort & Spa before Island Yoga (Rachel's new studio) was around. When Jamie got pregnant with her son, she found a supportive prenatal yoga community, and when she was working to heal from postpartum depression, she turned to yoga, mindfulness, and spiritual studies. Her journey into energy healing started on a spontaneous solo trip to New York City. Her travel mate came down with chickenpox and canceled her trip, so Jamie decided to go alone. When she walked the streets of Union Square and stumbled upon Namaste Bookshop, she instantly felt at home. She bought books that would later change her life. While in the shop, she experienced her first energy connection: through a reading from a stranger, she was warned to be mentally prepared for an accident that would result in the death of a close relative.
Weeks later, upon her return back to Aruba, her brother unexpectedly passed away. Jamie delved into the books she had bought that day in New York. Feeling that her life had been turned upside down, she decided to embark on a yoga teacher training in Guatemala as a self-healing adventure. "That's when I stepped inward," she told me. "I spent 21 days with little access to Wi-Fi in a secluded place where I had to take a small boat to get to the nearest city, living a purely vegan lifestyle with no coffee, no sugar, and barely any communication with the outside world. When I returned to Aruba, I felt I had gained so much knowledge that I had to release. I had experienced a spiritual awakening, a releasing of the past, a feeling of surrender and acceptance, and I knew I needed to support others on their journeys as well."
Jamie asked me what my intention was for our session. I told her a bit about my experience with Ellen and how the feelings that came up for me revolved around giving and receiving. I also shared about how I have friends and family experiencing hard times lately and how I wish I could help them. Jamie asked me to pick a card from her oracle deck. Here's what I picked: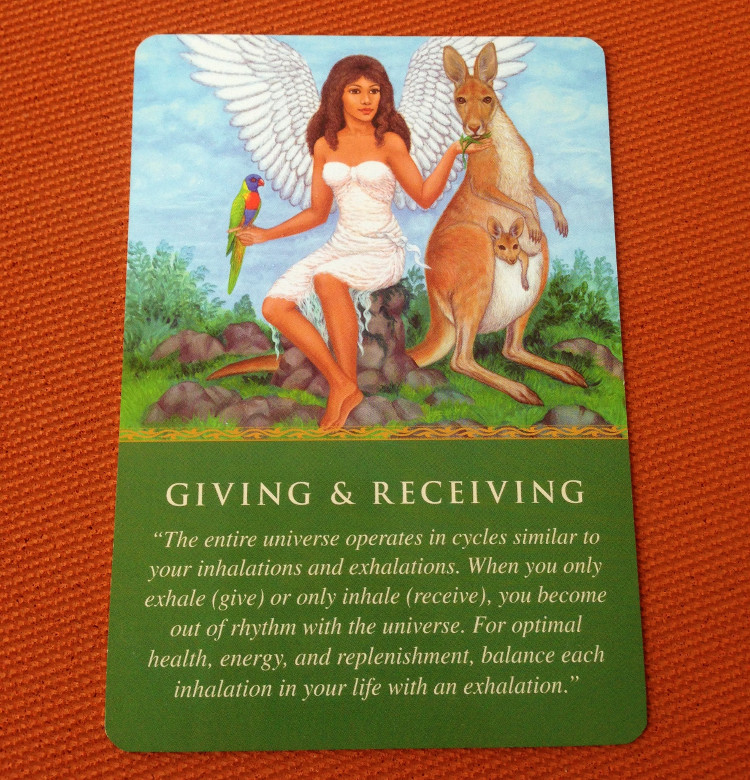 I giggled a little. Really? Is my connection with the Universe stronger than I thought? Both Ellen and Jamie had told me that the "signs" of the Universe would start showing up for me. Jamie explained that during energy healing, Universal energy passes through her and is sent to the person experiencing the healing. She explained that I would not be receiving her personal energy, but rather energy from the Universe. After this explanation, she set up the space for our crystal chakra sound-healing session.
I lay on a yoga mat surrounded by crystal singing bowls that represent the chakras of our bodies. By my head sat a purple bowl, representing the crown chakra, responsible for our energy of consciousness. Jamie offered me lavender oil for my wrists to help me relax, and she placed crystals, each one representing a chakra, along the length of my body. "After the sound-healing session, whichever crystals remain on your body without falling off represent the chakras you may want to work on," Jamie explained. I'm pretty certain they all stayed put, so perhaps I have quite a bit of energy work still to do. The sound-healing session involved Jamie running a mallet along the sides of each bowl as she moved around my body, activating the vibrations and tunes of the bowls. These high-frequency vibrations from Tibetan singing bowls are not a new phenomenon. According to a New York Times article about sound therapy from 2005, "Sound healing is actually a return to ancient cultural practices that used chants and singing bowls to restore health and relieve pain."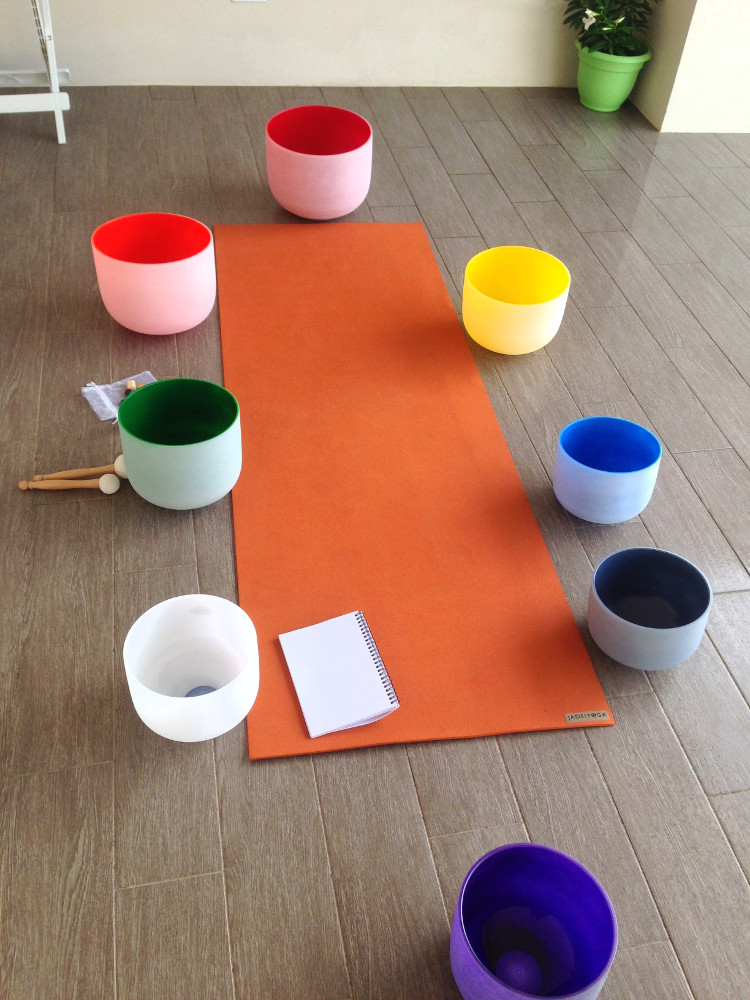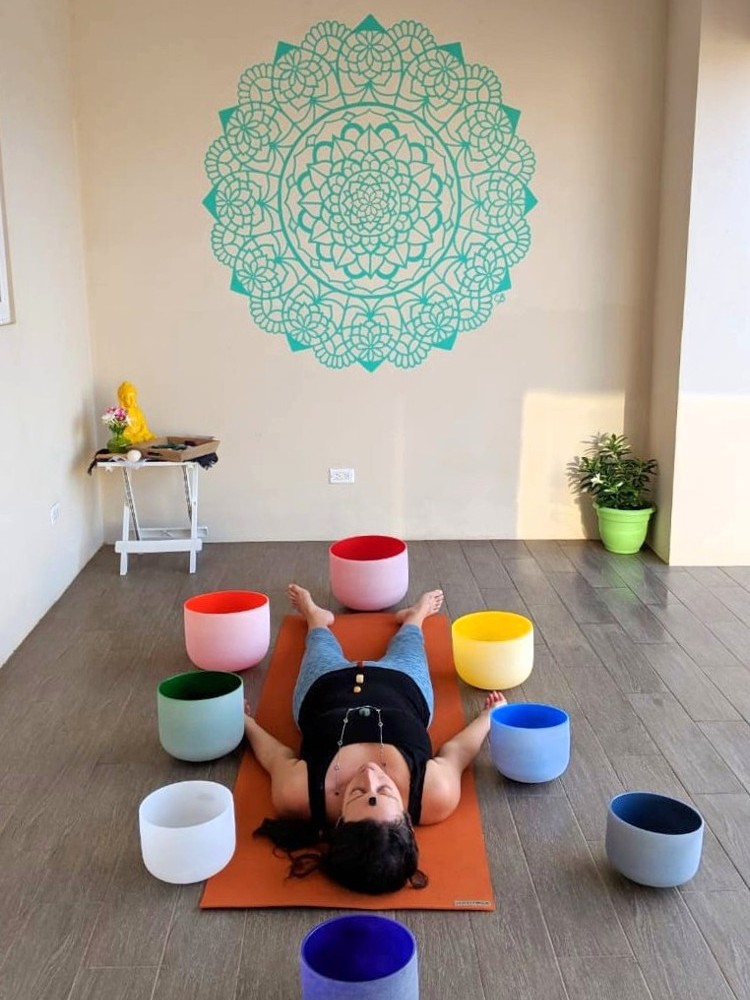 The feeling of vibrations in my body was powerful. The closest thing I can compare my experience to is the energy you feel while attending a concert. At a concert, the sound vibrations seem to run through your body, and when you leave, you feel like the music has become a part of you. This sound therapy experience is like that, except without all the screaming people and beer spilled all over you. Sound healing is perfect for those who are seeking an energy healing experience that doesn't involve being touched.
A sudden rain shower passed over us, and Jamie explained that rain is a sign of cleansing. Jamie encouraged me to be open to signs from the Universe. I went home that evening feeling refreshed. My journey continues next week with Reiki and chakra-alignment sessions at Island Yoga Aruba.
To book a session with Jamie Bareño, contact her here or at +297-593-4131. She can also be contacted via Facebook on her Yogi Vibes Aruba page. In addition to sound-healing sessions, Yogi Vibes Aruba offers yoga classes for children, workshops for adults and kids, a mindfulness series for adults, full-moon ceremonies, cacao ceremonies, and readings. Prenatal yoga will be offered soon.