Published on:
Have Fork, Will Explore: Sunset Grille & Divino—A Stellar Culinary Pairing
Text and images by Tina Causey-Bislick
Sunset Grille broke new ground in 2000, introducing Aruba to the revival of the classic American steakhouse.  Premium steaks and fresh seafood, inventive appetizers, and a comfort-food approach to side dishes and desserts—it was a recipe for success, earning the restaurant numerous local, regional, and international awards and critical acclaim.  Executive Chef Matt Boland was at the helm for many years, keeping the menu innovative and contemporary yet staying true to classic steakhouse roots.  The chef left for a few years, but recently returned to the Hilton and Sunset Grille, injecting fresh creativity and bringing the restaurant back to its rightful place in Aruba's culinary spotlight.
Sunset Grille has a devoted local following, and one of Chef Matt's goals is to continuously invigorate guests with new concepts and gastronomic diversity.  The restaurant is teaming up with the wine professionals at Divino, a local spirits distributor, to produce wine-and-food pairing dinners several times a year.   This past weekend, diners experienced the "Wonderful World of Wagner," a culinary event pairing wines from Napa Valley's Wagner family with a four-course menu.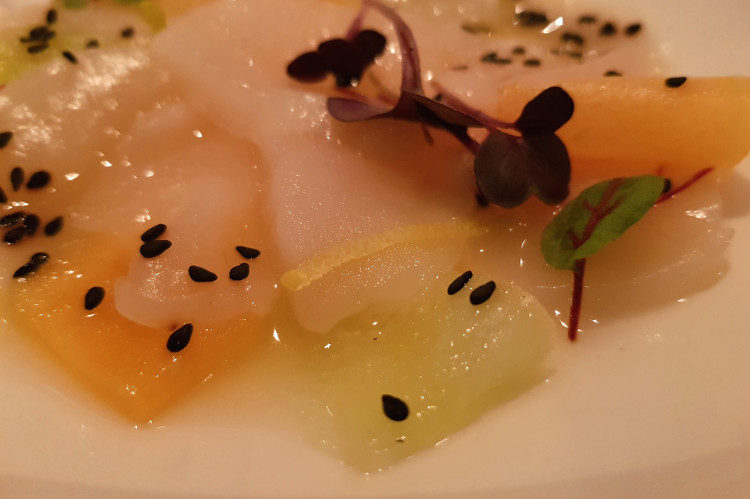 Starting the evening off at Mira Solo—the alfresco bar and lounge is perched atop a waterfall with spectacular sunset views—we enjoyed an oyster soup shooter washed down with a little bubbly.
Chef Matt, Divino's charming wine sommelier Kiume Tjon-a-Tsien, and Sunset Grille manager Jonathan Werleman were our hosts for the evening, ushering us through four courses of bliss.
First up—ceviche.  I like my ceviche with balance—not too much lime, please.  I want to taste the seafood.  This ceviche was more Asian-inspired, prepared with thinly sliced giant scallops cured in melon instead of lime, yielding a slightly sweet ceviche countered with mild citrus essences from yuzu.  Kiume chose Emmolo Sauvignon Blanc, a wine that softly opens with melon and peach (or was that apricot?) but is decidedly mineral-driven.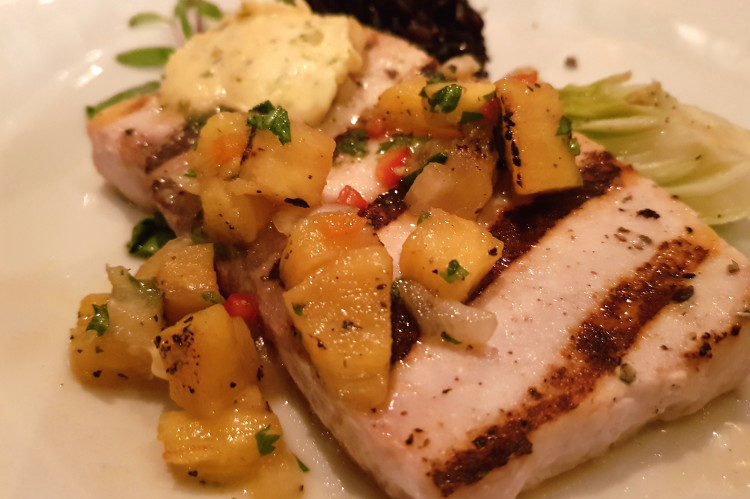 Round two brought us another white wine—Mer Soleil Reserve—a no-nonsense, buttery, and complex Chardonnay that finishes boldly with tropical fruit that hangs around on the palate, which made it an ideal partner to the grilled swordfish it was served alongside. The Sunset Grille team topped the fish with a salsa of charred pineapple and jalapeno dressed in lime, with a touch of melted coriander butter.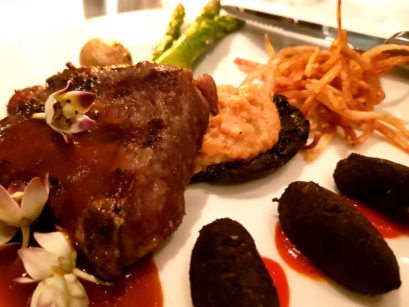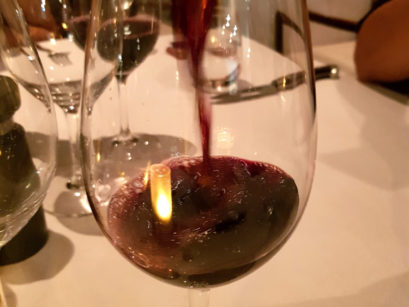 My favorite dish was paired with my favorite wine of the evening.  We were in an award-winning steakhouse, so yeah, bring on the beef!  A beautifully marbled cut of American Wagyu beef was served with a portobello duxelles and pommes allumettes (thin, crispy potato sticks).  I'm not typically drawn to Malbecs (I'm more of a Cabernet kinda gal), but the Red Schooner "Voyage 5" Malbec had me at the nose.  Kiume explained that this Malbec is indeed from grapes grown in the Mendoza region of Argentina, but the grapes are shipped chilled to Napa Valley, where the same techniques used to produce Caymus' Cabernet are employed. Aha!  The result is that identifiable oakiness that I love from Napa Cabernets, with a luscious, velvety mouthful of ripe berries, plum, and a hint of dark chocolate.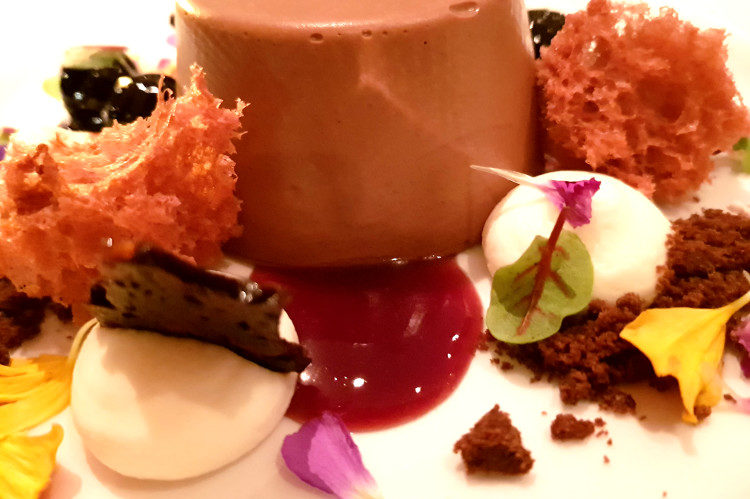 Our final pairing was a rich black-forest mousse with dark cherries buddied up with Conundrum Red Blend.  Spicy yet somewhat sweet, smoky yet silky, this red blend is one of those approachable wines that pairs nicely with anything from pulled pork or pizza to Sunset Grille's sweet ending to this lovely evening!
*Stay tuned and keep an eye on When in Aruba's Calendar of Events—Sunset Grille will continue with more adventurous food-and-wine pairing events.