Text by Debbie Kunder
Put a board in the water, and—shaka, brah!—you have any number of fun sports to choose from. Got waves that seem perfect for shredding? Go surfing! Aruba's trade winds are steadily sweeping across the island? Go rig up a windsurf board and slice through the turquoise waters. Looking to reach greater heights? Kitesurfing will do the trick. No wind but looking to putter around in the water, maybe see a few underwater critters, and get a bit of exercise? Give SUP a try, brah!
SUP, which stands for stand-up paddleboarding, is an ancient form of surfing from Hawaii. It was revived in the '60s when surf instructors in Hawaii would stand upright on their surfboards and use canoe paddles to get themselves in good position to take photos of their students. About 15 years ago, professional surfers started using the technique to train. In the past several years, SUP has spread beyond surfers and now everybody is getting on board.
Aruba Active Vacations (AAV), owned by Wim Eelens, is one of a handful of watersport operators on Aruba offering SUP. Wim explained why the sport is gaining popularity so quickly.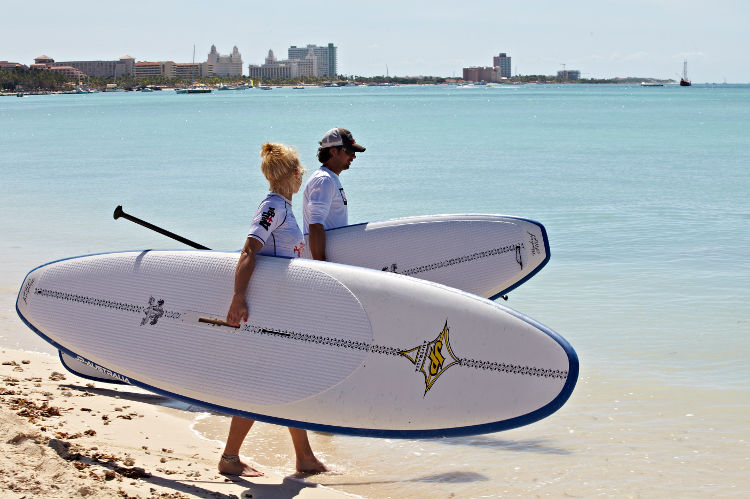 You can do it anywhere. SUP essentially entails standing up on an oversized surfboard and pulling (or in SUP lingo, "sweeping") yourself forward with a long single-ended paddle. Although SUP has its roots in the waves, the fact that you are propelling yourself makes the sport suitable for any water setting. In fact, SUP is now most widely enjoyed on flat water, including lakes, rivers, and calm seas. Most of AAV's clients take their rented paddleboards out in the expanse of flat water at the Fishermen's Huts.
It's super easy to learn. Even kitesurfing, which is touted for its short learning curve, requires an investment of a few days. With SUP, you need as little as five minutes of instruction before you are paddling out on the water. Really, it's as simple as that!
No wind? No problem! SUP is an excellent alternative activity when the wind is too light for windsurfing or kitesurfing. In fact, if you're a SUP novice, it's advisable to do SUP when there is little to no wind.
SUP is an excellent workout. People are increasingly looking to get exercise through fun activities, and SUP is certainly one way to go. It's a low-impact, full-body, cardiovascular workout that improves balance and coordination while strengthening the shoulders, arms, hands, thighs, and core muscles of the stomach and back.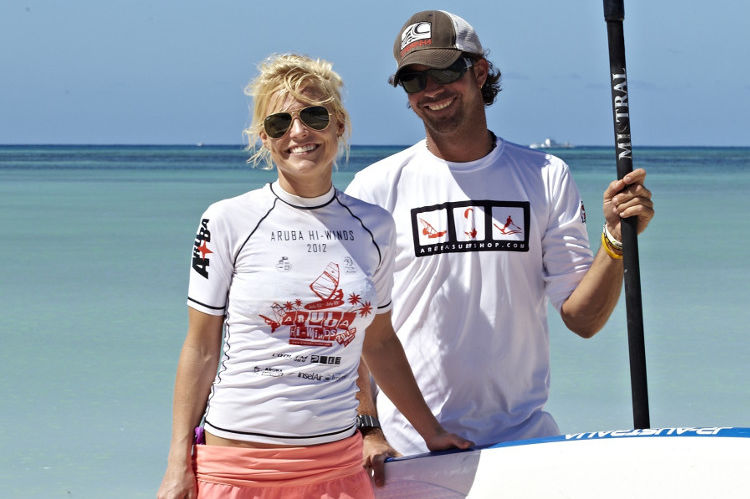 Everyone can do it. People of all ages and athletic abilities can enjoy SUP. It's certainly something the whole family can enjoy. Or perhaps mom and dad want to take a spin on a paddleboard while the kids try out windsurfing.
SUP calms the mind. Wim explained how SUP can be a Zen-like experience. "It's peaceful to be out on the water, quietly paddling along and observing the 'aquarium' below, perhaps catching a glimpse of a starfish, maybe even a sea turtle." Being out on the water also affords a beautiful view of the Malmok shoreline and its towering palms from a different perspective.
If you'd like to take a paddleboard out for an hour or two, AAV offers rentals, which include the board, paddle, and booties.
Check out Aruba Active Vacations for more information.