Published on:
Swim Fashions Meet Fitness
Photography by Steve Keith / Creative Direction by Tina Causey-Bislick
The Fall/Winter 2016-17 edition of Island Temptations featured athletes and fitness professionals in swimsuits designed for active adventures.  All makeup by Maria Alejandra.  Watches provided by Shiva's Gold & Gems, with locations at Royal Plaza and Palm Beach Plaza.  Swimsuits provided by Eva Boutique, the island's exclusive retailer of Gottex, with locations at Costa Linda, Divi Phoenix, RIU Antillas, Hilton, Holiday Inn, Reniassance Mall, and downtown on Zoutmanstraat; De Palm's Coconuts, with locations at De Palm Pier, Barcelo, and De Palm Island; and The Juggling Fish Swimwear, located beachside at Playa Linda Beach Resort.
Athletes: Chiara & Sophia Petrocchi
Sports: Taekwondo, Judo & Mixed Martial Arts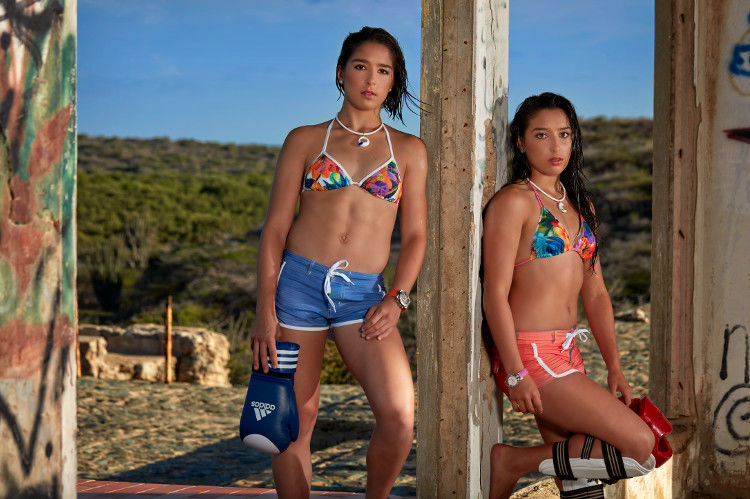 The Petrocchi sisters like to fight—not in that typical sisterly way, but on the mat. Both girls started taekwondo at young ages, Chiara when she was eight, and Sophia at age six. A few years later, they picked up judo and then mixed martial arts. Both girls have excelled tremendously in these sports, earning high rankings at a number of international competitions, including the Pan American Games, U.S. Open, World Games, and Daedo Classic. Huge wins for them took place in October 2017 during the South American Youth Games, where Chiara won gold and Sophia took home silver. They've also won a number of medals in different Olympic ranking competitions, bringing them closer to their dreams of competing in the Olympics. But it's not just the competition that they love; they both appreciate the good physical health and strength that these sports afford, along with all the traveling and the chance to meet new people. As for support? They couldn't do any of it without their biggest supporter, their dad. The girls explain, "Our dad gives us 200% of himself and sacrifices many things to be able to push us to be the best we can be."
Athlete: Melissa Acosta
Sport: Beach Tennis
Former Venezuelan national soccer team player Melissa Acosta only started playing beach tennis on Aruba a few years ago, and yet she's already ranked #40 internationally. For the past two years, this beach tennis powerhouse has been traveling the world playing in the International Tennis Federation's (ITF) professional tour. She has won ITF tournaments in Aruba and Venezuela and silver medals in the U.S. Her ITF tournament play for 2017 has taken her to Martinique, Guadaloupe, St. Maarten (third place), Puerto Rico (second place), and Guayaquil (Ecuador). In October 2017, her efforts during an IFBT (International Federation of Beach Tennis) tournament in Cancun, Mexico, earned her a gold in doubles, silver in singles, and bronze in mix. Since 2014, Melissa has also been representing her home country of Venezuela as part of the Venezuelan National Team. She helped her team win the gold medal at the Juegos Bolivarianos tournament in 2014, and also played with the team at Juegos Bolivarianos in 2016, as well as the Pan American Championship in 2016 (quarter finals) and 2017 (third place).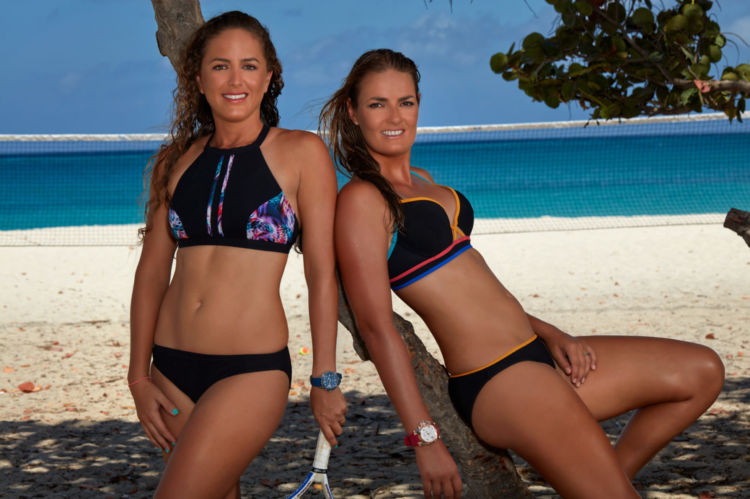 Athlete: Maria Buuts
Sport: Beach Tennis
With tennis already in her blood, Maria played her first international beach tennis tournament in 2008 on Aruba and has been hooked ever since. Playing on the beach tennis pro tour, she traveled to places like Brazil, Italy, and the U.S., ousting many of the best players in the sport. For three years, she was ranked among the top 20 players in the world, reaching 12th place at her peak. Maria still competes sometimes, but her priority now is to grow the sport on Aruba. She has her own school, Caribbean Beach Tennis School, offering lessons to both kids and adults. Her goal is to spread her passion for the sport, which she explains as "not just a sport, but a lifestyle." She adds, "I like the friendly, relaxed atmosphere, and even during high-level matches, the sportsmanship is really nice. And anybody can play—just kick off your shoes, pick up a racket, and you're set."
Athlete: Devin de Veer
Sports: Synchronized Swimming, Volleyball & Competitive Swimming
Devin de Veer started synchronized swimming when she was about nine years old, performing as a member of Aruba's synchro club, the Barracudas, until the age of 13. She was also part of Aruba's national team, competing in places such as the Dominican Republic, Curacao, and Puerto Rico. She later moved to Curacao, where she coached the Typhoon Synchro Club from 2012 to 2014. A natural in the water, Devin also swam competitively in boarding school. She also took her athletic skills onto land, playing volleyball for six years. What draws her most to all these sports is the bond created between teammates as well as the intense energy that is felt. She shares, "I know that whenever I'm on the court or in the water, everything around me is put on hold for that moment." Unfortunately, due to some knee issues, Devin has been sidelined for now, but she's slowing getting back into her swimming routine. She's also interested in helping others to reach their athletic goals.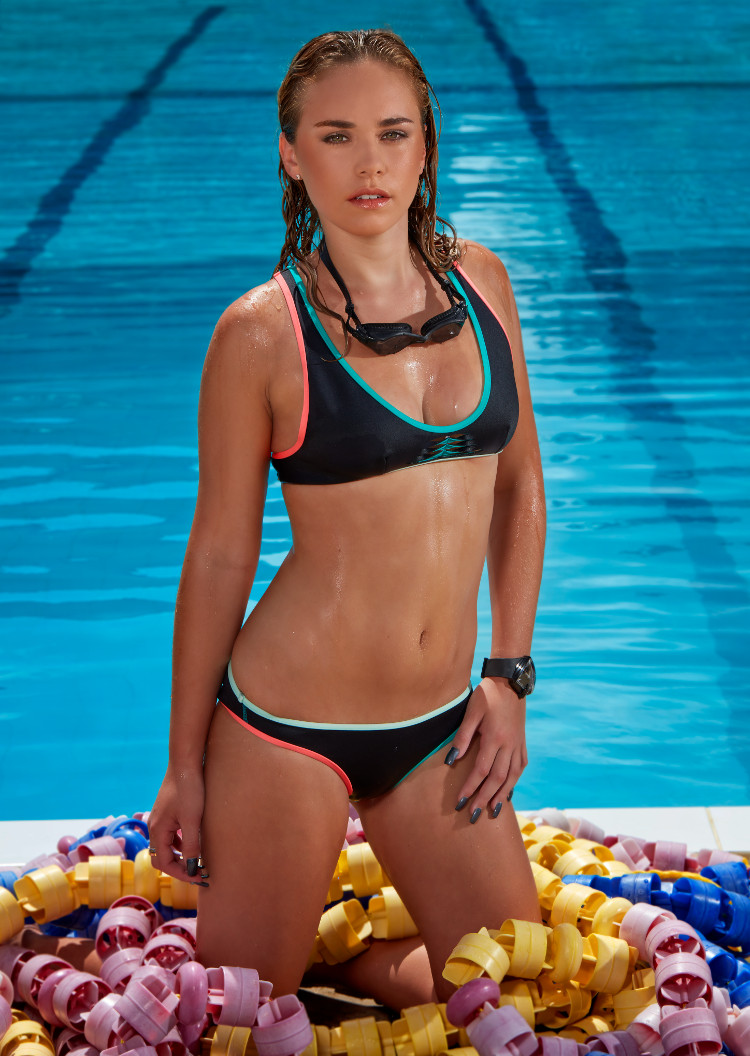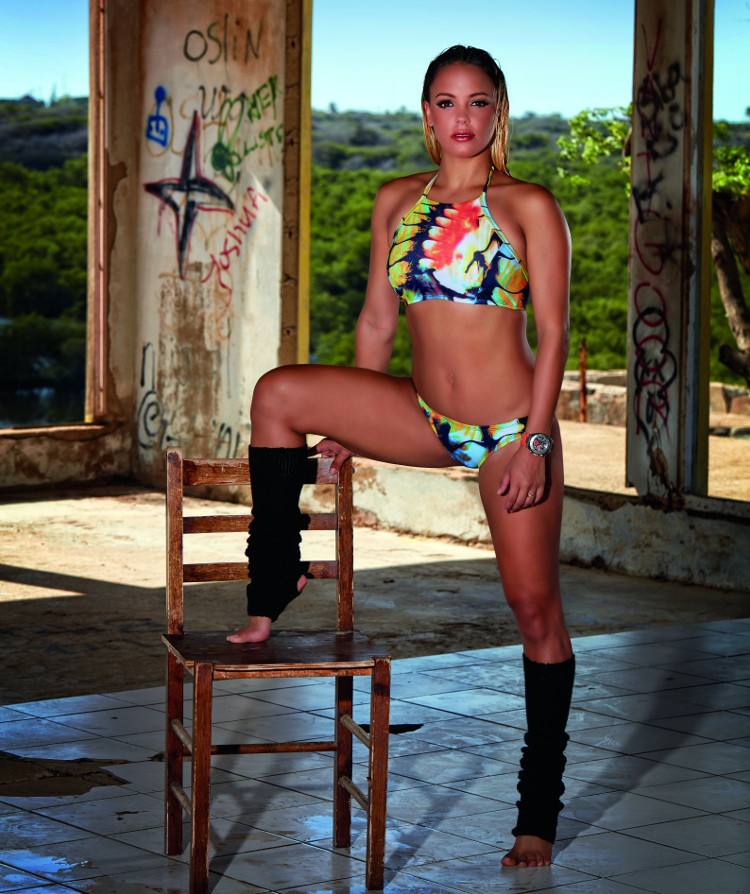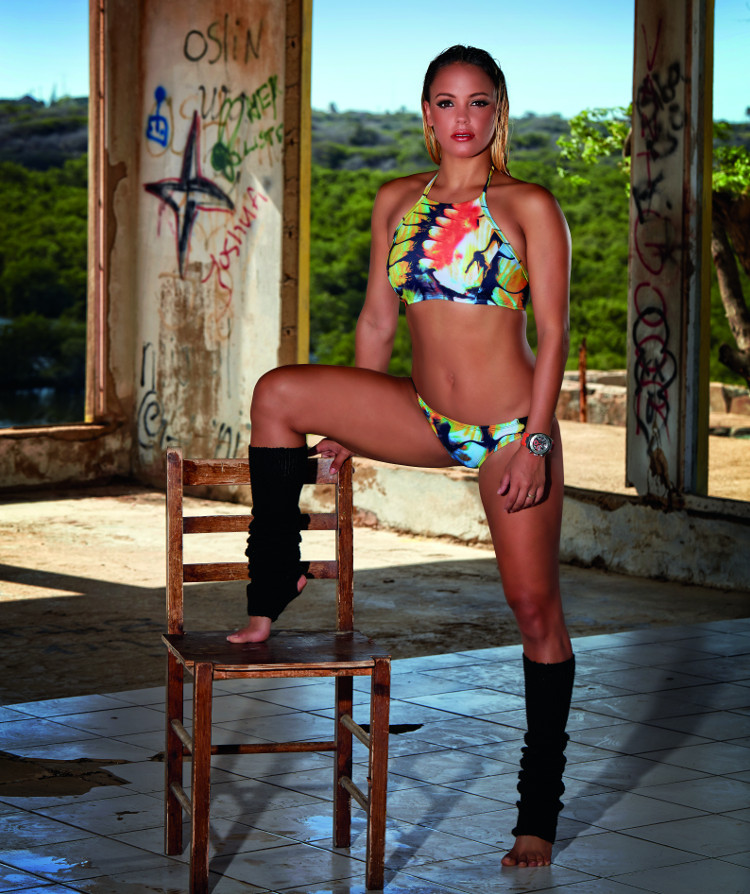 Athlete: Maria Alejandra
Sport: Dance
"I can't remember a time I didn't love to dance, so I figure I was simply born a dancer," shares Maria Alejandra. Born in Venezuela and raised in Aruba, Maria has always been drawn to the expressive power of dance, starting when she was 15 years old. She's worked as a professional dancer for over 18 years now, performing at the Occidental Grand Aruba for more than ten of those years. She recently started her own company, Aruba Performance, doing shows around the island together with other local artists. Maria explains, "My goal for this sport is for everybody to see it like any other sport that requires discipline and dedication." A few years ago, Maria extended this discipline and dedication to pole dancing as well. She loves how pole dancing mixes dancing and fitness, giving amazing results. She's now teaching pole dancing to others.
Athlete: Maria Pucci
Sports: Soccer & Yoga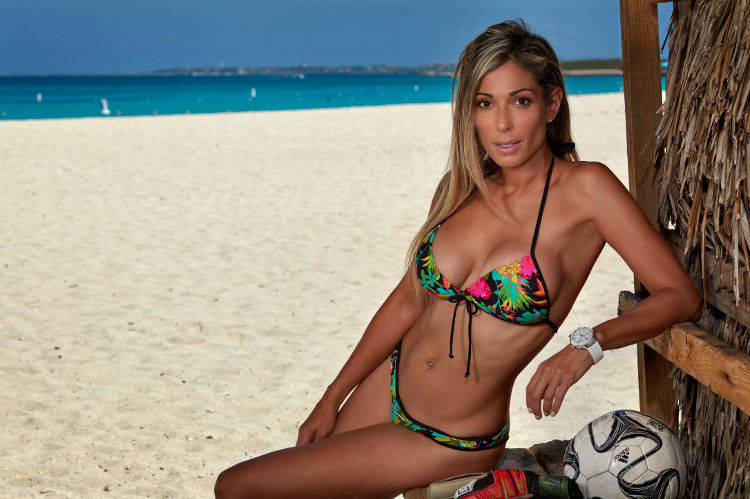 Soccer was Maria's sport of choice in her university days in Venezuela, and she is proud to be part of that generation of women who proved that soccer is not only a men's sport in her country. But these days, Maria's focus is on teaching yoga here on the island of Aruba. With her practice of Mystical Yoga, she is teaching people of all ages and skill levels to reconnect with their roots and get back to simple living through meditation, asanas, and crystal healing. Maria has also introduced the island to AntiGravity Yoga, where practitioners carry out yoga exercises—sometimes upside down—in a special hammock suspended from the ceiling. Maria is also an enthusiast of paddle yoga and beach tennis, even winning first place in the paddle race at Aruba Hi-Winds 2014. She feels fortunate to live in a place where the weather is good all year round so she can enjoy all her sports to the max!
Athlete: Denise Krosendijk
Sport: Zumba & Triathlon
Aruban-born Denise Krosendijk is one of those athletes who does it all. She's been kiteboarding in Aruba's gorgeous waters since 2006. In 2008, she started beach tennis, and only this year did she finally put that on hold to concentrate more on triathlon training. This past October, she participated in the Challenge Aruba Triathlon Sprint and placed third in her category. Her next goal is to participate in an Olympic-distance triathlon. But perhaps it's her love of Zumba that Denise is most known for. Denise has been teaching Zumba since 2009 at her own school in Savaneta, drawing on her background as a dancer. She's teaching several times a week in addition to her full-time job. This is one busy lady!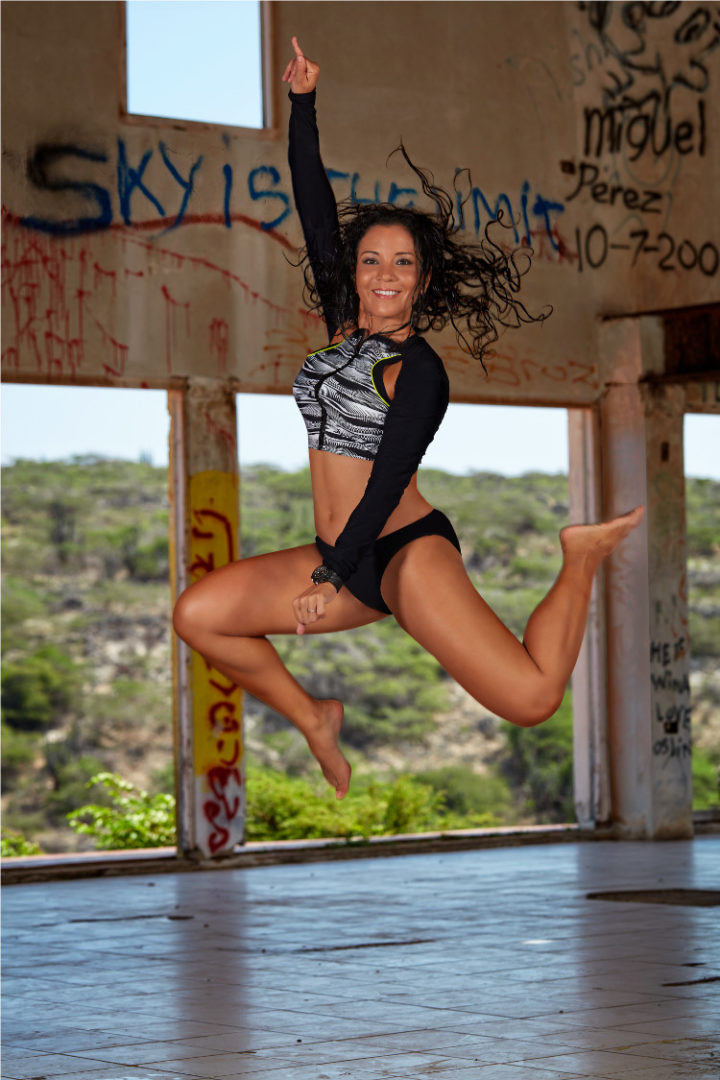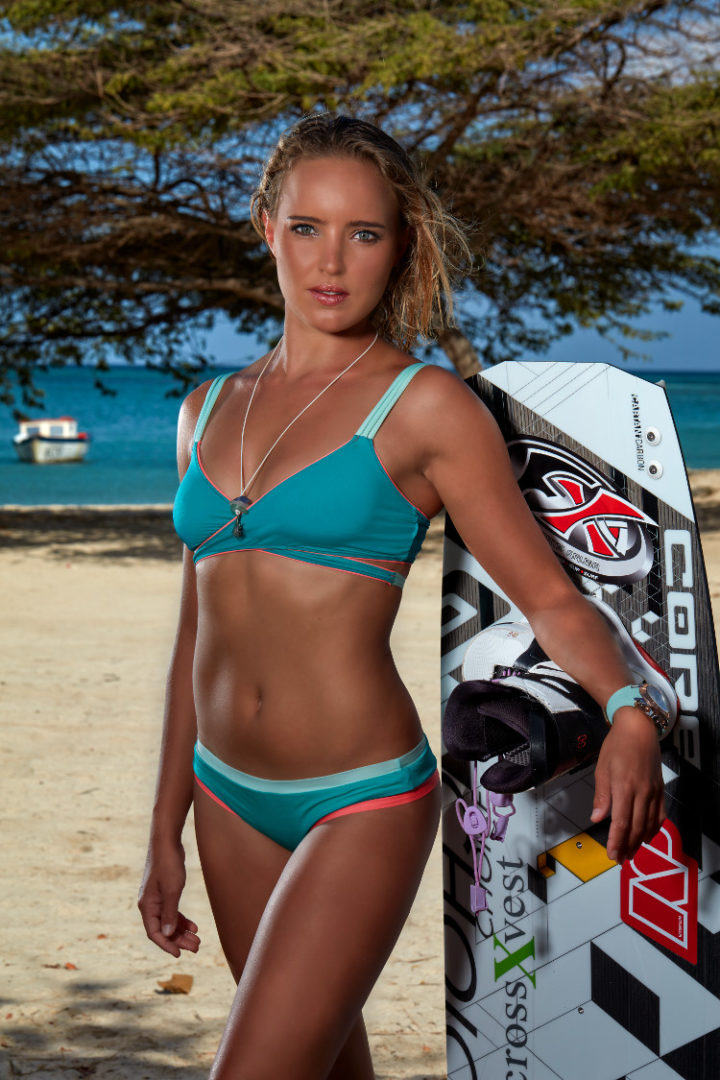 Athlete: Annabel van Westerop
Sport: Kiteboarding
Annabel started windsurfing when she was 13, but she couldn't help but envy all the kiteboarders, including her dad, who were out on the water as well, jumping and flying through the air. So she started taking kiteboarding lessons when she was 14, and in no time, she was hooked. And she was good—really good. In fact, Annabel has been competing in freestyle kiteboarding since 2012. As a competitor in the World Kiteboarding League, she is ranked second in the world, and she is now diligently working towards her dream of becoming world champion. Competing in the league takes her all over the world, which she enjoys very much. She shares, "My lifestyle of competing and traveling for sponsors has given me an immense amount of life experience that I will always cherish." She also enjoys practicing and teaching yoga, and even takes yoga to the water on stand-up paddleboards.
Athlete: Sanne Ooms
Sport: Field Hockey
When Sanne Ooms moved from Holland to Aruba a few years ago, she made sure to pack her hockey stick and shin guards. With only one field hockey club on the island, the hockey culture in Aruba is very different than that of the Netherlands, where field hockey is the second most popular sport after soccer. Even though the members of the club in Aruba—both men and women—only play against each other, Sanne is grateful to have the opportunity to keep up her skills while getting an awesome workout and meeting new people. Some day she'd like to play with a big club in Holland, but in the meantime, she's scoring goals on the field in Aruba. Sanne also stays active with judo, kiteboarding, and beach tennis.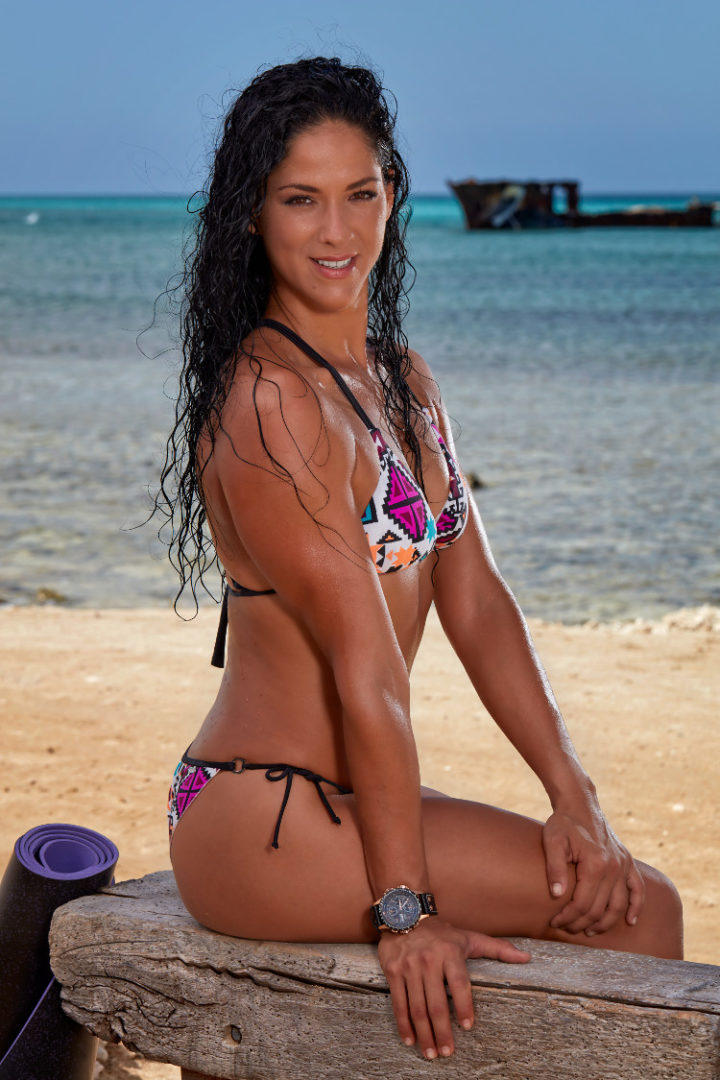 Athlete: Gladys Duarte
Sports: Chair Yoga, BUTI Yoga & Kiteboarding
Gladys Duarte believes in the motto "A sane mind lives in a healthy body," and her life of constant activity reflects this. She started studying classic ballet at the age of four, and salsa has always been a big part of her life—it's in her Cuban blood, after all. More recently, Gladys stays active as Aruba's only BUTI Yoga teacher. This calorie-scorching workout fuses power yoga with cardio-intensive tribal dance and body sculpting movement. Gladys' amazing "buti" proves that this workout gives definite results! For a few years now, she's also been offering Chair Yoga at the hotels. Gladys explains, "I would really like to promote Chair Yoga as a daily exercise in Aruba. The older we get, the more important movement becomes. Motion is lotion for all of us." For the past few years, Gladys has also taken her love of movement to the water with kiteboarding. Every year, she participates in the long-distance race at the Aruba Hi-Winds competition. "I usually come in last, but I always finish!" All that plus spending time with her two girls—sounds like a full life!