Published on:
Tai Chi in Aruba
Just a few years ago, I was training teachers in New York City public schools to practice tai chi with their students, and now I find myself practicing these same moves in paradise. Tai chi is offered by a few of Aruba's resorts, one of them being Hilton Aruba Caribbean Resort & Casino, which partners with RJ's Gym to provide enjoyable and supportive fitness programs at the resort. On Wednesday mornings, I teach Family Tai Chi, exclusively for Hilton guests, on Hilton's Miramar south lawn overlooking the turquoise sea.
Tai chi is an ancient Chinese martial art, originally developed for self-defense and practiced today for its health benefits. I open up the class with exercises to warm up the body and to begin generating a "chi" energy flow. We imagine we are holding an energy ball and practice moving the ball around our space, breathing as we stretch. Our bodies and minds start to feel awake and alive as deep breathing rushes oxygen to our brains.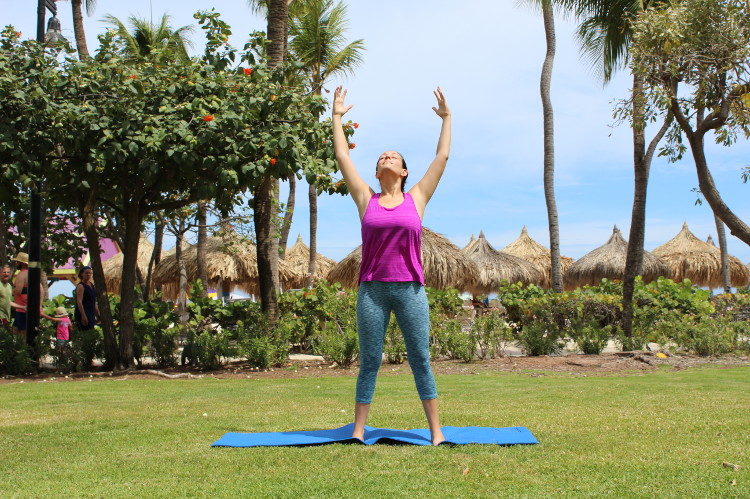 Next we practice a series of nine moves, each with its own story. During the move "Bird's Beak," we form our hands into the shape of a bird's beak by bringing our fingers together on each hand. Each bird then flies toward the sky behind us as we look over our shoulders for a spinal twist. In "Bow and Arrow" pose, we gather the energy around us by circling our arms forward and then pulling them back as if we are drawing a bowstring. Our fingers point at the target and we squat down, stabilizing our core and building strength in our legs while practicing intense focus.
All nine moves are practiced from a standing position, often with bending and squatting postures. These moves are part of a "Tai Chi for Kids" program created by Cari Shurman, an American tai chi specialist who I trained with in New York. Her flowing moves include animal imagery, making it a family-friendly practice and bringing attention to the early mythology of tai chi. As the story goes, tai chi was developed by a monk who was enamored with the way a crane and a snake were fighting in his garden.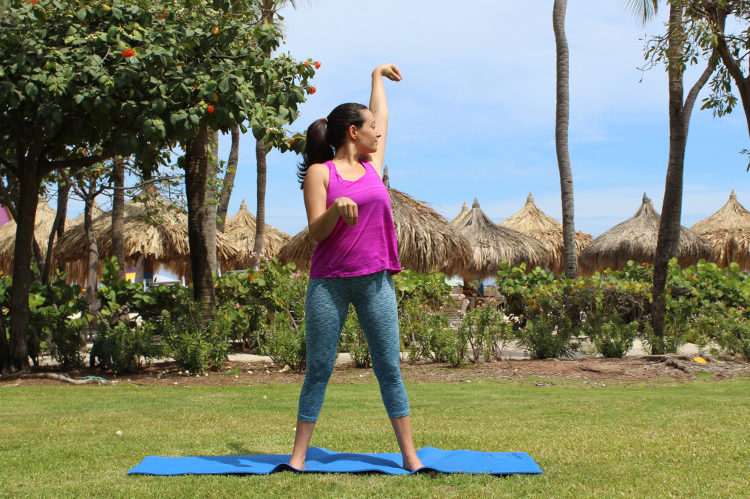 Tai chi health benefits include reduced stress levels, lower blood pressure, increased agility and balance, better coordination, and focus. When I practice tai chi, I feel a sense of power and peace in both my body and mind.
My class at the Hilton Aruba is offered on Wednesdays at 10 am, again, for Hilton guests only. Guests of all ages and ability levels are welcome. For most of my students, this is their first introduction to tai chi exercises. The class is about 45 minutes long and the perfect way for guests to start their day of relaxation or adventure. And for those who work up a sweat, the only decision they have to make is whether to jump in the pool or the ocean. To learn more about Cari Shurman and see her full program, visit www.taichiforkids.com.  For more information about RJ's Gym, visit their Facebook page.
Island guests who are not staying at the Hilton Aruba can join tai chi classes on the beach every Wednesday at 7 am, until July 25, at Bucuti & Tara Beach Resort. Availability is limited. Please reserve a spot at [email protected].