Published on:
Take Me on a Vegan Journey
Text by Debbie Kunder & Images by Tina Causey-Bislick
For about a year now, I've been eating a much more plant-based diet, with the lofty ambition of someday going completely vegan. Although I probably should just go cold turkey (or cold tofu…haha), my road towards being completely plant-based has been a very swervy one, but I'm ok with that. I'm enjoying the ride. Part of that ride is exploring the increasing number of vegan options available at Aruba's restaurants. Last night, fellow blogger Tina Causey-Bislick invited me to join her for a vegan feast at Ike's Bistro, and I was only too happy to accept.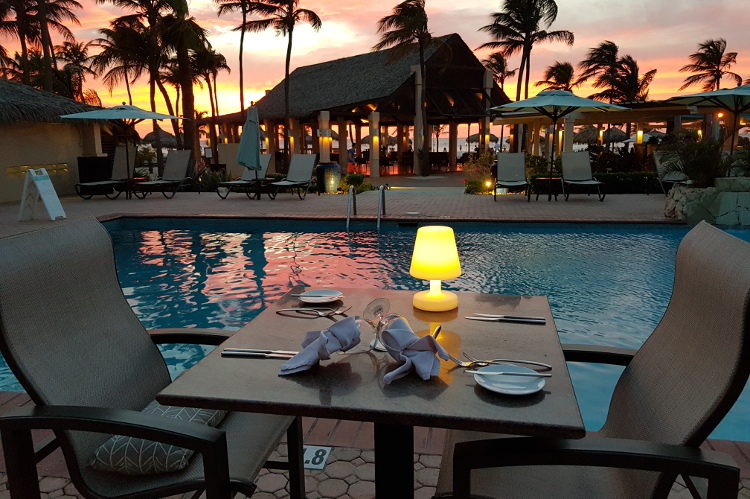 Ike's Bistro is located at Manchebo Beach Resort & Spa, which has positioned itself as a dedicated wellness resort over the past several years, offering a wide array of yoga and Pilates classes, as well as healthy vegetarian and vegan options. This year, Ike's Bistro upped the ante by creating a vegetarian/vegan dinner menu entirely separate from its regular dinner menu—impressive! The menu is graced by an exciting range of appetizers, soups, salads, main courses, and sides, but Tina and I decided to dine at the whim of Executive Chef Sandro Herold, opting for the 3-course vegan chef tasting menu. Chef Herold explained, "Typically when new diners come in, I create my vegan or vegetarian tasting menu by combining dishes from our set vegetarian/vegan menu. But when they start coming back again and again, that's when I really go out of the box in order to keep the courses surprising and exciting."
Chef Herold began wooing us with a gorgeous two-part amuse-bouche: a cold soup of honeydew melon and cucumber, and a jumbo mushroom stuffed with couscous and baby lettuce tossed in freshly squeezed mango juice, topped with slices of radish and pickled red onion. And yes, all lettuces and microgreens are sourced from local farms.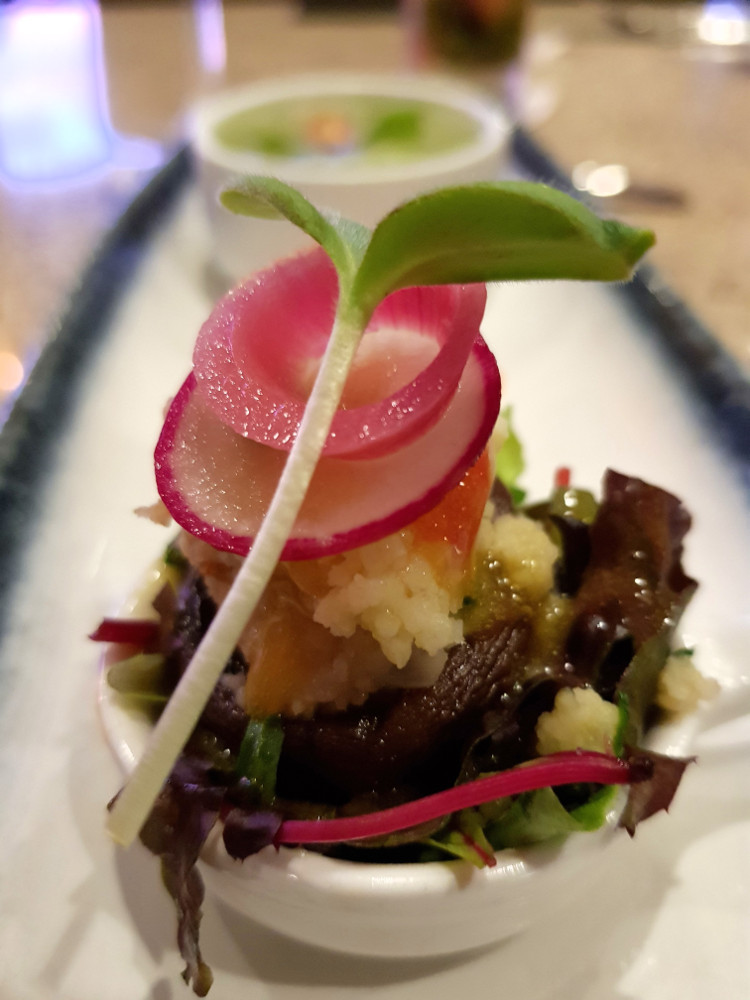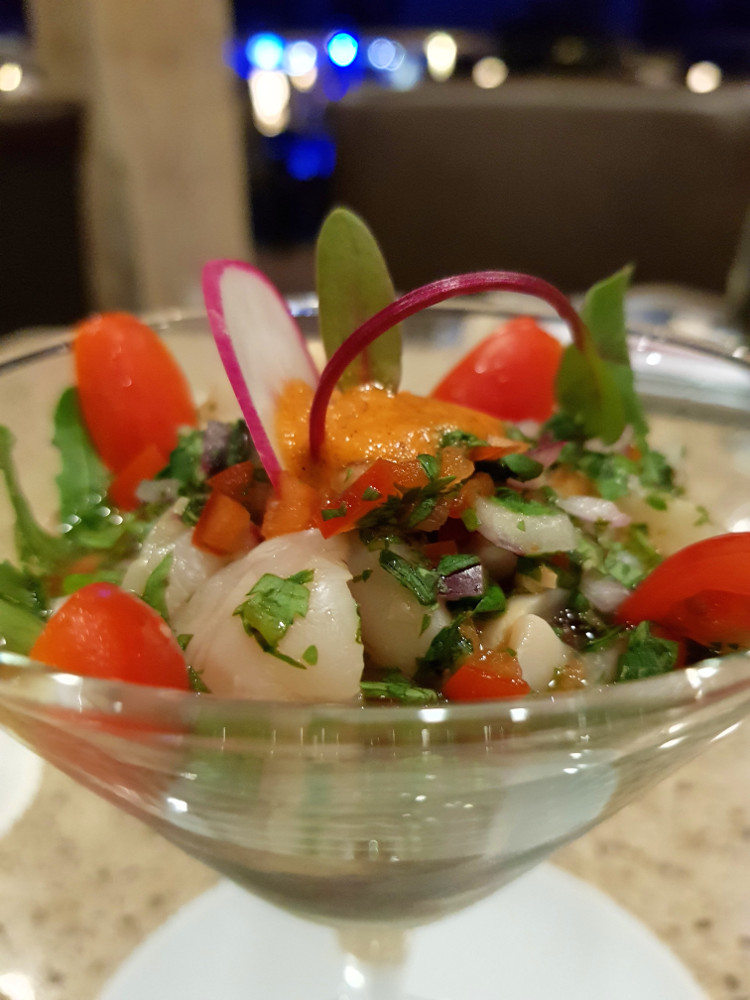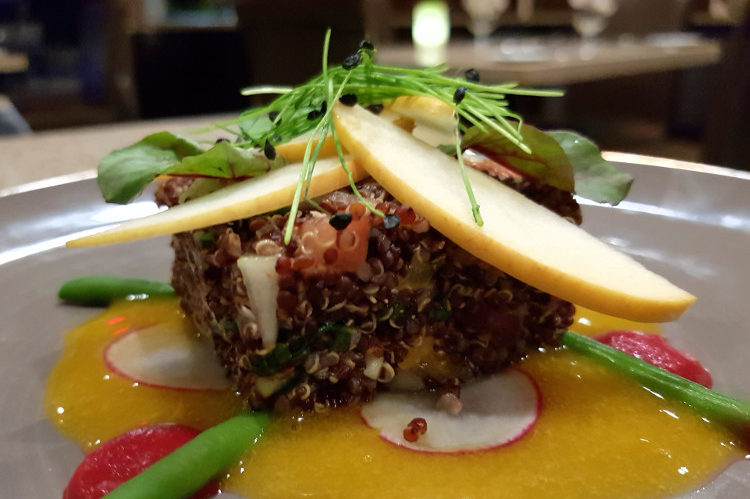 For our appetizers, the chef sent out a pleasantly tart lychee ceviche for Tina and a delicious quinoa creation with apple slices and mango sauce for me. Already, I could detect that much thought was going into each dish, as evidenced by the perfectly contrasting textures, complementing flavors, and vibrant pops of color.
Our main courses stole the show. Tina tucked into a roasted rosemary-spiced cauliflower steak nestled on a bed of vegan truffle risotto (the "cream" made with almond milk and hazelnuts), accented by mango salsa, sweet potato puree, and grilled portobello strips, while I dug into a tortilla-chip cup filled with a deliciously umami mixture of sauteed mushrooms and spinach, topped with fresh avocado and artfully surrounded by grilled zucchini and yellow squash, roasted pearl onions and cherry tomatoes, and a cherry-tomato confit.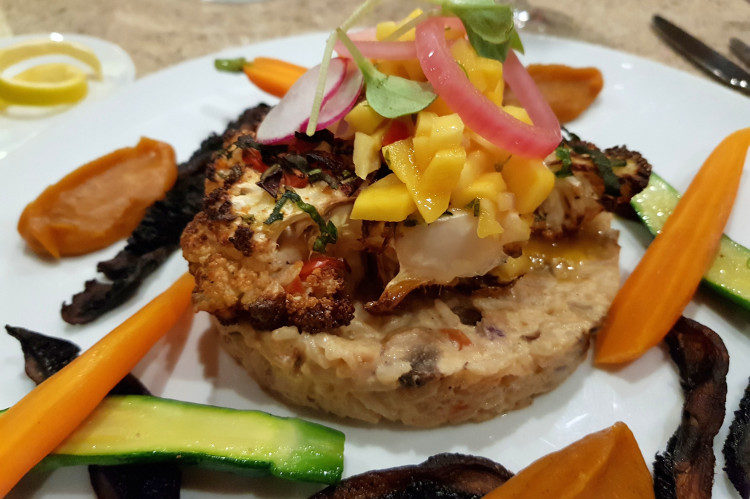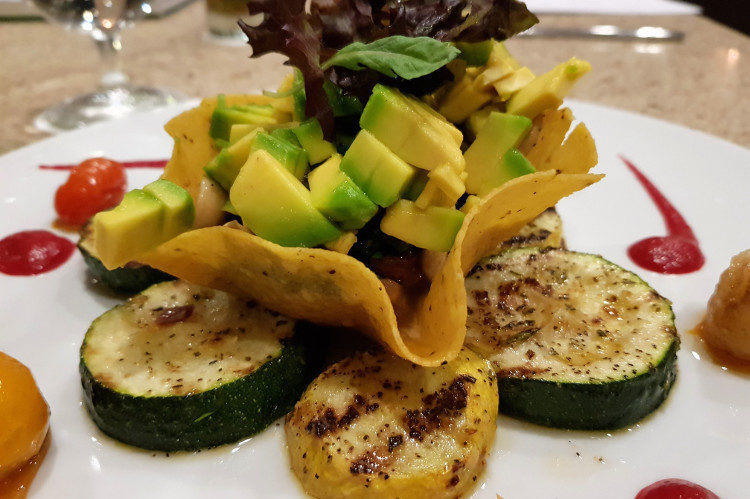 If you thought that vegan desserts could never match up to the "real thing," you should try Chef Herold's Snickers bar and chocolate tart. Rich, satisfying, and just plain delicious, both of them! A lemon sorbet and kiwi and strawberry sauces balanced out all the chocolate quite well.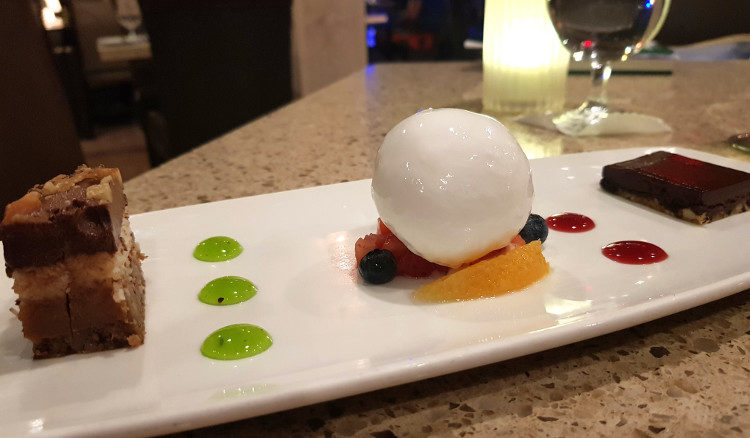 Props to the hostess with the mostess, Carmen, who also happened to be the bartender at Ike's for many years. When I asked to go off menu for a virgin cocktail, she happily obliged by making me a refreshing soda with muddled strawberries and mint. Plus, a homemade limoncello digestif (also crafted by Carmen) was brought out for Tina, who declared it the best limoncello she ever had.
The 3-course vegetarian/vegan chef tasting menu is $35 per person, with the option to add a wine pairing for $30 more. Those dining at Manchebo's upscale restaurant, The Chophouse at Manchebo, can also order off the vegetarian/vegan dinner menu.