Published on:
The Aruba Adventures of the MIT Gang: Paddling with Aruba Kayak Adventure
A group of grad students from MIT were in search of a spring break vacation destination that offered plenty of sun, sea, and sand, but beyond this wish list, this active bunch wanted to spend as much time as possible experiencing outdoor sports and mingling with locals for the ultimate active island lifestyle experience.  The five group members (Lydia Lihui Zhang, Hannah Whisnant, Frank Ryan, Gabe Bann, and Benny Ng) have been sharing their island adventures with us in words, images, and video.  First up—an account of their morning with Aruba Kayak Adventure, as told by Hannah Kathleen Whisnant.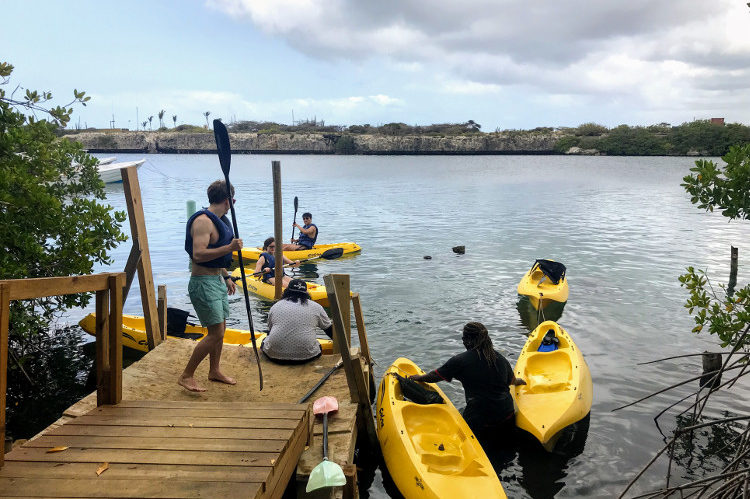 On the morning of our trip to Aruba Kayak Adventure, we got up bright and early. Our driver, Carlos, came to meet us, and he was incredibly kind and friendly as we traveled south down the island. He pointed out the significant locations that we passed, everything from Aruba's Parliament building and the governor's mansion to the desalination plant that supplies the island's water—things we would have never noticed without a local to guide us!
Aruba Kayak Adventure is located southeast of Aruba's capital, in a sheltered section of the Spaans Lagoen (Spanish Lagoon). The first thing I noticed upon arrival was how calm, clear, and stunningly blue the water is. After vigorous application of sunscreen (a lesson we learned the hard way on the beach the previous day!), our guide, Sendo, was there to give us some kayaking pointers. I grew up in coastal Florida and have kayaked before, but the pointers were helpful reminders, especially for my friend who, unbeknownst to him, was going to wind up in the water shortly! Sendo's instructions were thorough and clear—I think kayakers at any level of experience would feel comfortable. Then it was time for us to get on the water. As I was settling into my kayak, Sendo pointed out a baby barracuda (completely harmless to people!) swimming around the edges of the dock. I wasn't even on the water yet, and already I had seen something I had never seen before!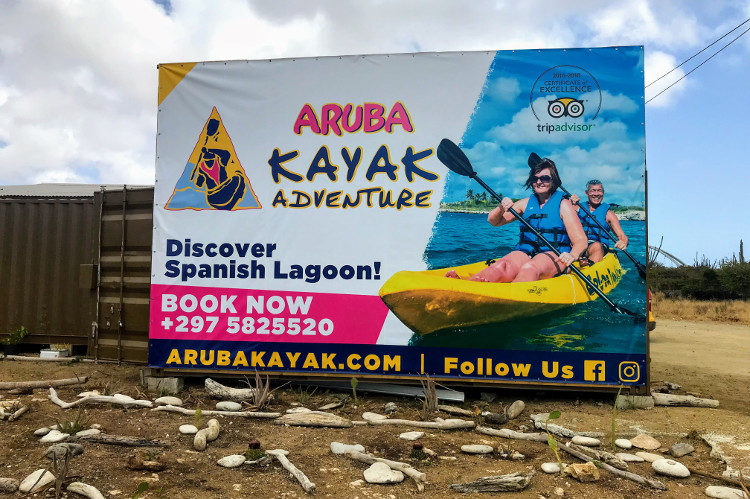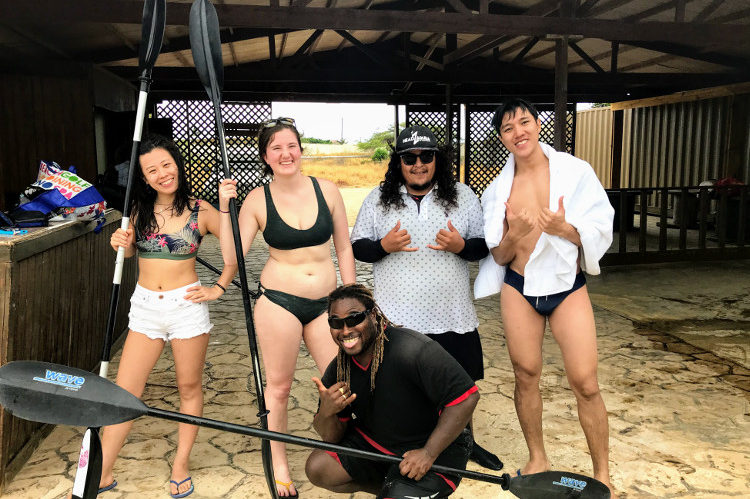 The trip out to our snorkeling location was a bit of a workout—there's a brisk wind in Aruba, and my friends and fellow travelers are a competitive bunch! Everyone wanted to be the first to arrive. One of us got a little TOO competitive and ended up knocking himself out of the kayak into the crystal-clear water. He recovered easily, though, and we made it to the beach where we would leave our kayaks.
Carlos was there to meet us once again, this time with sets of flippers and a pleasant surprise in the form of ice-cold water! We took a short break and then headed out into the water, following the white sand out to the reef. The fish got bigger and more beautiful the farther we went, and we were totally impressed by the variety of electric blues and neon yellows. We saw everything from parrotfish to angelfish to butterflyfish, but the most incredible attraction, surprisingly, was the common minnow. I was surrounded at one point by an entire school, thousands upon thousands of them, flashing silver as they parted around me, briefly leaving me at the center of their formation before they swam away and re-formed.
Our two guides stuck by us the entire time, guiding us away from spiky black urchins and towards things I would have never noticed on my own, from creatures like sea cucumbers and brittle stars to a sunken boat—unmarked by any sign or buoy—that a colony of fish had made their home. I would estimate we paddled out about a quarter-mile—the meters went by quickly with so much to see. I definitely felt comfortable going out farther with our experienced guides, and I got to see much more as a result!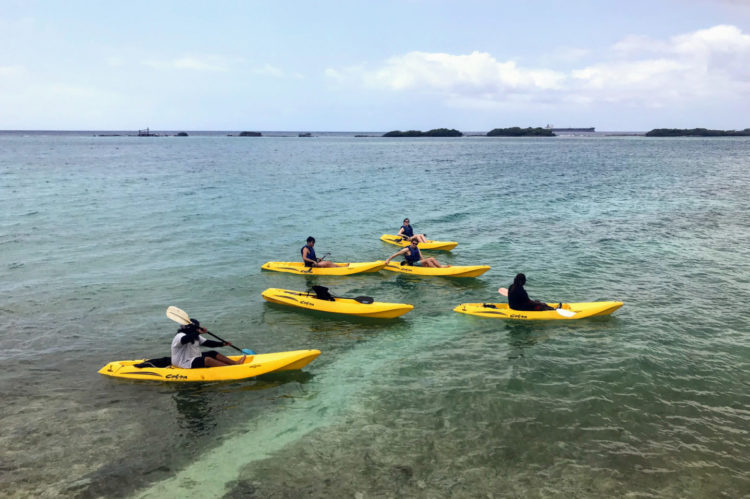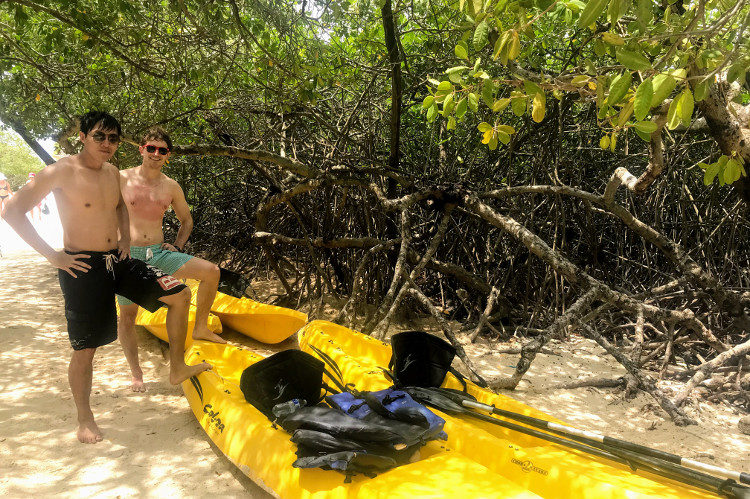 We headed back to dry land briefly to collect our kayaks. The return trip was smooth and quick with the wind at our backs, and we spent the time chatting with our guides and admiring the water, which seems to be a different shade of blue each time you look and never gets old. Back at Aruba Kayak Adventure, we rinsed ourselves off and said goodbye to our new friends, then hopped back in the van and headed to Balashi Beer Garden with Carlos.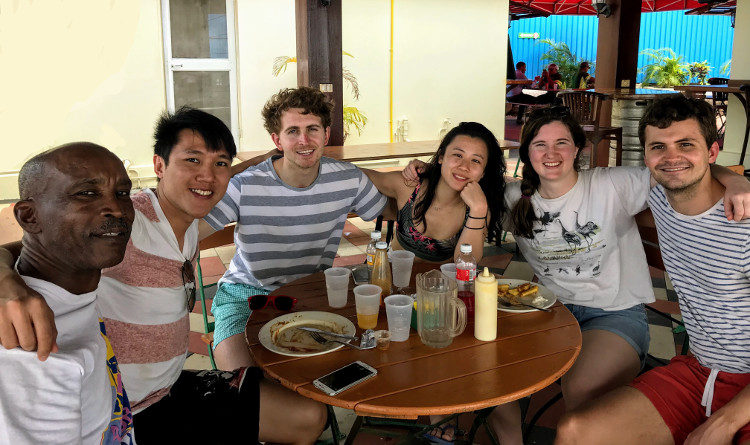 Balashi Beer Garden is directly adjacent to the Balashi Brewery, which makes Aruba's local beer, perfect for Caribbean weather and available almost exclusively in Aruba. We sat in their outdoor space overlooking the Aruban landscape, capping off a terrific outing with a pint and a plate of chicken satay that Carlos had recommended. It's hard to picture a lovelier way of seeing Aruba than by kayak!
Stay tuned for more island adventures by this lively gang of explorers!
*Lydia Lihui Zhang: video author & photo contributor
Benny Ng: photo contributor