Published on:
The Aruba Adventures of the MIT Gang: Tales from the Trails with Rancho Loco
A group of grad students from MIT were in search of a spring break vacation destination that offered plenty of sun, sea, and sand, but beyond this wish list, this active bunch wanted to spend as much time as possible experiencing outdoor sports and mingling with locals for the ultimate active island lifestyle experience.  The five group members (Lydia Lihui Zhang, Hannah Whisnant, Frank Ryan, Gabe Bann, and Benny Ng) have been sharing their island adventures with us in words, images, and video.  Hannah shares the group's sunset trail ride with Rancho Loco. 
The moment we pulled up to Rancho Loco, it was clear we were in for a beautiful experience. The low, colorful buildings of the ranch are surrounded by the tall, skinny cacti that cover Aruba. We stepped onto a flat open porch and were greeted by our guide, Larissa, alongside a friendly golden retriever. Just beyond that, two foals ambled around a corral. I went to lean against the fence, and one wandered over to me almost immediately.
At first, I was a little apprehensive about being around the horses, as I don't have any experience with them. My nerves were unwarranted, though—the horses themselves were experts at dealing with clumsy humans and were totally unfazed by my beginner riding skills. They also didn't bat an eye at the handful of cars and curious local dogs that we passed on our way out of the ranch.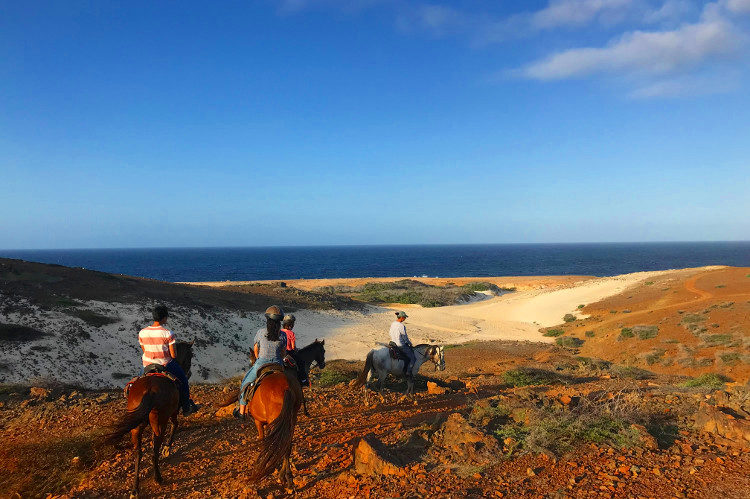 As we headed out from Rancho Loco, I got to know my horse, Shadow, a little. His name was ironic, as he was a gorgeous off-white color. Our guides had matched each person to a specific horse as best they could, and Nick assured me that Shadow was both very smart and very lazy—the perfect horse for me, I thought! Nick would prove to be completely right, but equine laziness aside, Shadow and I hit it off immediately.
We rode single file through a small Aruban neighborhood, our guides bookending our little group, which included myself and two of my friends, all grad students, and a lovely couple from Minnesota and their two teenage daughters. The houses grew farther apart after we turned onto a dirt road, and eventually, we arrived at the entrance to Arikok National Park. The trail we took into the park is reserved for four-legged travel, meaning there were no ATVs or other vehicles to contend with—just us and the horses!
Aruba itself is a study in contradictions—tropical but arid, small but not crowded, dry but not too hot. It's unlike any other place I have seen. Once in the park, we wound our way upwards through the distinctive Aruban landscape, dominated by more tall cacti. Eventually, the wind picked up, and I realized we were about to crest a small mountain. It was, in fact, Aruba's third-tallest mountain—the appropriately named Sero Cabai (Horse Mountain). As we picked our way across the ridge, Aruba unfolded on either side of us. We could see from coast to coast, clear across the island. Then we started to descend down the far side of the mountain, and I was excited to learn we were heading for the beach. (Apparently I had been told this at the beginning of the trip, but I was too excited to meet the horses to remember!)
Shadow seemed just as excited to step onto the white sand as I was, and we headed towards the water, horse and rider casting long shadows across the dunes as the sun dipped lower in the sky. Our destination was a small cove where an enormous rock formation juts from the water. It is called Moro, and nicknamed "Little Aruba" for its shape when viewed from above. I could see a rope hanging down one side that people braver or more reckless than I would climb up in order to leap into the ocean.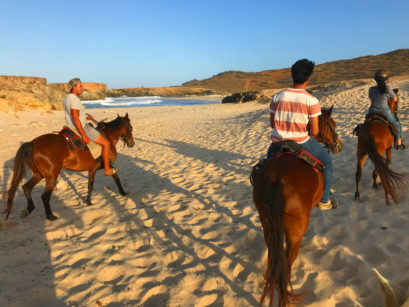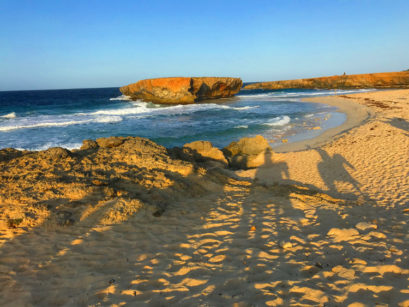 The journey back was along the same route, this time with the landscape bathed in pink and orange as the sun set. The light looked golden through the horses' manes and tails, as well as through the dust kicked up by their hooves. With as many pictures as I took, I couldn't quite capture the full effect. Shadow also chose this time to prove just how smart and lazy he is. Determined to walk at his own speed, he would slow down through the narrow sections, then abashedly trot to catch back up when Nick came up alongside us and scolded him. His dedication to going his own pace seemed perfect for Aruba!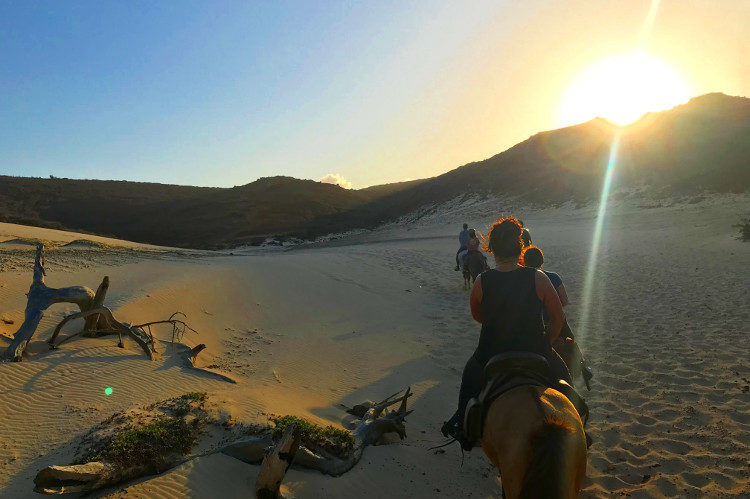 We arrived back at Rancho Loco just as the sun dipped below the horizon. Larissa offered us a local Balashi beer, and we watched the foals in their corral while waiting for the van. The mood was relaxed and easy, a perfect end to a beautiful evening. When in Aruba, I can't recommend a sunset ride highly enough.
Book your tour with Rancho Loco here.
Images by Benny Ng/Video by Lydia Lihui Zhang