Published on:
The Barbershop Book Box
A "When in Aruba, Care for Aruba" Initiative
We are writers—so it's a given that we love to read, a lot! As a child, reading was my great escape and nurtured my imagination and creativity. I remember very well a defining moment in my childhood when I ventured into reading novels. I was stuck at home for two weeks with the chickenpox, burned out on The Price is Right and Let's Make a Deal. The house was so quiet while my sisters were at school and busy with afternoon activities, while I was stuck in my bedroom. One of my teachers sent home a copy of J.R.R. Tolkien's The Hobbit; daunted by the thickness of the 300+ pages, I let the book sit on my bedside table for a couple of days. Boredom tempted me to crack it open; complete and utter fascination wouldn't let me put it down! I was hooked, totally absorbed in this epic saga set in a mystical land with fantastically imaginative characters. The novel nursed me through my sickness, but more than that, cultivated a love for reading that would keep me company through good times and bad, opening new worlds and exposing me to enlightening points of view, and most importantly stimulating the creative energy that would propel me to make a career from writing.
I passed this love of reading on to my children—sharing in this joy was centric to our family life. It saddens me to see many of today's youths with their noses in their cell phones rather than books, so when Rona Coster came up with an intriguing plan to encourage kids and their parents to read together, I was thrilled. Books and barbershops.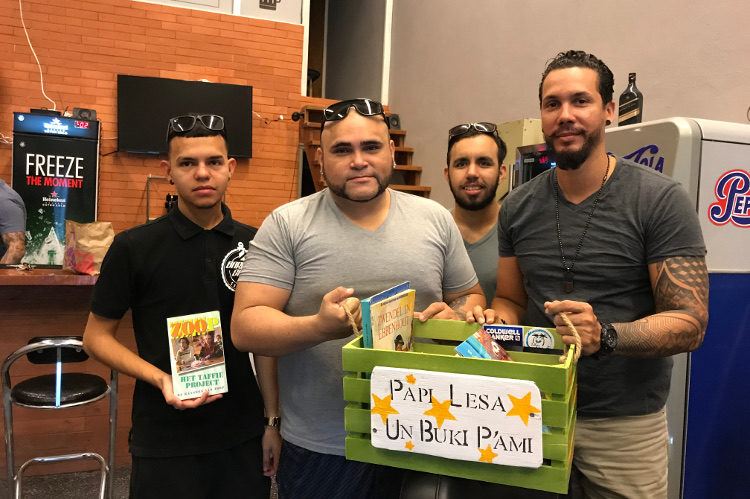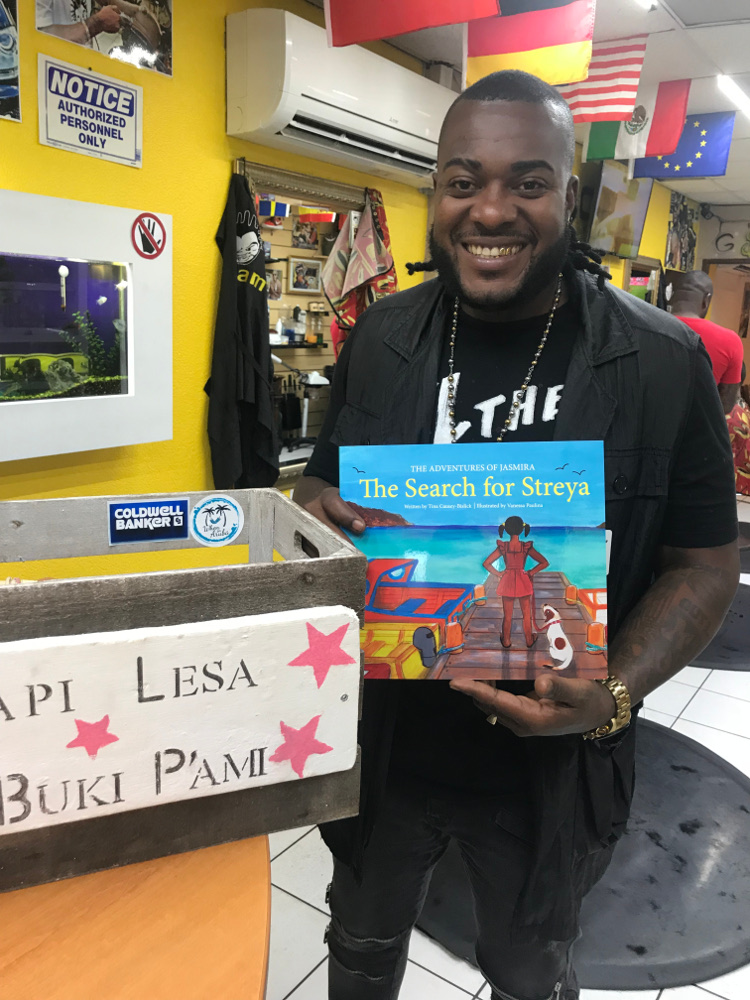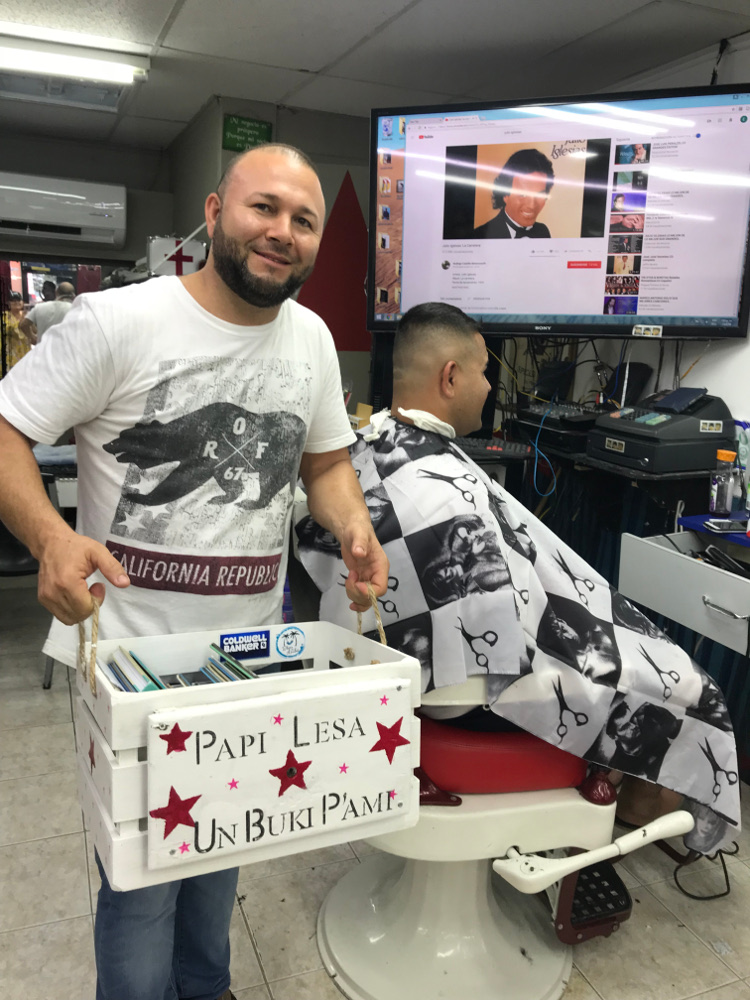 Yes, on the surface it sounds like an odd pairing, but Rona was motivated by an article she came across about a non-profit organization called Barbershop Books that won the National Book Foundation's Innovations in Reading Prize for 2017. "Barbershop Books is a community-based literacy program that creates child-friendly reading spaces in barbershops," says the foundation's website. "We help boys identify as readers by connecting books to a male-centered space and by involving men in boys' early reading experiences."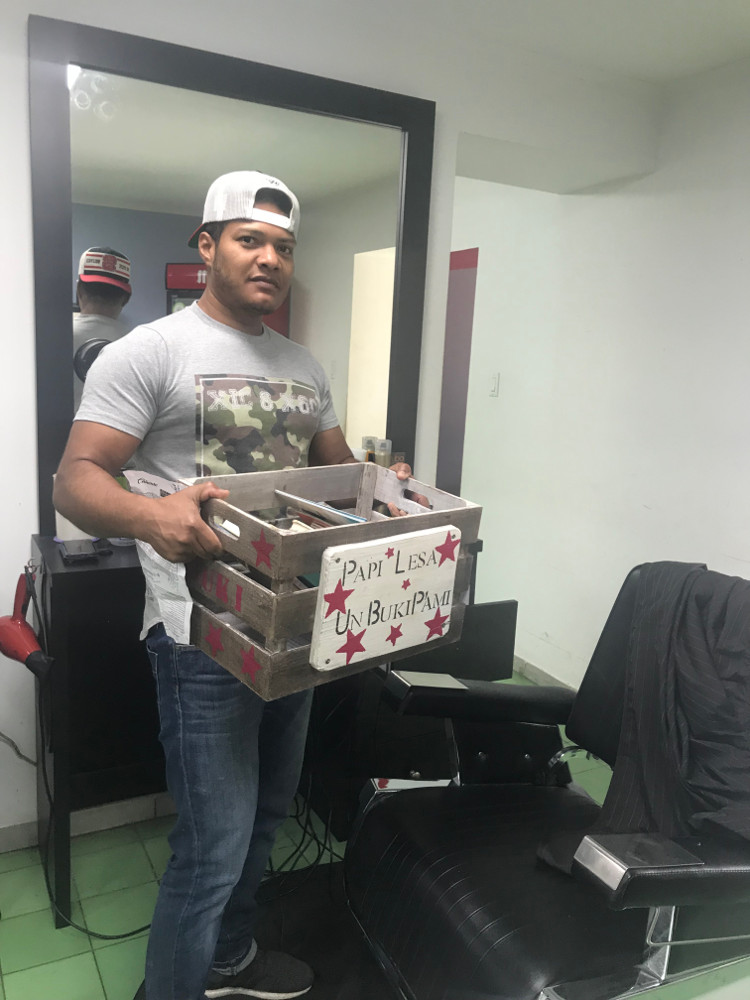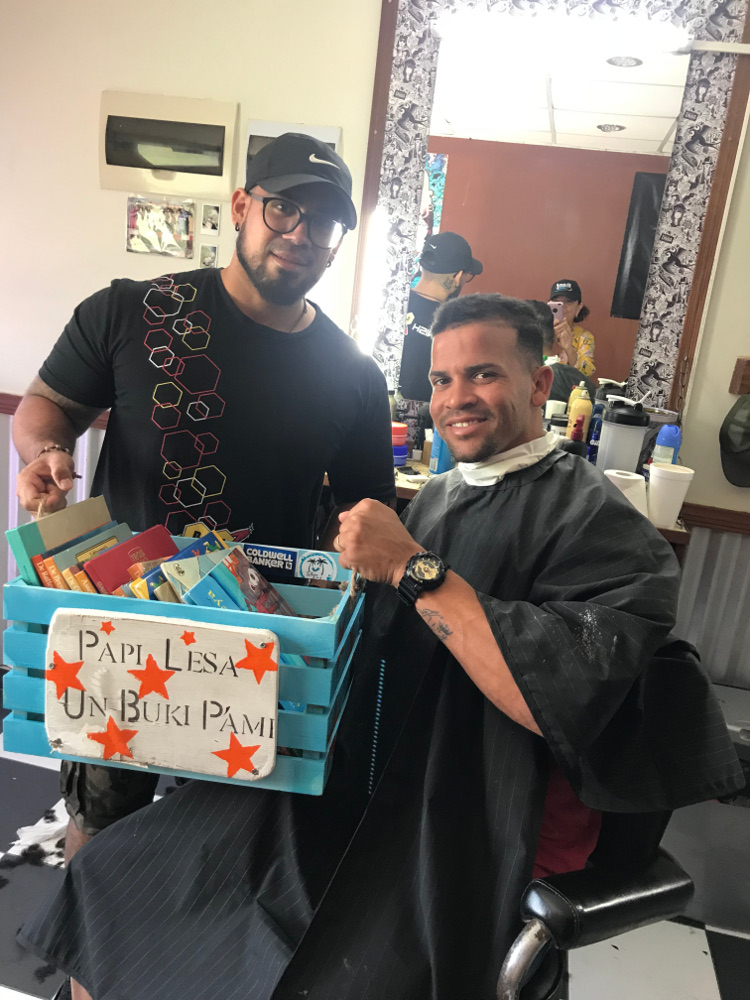 Shortly after coming across the article about the foundation, Rona received an email from our library—they were making room on their shelves for new books and selling the older ones at a discounted price. "It was serendipity," Rona says, and this woman of action made sure she was first in line for the book sale, collaborating with the librarians to pick out a nice selection of books.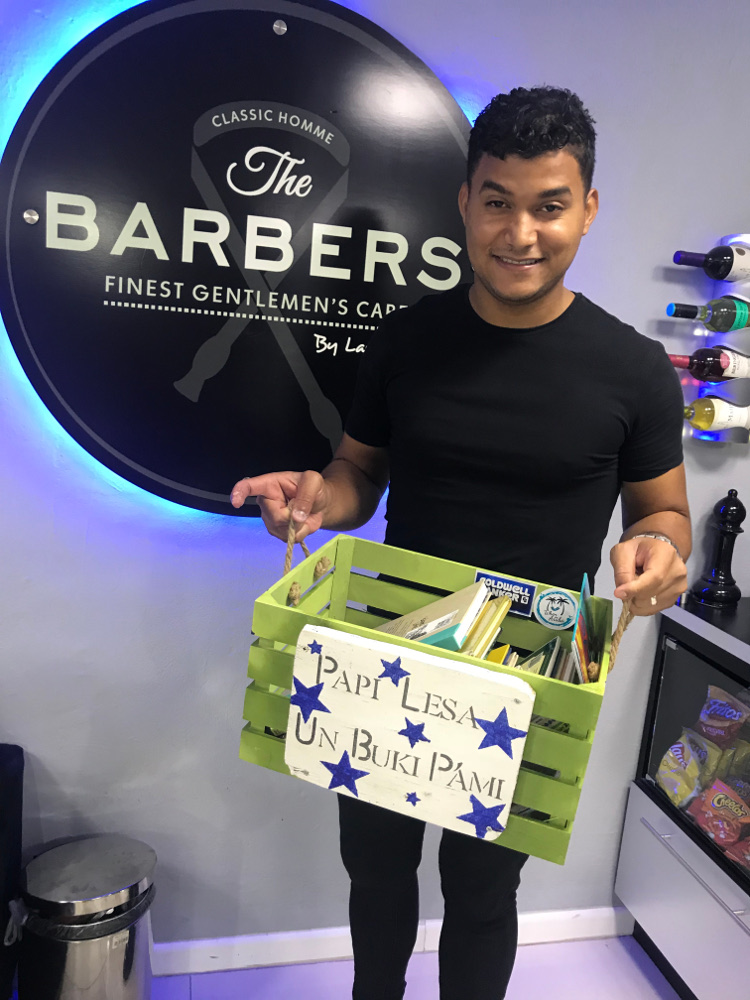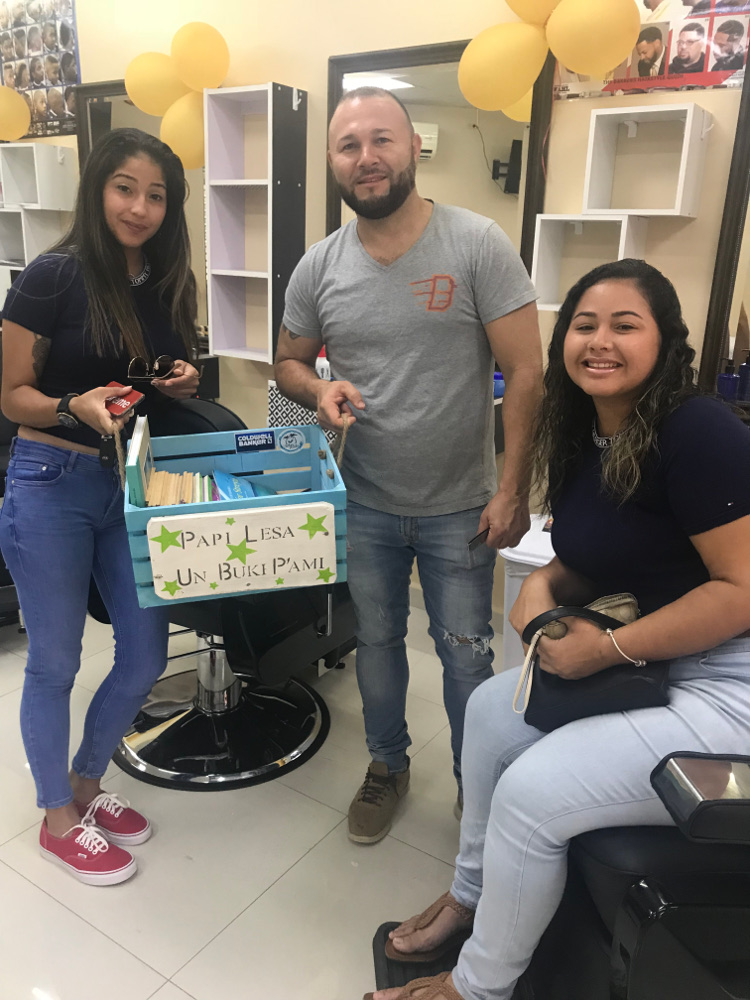 Next, Rona enlisted the talents of driftwood and shell artist Maike Van Paridon, who made attractive boxes to hold the books. Coldwell Banker Aruba Realty heard about the initiative, loving the idea of encouraging family reading, and funded the purchase of more books. Rona found eleven local barbershops that were very receptive to the idea, outfitting them each with their own When in Aruba Barbershop Book Box.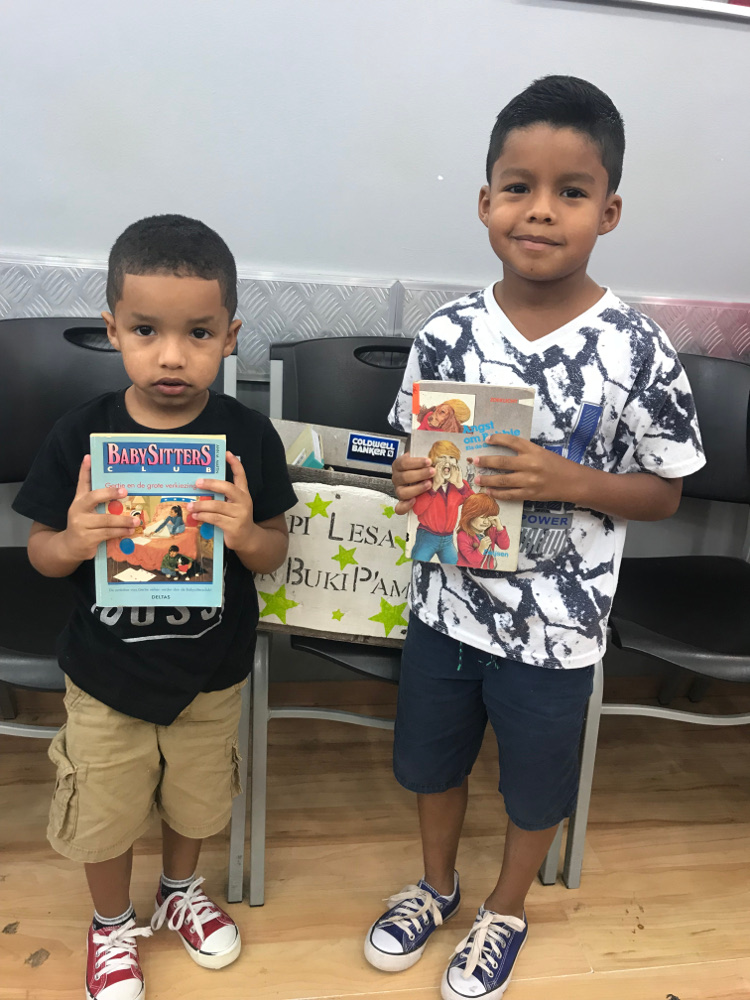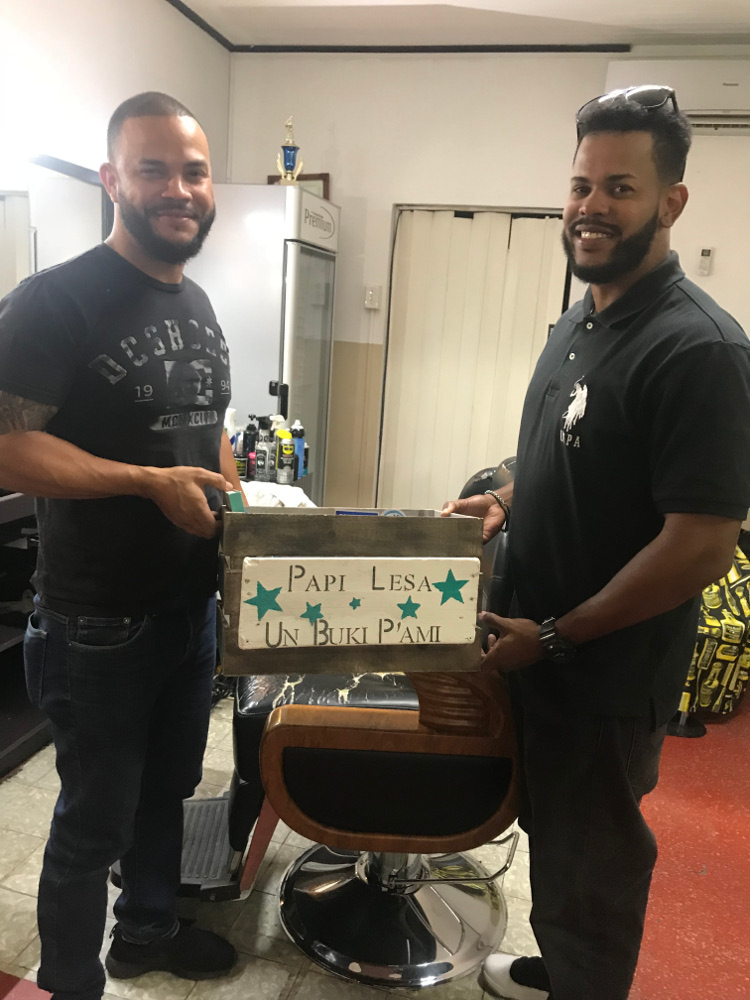 If you have any books you would like to pass along to young readers, feel free to pass by any of the following barbershops to help them enrich their collections:
The Barbers, Classic Homme, Dakota
CT Barbershop, Oranjestad
Next Level Barbershop, Oranjestad
C-Jam Barbers, Oranjestad
The Final Touch, Paradera
Alex Barbershop, Oranjestad
Knipoog, Oranjestad
El Bori Barbers, Palm Beach
El Bori Barbers, Ponton
Looking Sharp, Bubali
The Man Cave Barber Lounge, Pos Abou
Thanks to Coldwell Banker Aruba Realty for sponsoring more books!
About Coldwell Banker: The brand was founded in 1906 on a commitment to professionalism and customer service that remains the core of its business philosophy today. It is the nation's oldest real estate organization, and its experience has helped make the dream of homeownership a reality for millions of families. Coldwell's presence, commitment, and belief in the Caribbean real estate market is increasing every day, resulting in the growth of Coldwell Banker Island Affiliates. Coldwell now has offices not only in Aruba, but also in the Bahamas, Bermuda, Cayman Islands, Dominican Republic, Jamaica, St. Kitts and Nevis, St. Maarten, Turks and Caicos, and the US Virgin Islands.