Published on:
The California Lighthouse in the Spotlight
By Rona Coster
The California Lighthouse recently became part of the Lighthouse Society Passport Program, in line with the United States Lighthouse Society (USLHS), a nonprofit organization whose objective is to educate and inform people interested in lighthouses.
At the end of last year, Stichting Monumentenfonds Aruba, the local entity in charge of the lighthouse monument, became a member of USLHS and part of the program.
A visitor to Aruba who is a member of the program can now get their special passport stamped with the California Lighthouse seal in exchange for US$1, which goes towards the maintenance of the lighthouse.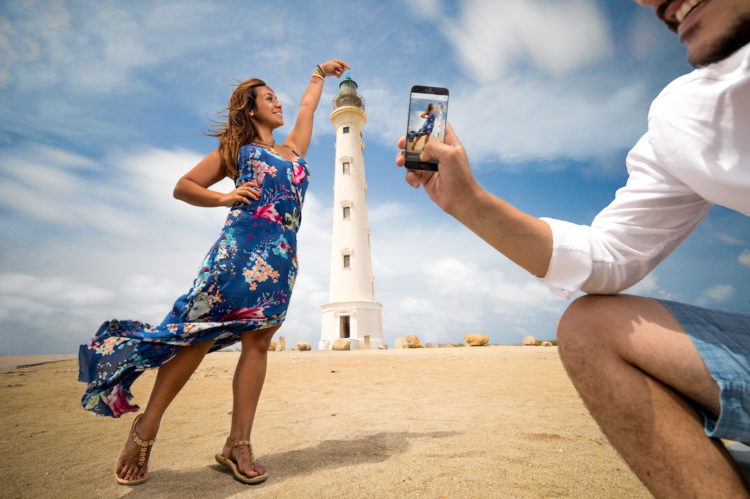 Aruba is the second country outside the U.S. to join the USLHS. Those who want more information on how to become a member to receive a passport can visit www.uslhs.org.
The lighthouse is now open to the public.  The cost is $5 for walk-in visitors from 9 am to 7 pm daily.  Refreshments are available, or you can decide to spring for the complete experience with a romantic lunch or dinner at the Faro Blanco Restaurant. During the full moon, visitors are invited to climb up the winding stairs to the wraparound observation terrace to view the full moon and Aruba by night from 7 pm to 10 pm for $10.
Gorgeous 360-degree island views from the top of Hudishibana Hill, on the northwestern tip of the island, are guaranteed. The lighthouse was named after the S.S. California, a ship that sank just off the coast in 1910. The lighthouse has become one of Aruba's iconic symbols overlooking the island's western coastline.