Published on:
The Chef's Garden Debuts New Fall Menu at The Secret Garden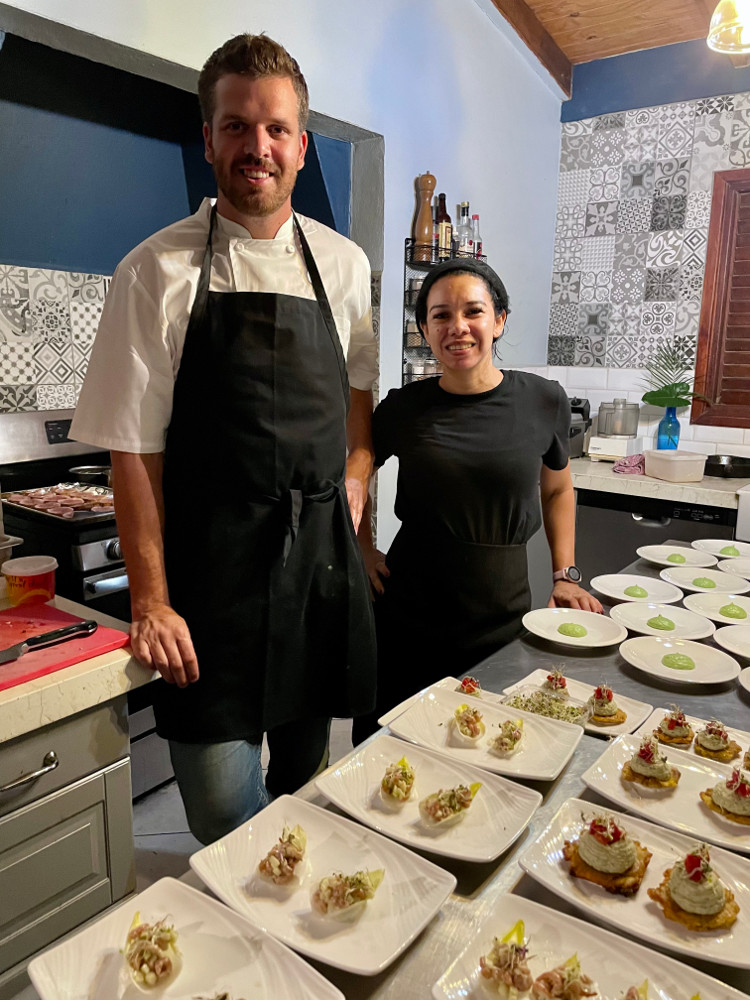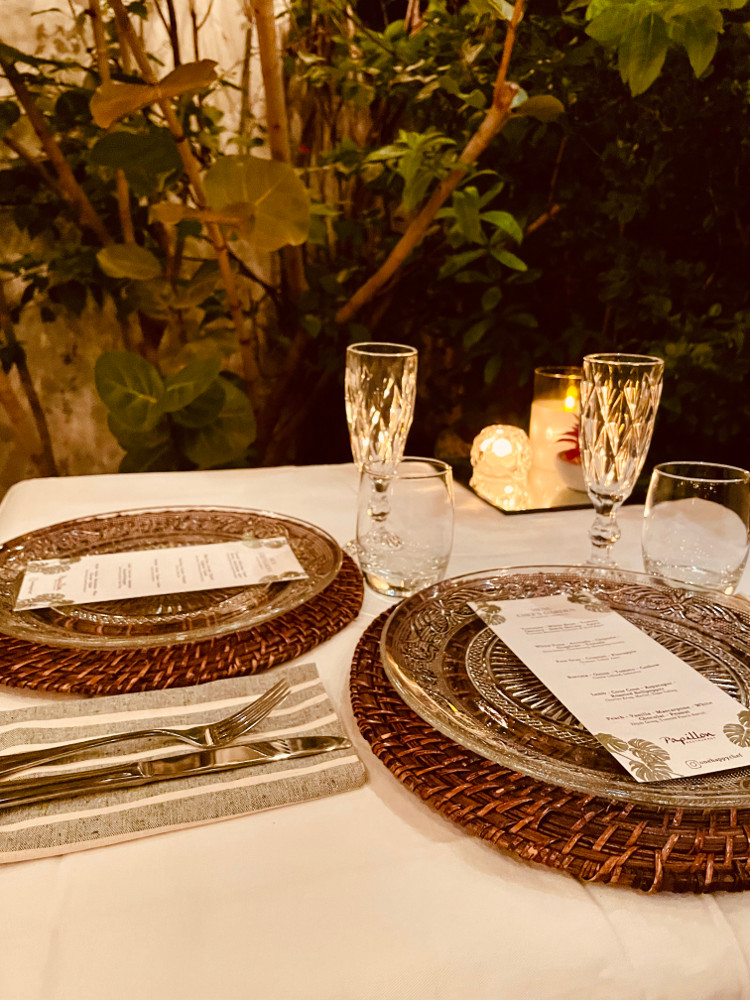 The Secret Garden, Aruba's exclusive private in-home dining experience and the island's only culinary collaborative, welcomes Chef Martijn Liebregt and the Papillon service team every Wednesday evening for a six-course dining experience.  The chef, who executes a unique fusion of French and Asian cuisine, began his career at two-star Michelin-rated Amber, a fine-dining restaurant in Hong Kong specializing in classic French dishes spiked with Asian flavors.  Back on his home turf in The Netherlands, the chef joined the culinary team at former Bib Gourmand restaurant Wilde Zwijnen, awarded the title "The New Dutch Cuisine"  by The New York Times, where he learned to source locally for ingredients and let them shine as the stars of his dishes.
Every few months, a new menu is introduced, and this past Wednesday, diners were treated to the new seasonal menu. A new wine pairing (optional) also debuted to complement each course.  The evening is overseen by maître d' Michael, graciously assisted by Isabella—both make everyone feel at home in this local garden setting.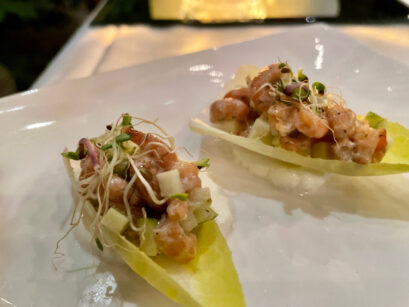 The evening begins with two amuses for the first course: A Tostone (fried green plantains–locally sourced) topped with white bean puree with hints of thyme and basil, and sundried tomato; and chicory with Dutch shrimp salad and fresh green apple.  This course is paired with a bubbly Cremant de Bourgogne by Francois Martenot.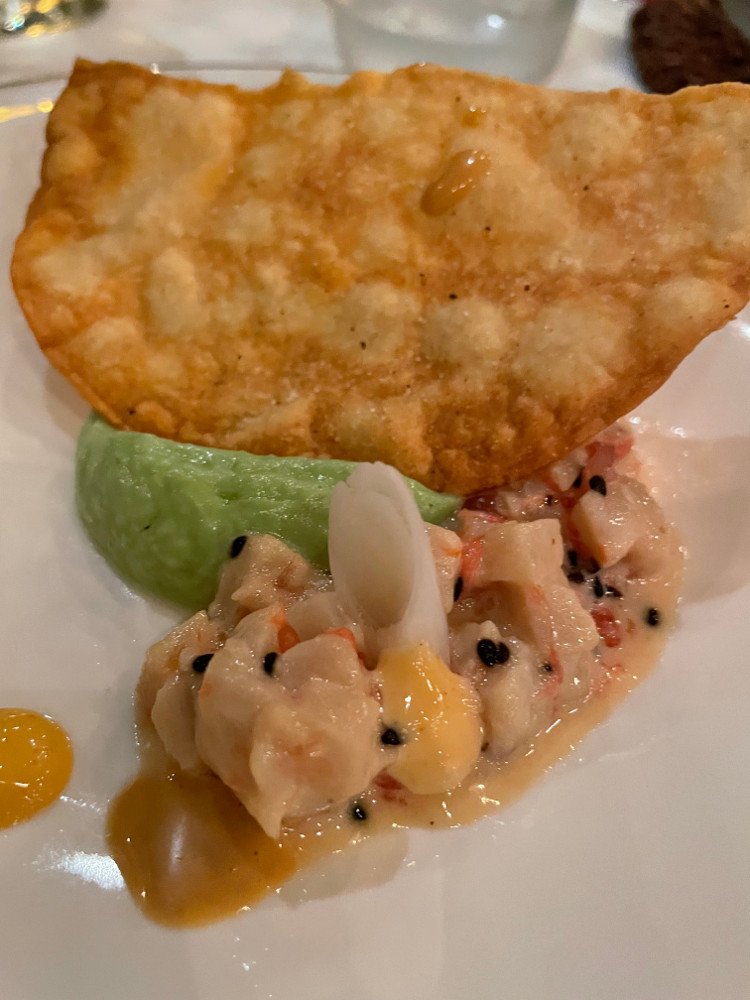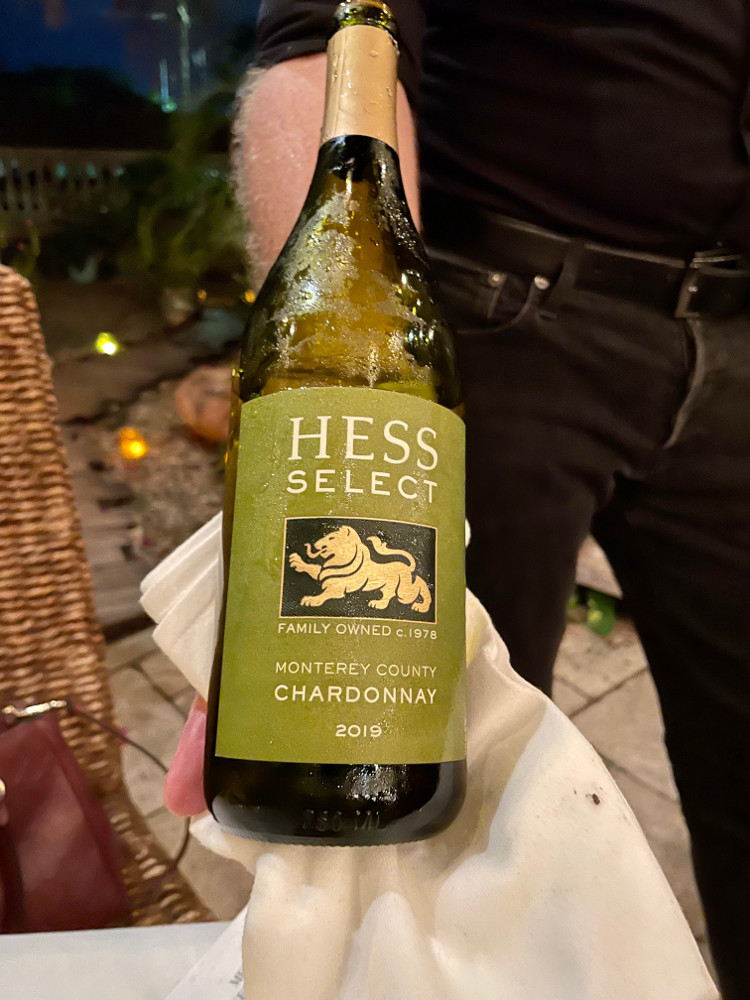 Second course:
A crispy corn tostada is topped with fresh white tuna tartar, avocado creme, spicy chipotle mayonnaise, and grapefruit for a citrus touch.  One of our favorite wines of the evening, Hess Select Chardonnay, was a lively mate for this course.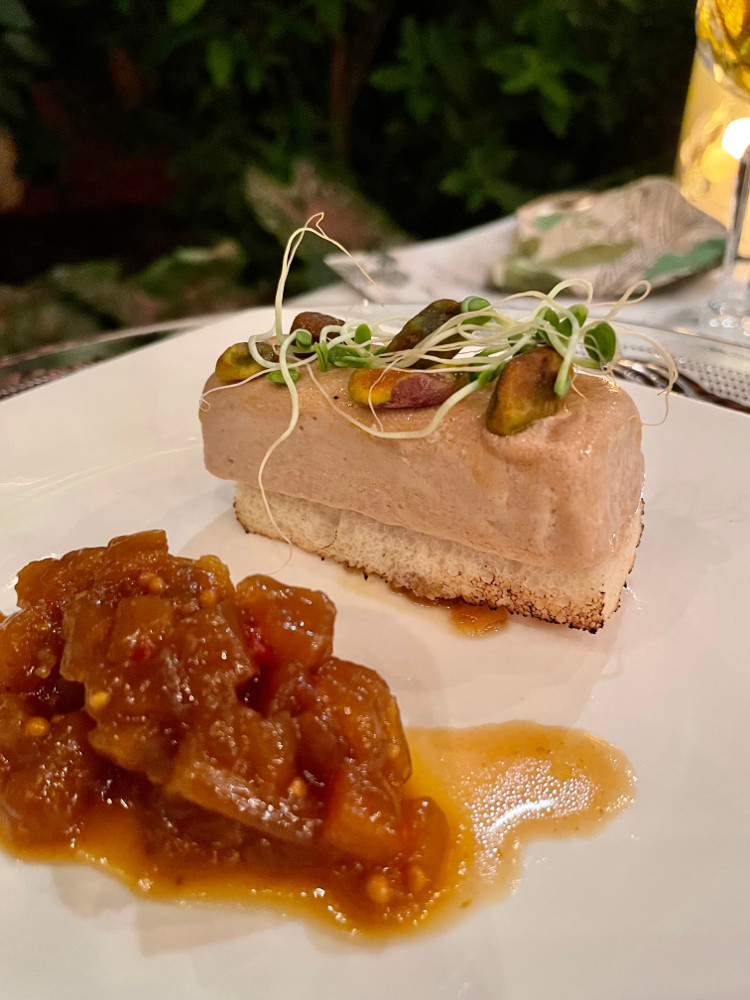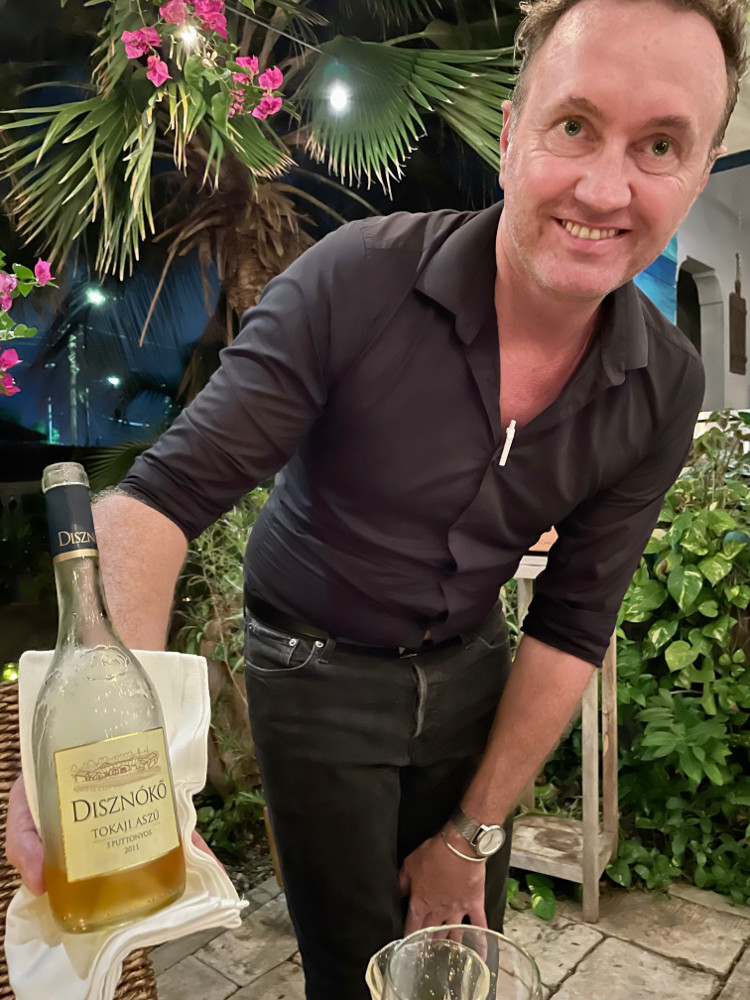 Third course:
A classic, rich foie gras on crispy crostini and topped with pistachios was balanced with a pineapple chutney for an ideal savory-sweet combo.  The wine pairing was a most unexpected Tokaji Aszu from Hungary, falling in the arena of sweet dessert wines…definitely impactful against the richness of the foie gras.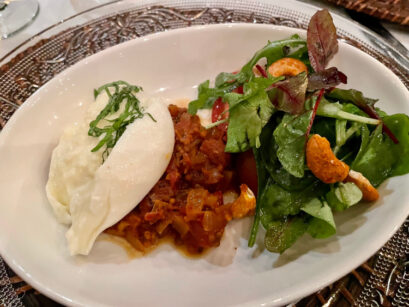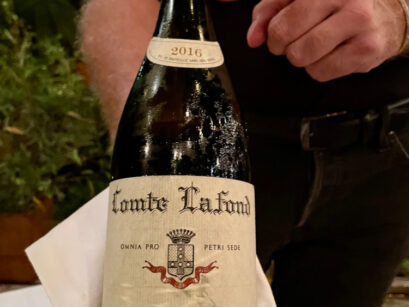 Fourth course:
A creamy, locally-made burrata with a curried tomato and onion shared the plate with a sprinkling of locally-grown mixed greens and roasted cashews. A sancerre pinot noir from Comte Lafonde matched the moment with bright red fruity notes.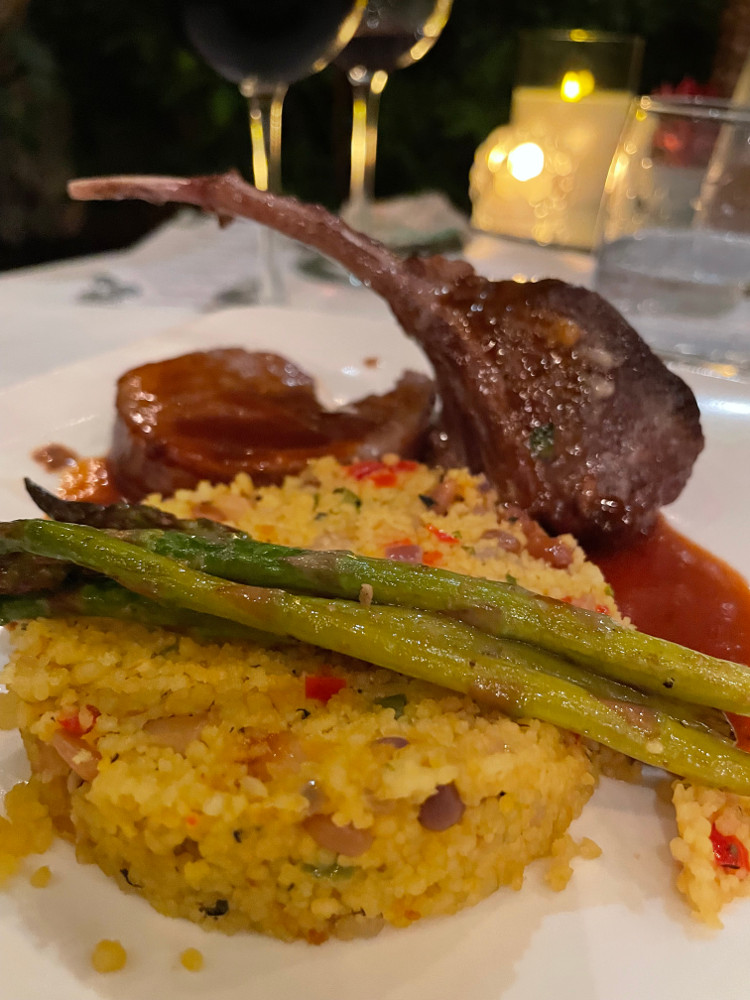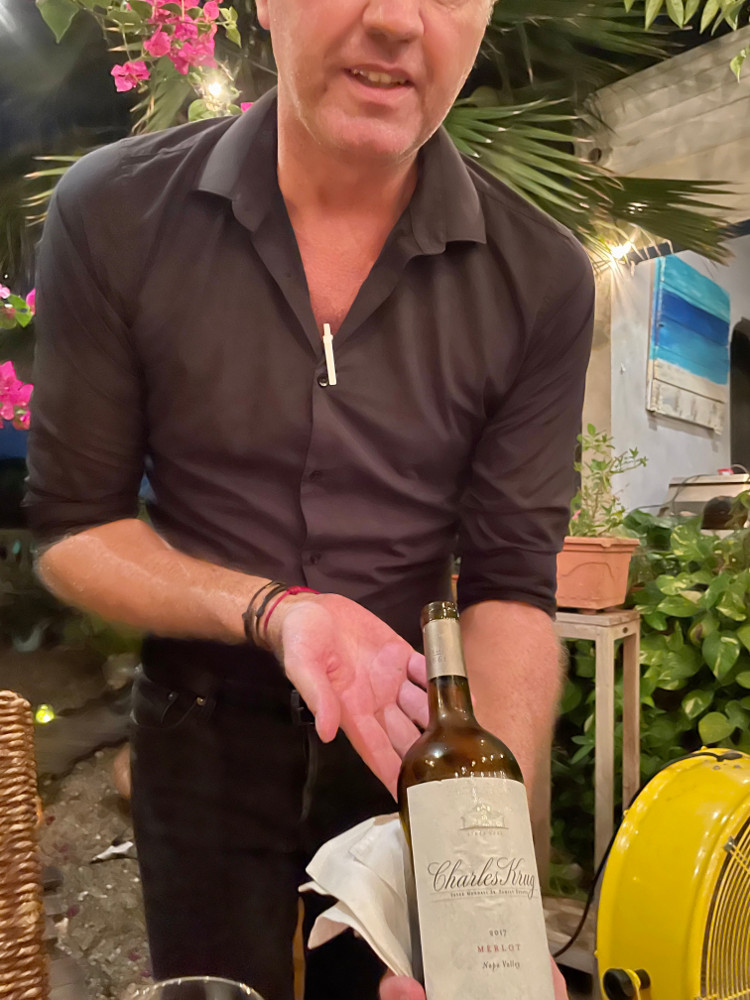 Fifth course:
Super tender rack of lamb saddle served with saffron couscous laced with pine nuts and chickpeas, and roasted bell pepper and fresh asparagus.  A merlot singing with notes of oak, tobacco, and vanilla from famed Napa Valley winery Charles Krug paired perfectly with the dish.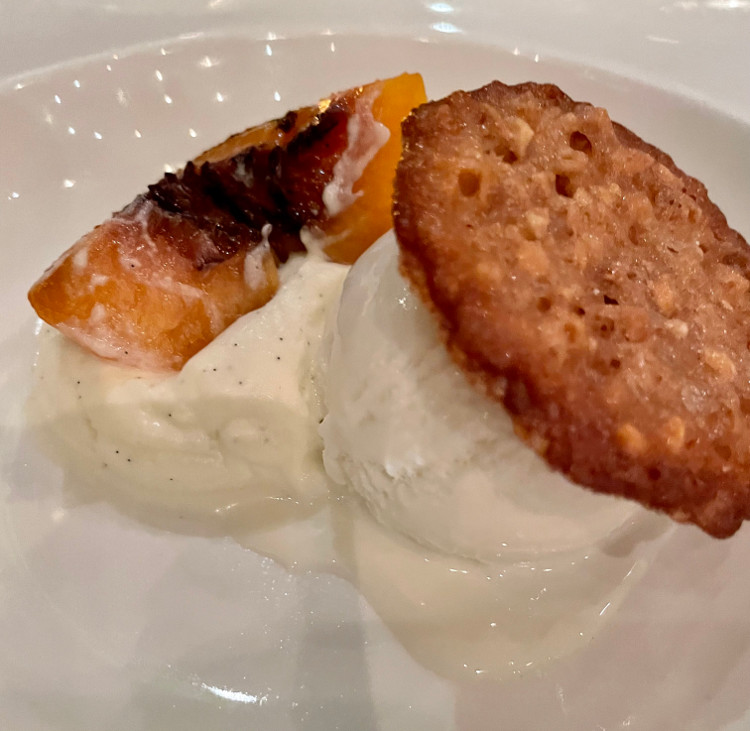 Sixth course:
We took a stroll in French New Orleans down Bourbon Street, sipping a peachy Elijah Craig cocktail with a dessert of roasted peaches and mascarpone over locally-made white chocolate ice cream, and garnished with a crispy peanut cookie.
Seating is limited to just 20 guests. To reserve your table, contact the Papillon team at [email protected].  
The Secret Garden is located in a replica of a traditional Aruban cunucu (countryside) home owned by event planner and content and travel writer Tina Causey-Bislick and her husband, Michael Bislick, a local Aruban and professional musician.