Published on:
The Fab Five! Best Local Lunch Spots: Glenn's Place
When in Aruba hosts a Fab Five series, asking locals and repeat visitors about their favorites on a variety of topics—from best burgers to favorite happy hour. A recent poll queried our readers on their favorite local lunch spots, receiving hundreds of responses.  Our blog today features one of the top five–Glenn's Place.
This bar and restaurant is very popular with locals and those visitors who are lucky enough to stumble on it in the Tanki Leendert neighborhood.  You won't find it advertised on fancy billboards or in newspapers and magazines, but it's a bustling place favored by locals.  Glenn is indeed the owner, and he loves to sit and talk with his guests—he is quite a character and spins a good yarn while pushing out some righteous, authentic local chow.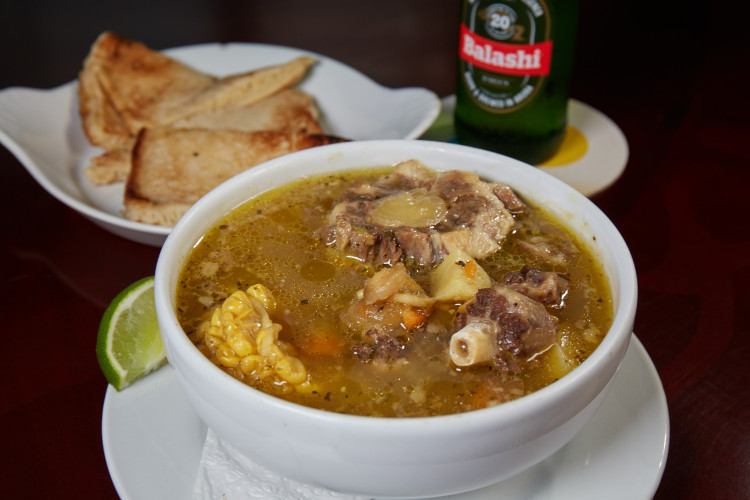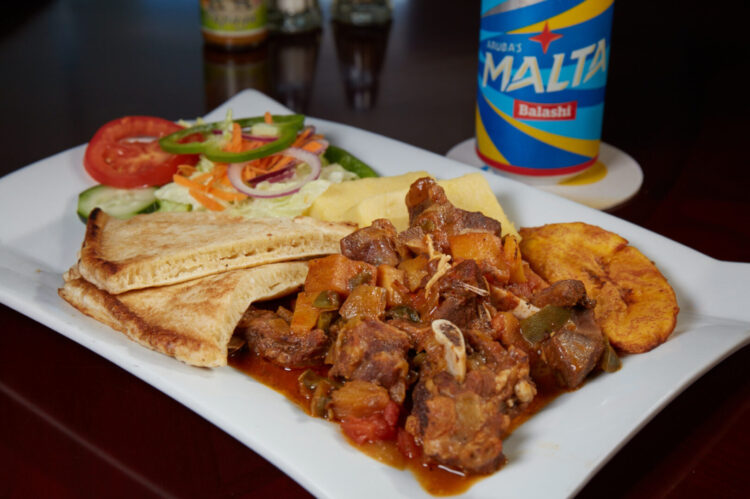 Contact Glenn's Place at+297-583-9705, or visit on Facebook.
Local Food Cheat Sheet
Here are some of the menu items you might come across in local restaurants:
 Fish Creole
Fish creole, locally known as pisca hasa crioyo, is a traditional Aruban dish still prepared in many a home and restaurant on the island.  The dish is deliciously simple: pan-fried slices of fresh fish fillet served in a basic gravy of onion, tomato, bell pepper, and garlic.  The only thing that could make the meal more perfect is a side plate of pan bati or funchi.
Funchi
Funchi—Aruba's own version of polenta—is a thick, cornmeal porridge traditionally served as an accompaniment to rich stews and fish platters.  Funchi porridge can also be cooled, cut into flat slices, and fried to a light golden brown as a crispy variation.
Keri Keri
Drier types of firm, white-flesh fish, such as barracuda or shark, are ideally suited for making one of Aruba's popular seafood dishes, keri-keri.  A fish fillet is boiled in salted water, removed and shredded, and then sautéed in butter with tomato, onion, celery, bell pepper, fresh basil, black pepper, and annato spice to create a tasty, satisfying meal.
Pan Bati
Like funchi, pan bati serves as the perfect accompaniment to stews, soups, and fish dishes.  Made from cornflour and cooked in a casuela—a traditional clay baking dish—pan bati lies somewhere between a flatbread and a pancake.  Compared to an American pancake, it is denser and less sweet.
Sopi
Several soups are especially popular with the locals.  Sopi yambo is Antillean gumbo made with puréed okra for a thick, smooth consistency.  Sopi mondongo is a traditional combination of tripe, spices, a medley of vegetables, and West Indian pumpkin, or calabas.  Sopi oester is the local oyster soup, with each restaurant and household claiming rights to the best recipe on the island.  Sopi cabrito is a bouillon-based soup made with goat meat, garlic, tomato, celery, bell pepper, and vermicelli.
 Stoba
Despite the warm weather, stews are popular on Aruba.  The classic Aruban recipes for beef stew (carni stoba) and goat stew (cabrito stoba) each feature meat, potato, onion, garlic, and chili pepper in a tomato-based gravy.  Conch stew (calco stoba) is made from the meat of conch shellfish, onion, bell pepper, and a white-wine vinegar stock.  Funchi and pan bati are usually served with these stews for a well-rounded meal.