Published on:
The Fab Five! The Best Local Lunch Spots: Mama's Food Truck
When in Aruba hosts a Fab Five series, asking locals and repeat visitors about their favorites on a variety of topics—from best burgers to favorite happy hour. A recent poll queried our readers on their favorite local lunch spots, receiving hundreds of responses.  Our blog today features one of the top five–Mama's Food Truck.
Visitors staying in the Eagle Beach area might hear other guests talking around the pool about this food truck that is a lunchtime institution for more than 30 years.  It's also a favorite go-to for the beach police and others working in the area, with a few picnic tables nearby for those who want to enjoy the view while they munch.
Mama is Cosma Kelly, and although she is not on the front lines in the food truck lately, she still oversees the food preparations, with sons Giancarlo (aka Bompi) and Giovany Vieira do Salao working in the truck.  The standard menu is short but sweet—steak, pork chop, chicken, shrimp, and fish served with rice, plantains, fries, and a special side of the day.  A lunch at Mama's is not complete without the house lemon-butter sauce called My Way Sauce.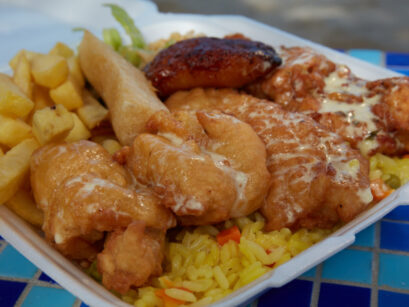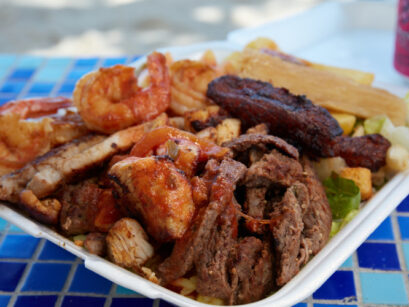 The truck serves lunch Tuesday through Sunday from 11:30 am until the food runs out!