Published on:
The Monforte—A Next-Level Sailing & Dining Experience
By Tina Causey-Bislick
If there is just one activity I could recommend for visitors to the island to splurge on, it is a coastline sailing trip.  Aruba has quite a few catamarans and sailboats offering sail-and-snorkel trips, booze cruises, and sunset sails, and all of them assure you magnificent at-sea views of Aruba (the view of Aruba's coastline is pretty amazing), unique photo ops, and plenty of fun in and on the water.
There is one sailing vessel, however, that elegantly elevates the sailing experience.  The Monforte III—a gorgeous, handcrafted 115-foot schooner—distinguishes itself from the fleet of sailing vessels on Aruba by offering a stylish, upscale version of the daytime snorkel and sail (read about it here), as well as an evening sunset dinner cruise, which I recently experienced with my husband and another couple.
We set sail from the Pelican Pier (on Palm Beach, across from Holiday Inn) at 6 pm.  The exclusive sail pampers a limited number of guests in order to provide exceptional service and plenty of room for both dining and mingling.  Greeting us with flutes of champagne, the captain and crew welcomed us aboard and ushered us to our tables, and off we went in pursuit of one of Aruba's famed sunsets.
We were free to roam the boat as we cruised north along the coastline. To our right was the stunning coastline view while to our left the sun put on a show as it slowly dipped into the sea, all set to live music from a talented local pianist/keyboardist. Cruising Aruba's coastline never gets old, but our friends who joined us had just arrived on the island that day, and watching them experience this for the first time was so much fun. Imagine, they were in Chicago early that morning during the insane polar vortex, and 12 hours later they were sailing the waters of Aruba at sunset, mojitos in hand!  And speaking of mojitos, the Monforte offers a top-shelf bar with premium liquors, wine, and craft cocktails.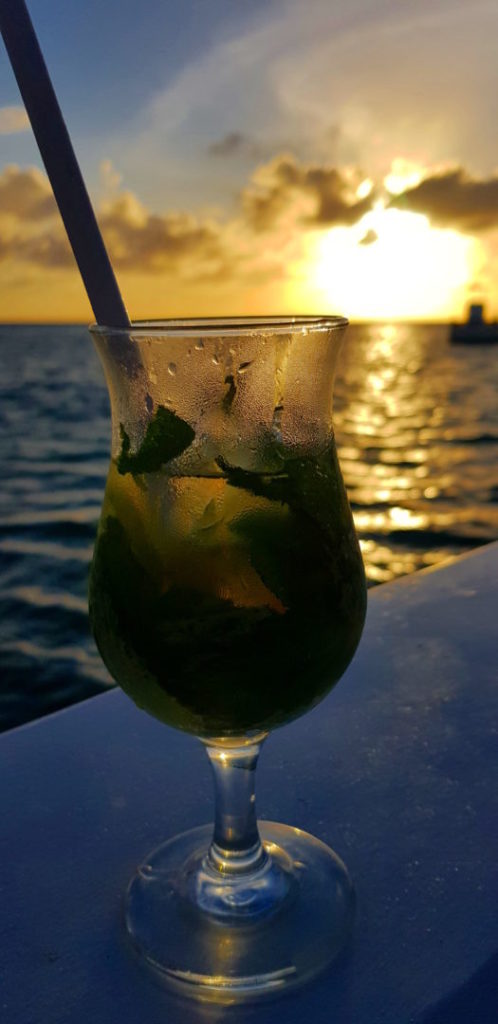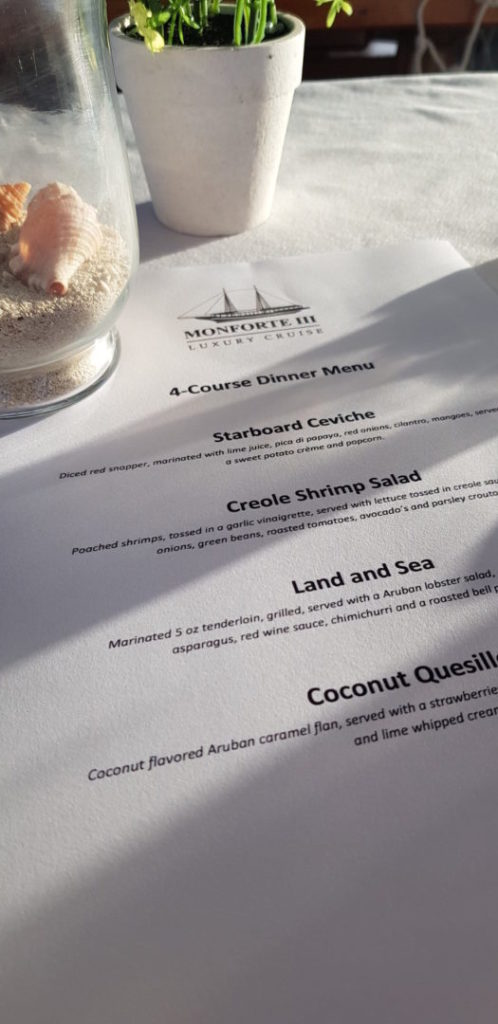 Once the sun set, the boat anchored off the coast of Arashi Beach, with the historic California Lighthouse winking at us in the distance.  The on-board chef and his team (the kitchen is downstairs) prepared a four-course menu that started with a Caribbean ceviche made with fresh red snapper caught that morning from the waters we were sailing.  It was perfectly balanced with lime juice, pica di papaya (our local hot sauce), red onions, cilantro, and fresh mango, and topped with a sweet potato crème and popcorn (yes, popcorn!) for a nice crunch.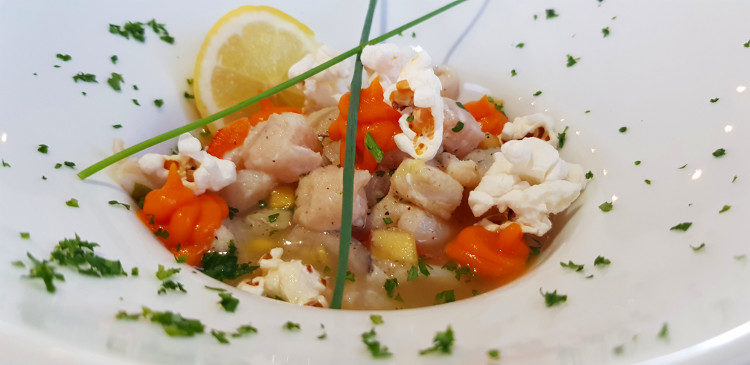 Our second course was a Creole shrimp salad with plump poached shrimp, greens, avocado, and roasted tomatoes tossed in a garlic vinaigrette.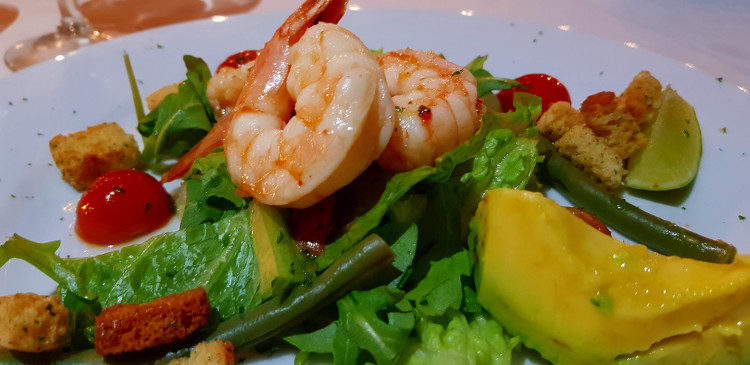 Our main course was a duo of grilled beef tenderloin with red wine and chimichurri sauces and local lobster salad, served with a side of fresh asparagus and potatoes.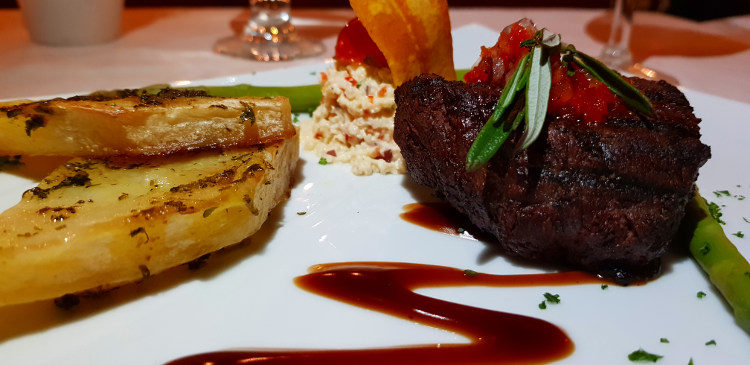 Coconut quesillo (Aruba's version of flan) finished the dining experience.
We pulled up anchor and sailed back up the coastline under starlit skies, accompanied by cool evening breezes, reaching Pelican Pier around 9 pm. It was truly an idyllic evening in paradise—a must-do on your vacation itinerary!
*A note about the food: We had one person in our group who had a shellfish allergy, which was no problem, as the chef was made aware ahead of time of any allergies or dietary restrictions.  Make sure to share any special requests when you make your reservation.