Published on:
"The Search for Streya" Children's Book Launched
Local Writer and Illustrator Team Up to Produce The Search for Streya
I met artist Vanessa Paulina 16 years ago.  I saw some of her paintings on display at the clubhouse of Tierra del Sol Resort & Golf.  I could not take my eyes off of one of her paintings, which depicted a cherubic Caribbean boy.  He had this unmistakable twinkle in his eyes that pulled me in.  The artist was as intriguing as her paintings—we had an instant connection, and she was the subject of the first article I ever wrote about an artist and has remained a good friend ever since.
About ten years ago, I decided to venture into children's fiction.  The island of Aruba would be the setting, and a mystical sea turtle named Streya and two local children would be my main characters. Who better to depict the spirit of two beautiful Aruban children than Vanessa?  She loved the idea and waited patiently for me to finish my rough draft so she could bring my characters to life on canvas.
Lots of patience was required.  I started, stopped, scrapped it all, and started over again so many times.  I am seasoned in producing news articles and magazine features by the dozen on a weekly basis, but this was a completely different ball game.  One would think that writing a children's book would be easy—it's not like I have to write an 80,000-plus-word novel.  But when writing for children, word count is the challenge.  Many publishers prefer picture books for children to be under 1,500 words.  I would set the project aside again and again, frustrated that I could not tell the story the way I wanted to.  One day, I went back to some of the books my kids loved growing up—specifically the masterfully illustrated and award-winning books The Polar Express and Jumanji by Chris Van Allsburg.  My kids could not get enough of these books, and we read and re-read them many times—all 3,000-plus words!  Maybe publishers, in general, are not giving our youth enough credit when it comes to reading and their attention spans; maybe they're not placing enough importance on the introduction of new and sometimes challenging words to help children grow their vocabulary.  I know from my own experience and the incredible bonding we had as a family reading books—if it's a good story, they will stay tuned in.
About a year ago, I was finally able to read my rough draft to Vanessa.  When she had tears in her eyes and said, "I can't wait to paint your words," I knew we were on the right track as a team!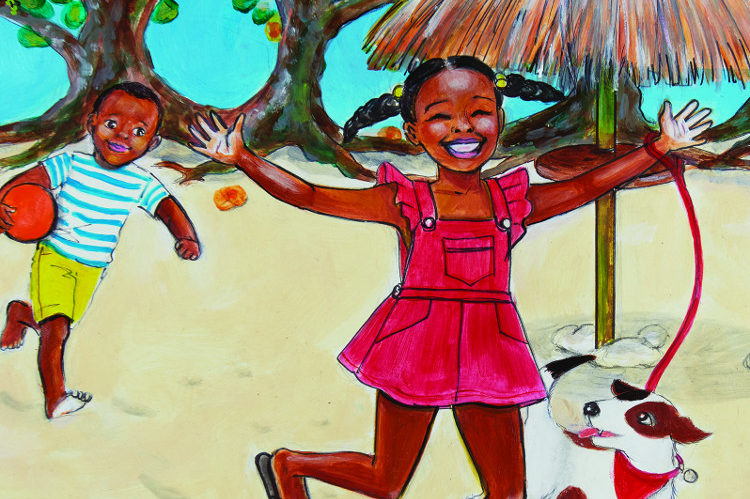 Vanessa went to the drawing board and presented me with her vision of the characters in the book—she nailed it!  Next, we had to decide on all the details: hairstyles, clothing choices, and colors.  We drove all through Mangel Halto and Savaneta, picking certain aspects of the landscape and various wooden docks and local fishing boats to use as inspiration for the settings in the book.  Vanessa then worked on the final images to match the story from page to page. Once it was completed, I didn't want to wait the months, or even years, that it takes to have a major publishing house possibly accept a book.  Self-publishing was the way we wanted to go.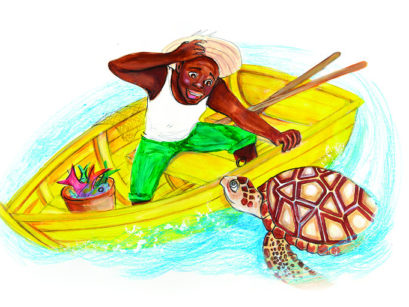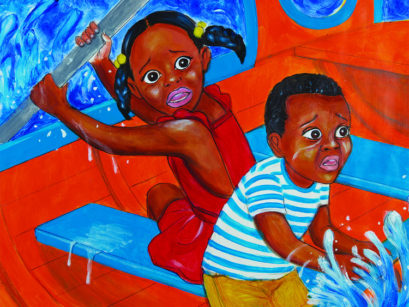 Aruba's close-knit community is very supportive of its artists, writers, musicians, and performers.  Several resorts and local companies believed in us and our project, offering to pre-purchase books so that we could raise enough funds to take it to print.  We reached our goal, and the book arrived on the island just in time for sea turtle nesting season!
Vanessa and I are eternally grateful to the following companies and organizations: Hilton Aruba Caribbean Resort & Casino; Aruba Marriott Resort & Stellaris Casino; Tropicana Aruba Resort & Casino; The Ritz-Carlton, Aruba; Aruba Tourism Authority; Botica di Servicio; Renaissance Aruba Resort & Casino; Divi Resorts; and De Palm Tours. Two other companies offered support; Kay's Fine Jewelry/Alex & Ani and Coldwell-Banker were the first to purchase several copies for their clients when the book arrived a few days ago.
The Search for Streya is for sale at the following gift and book stores:  The Juggling Fish (beachside at Playa Linda), The Lazy Lizard (Alhambra Casino & Shops), TradeWinds (RIU Palace Antillas, Hilton, Marriott Ocean Club), Bruna, Plaza Book Shop, and DeWit & VanDorp.