Published on:
Gone Fishin': Spicy Tuna Tartare
The Gone Fishin' Series
Aruba's chefs share recipes for fresh bounties from our local waters
Aruba's local fishermen, often out at sea before most of us are out of our beds, supply many of Aruba's restaurants with daily fresh catches. The waters off Aruba's coast are teeming with a variety of seafood. Some of the catches to look for while dining on the island include mahi mahi, snapper, grouper, wahoo, yellowfin tuna, Caribbean lobster, and shrimp.
We tasked seven of Aruba's top chefs with creating original dishes utilizing local seafood. The recipes, shared here one by one in our Gone Fishin' series, were crafted so that novice chefs can prepare these dishes at home. Although you may not have the geographical good fortune to procure fresh seafood, fresh frozen is certainly an option.
Recipe #5: Spicy Tuna Tartare with Pica di Papaya Aioli
Created by Executive Sous Chef Ever de Pena of Aruba Marriott Resort & Casino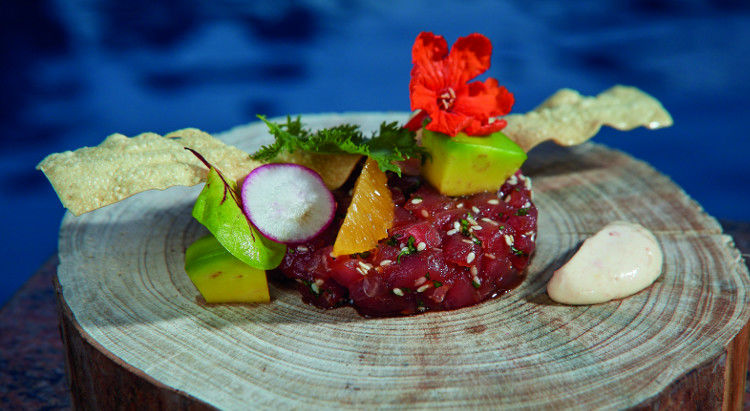 (Serves 1; can also be served as a shareable appetizer or snack)
Ingredients
8 oz yellowfin tuna
1 tsp pica di papaya (hot papaya sauce)
1 tbsp soy sauce
1 tbsp white sesame seeds, toasted
1 tsp fresh chives
½ tsp sesame oil
½ tsp white sugar
10 grams fresh avocado, cubed (1/3 oz)
crispy poppadoms
garnish (edible flowers and orange wedge)
For pica di papaya aioli:
3 tbsp mayonnaise
1 tsp pica di papaya (local hot sauce, available in supermarkets)
½ tsp ginger powder
Preparation
Tartare: Cut the tuna into small cubes and put in a bowl.  Add soy sauce, sesame seeds, chopped chives, sesame oil, pica di papaya, and sugar, and mix well.  Chill in refrigerator.
Pica di papaya aioli:  Mix mayonnaise, pica di papaya, and ginger powder in a small bowl.  Refrigerate for about 10 to 15 minutes.
Plating the dish
Serve the tuna tartare cold with cubed avocado, crispy poppadoms, and pica di papaya aioli. Garnish with orange wedge and edible flowers.