Published on:
"Under the Stars" Local Art & Farmer's Market
Text and images by Debbie Kunder
On March 16, Cosecha and Taste My Aruba presented the March edition of "Under the Stars" at Zoutmanstraat 1, Oranjestad. Strung with twinkling lights, the courtyard of the historic building that houses Cosecha and Taste My Aruba provided a charming venue for roughly 20 different vendors to share their wares with both the local community and island guests.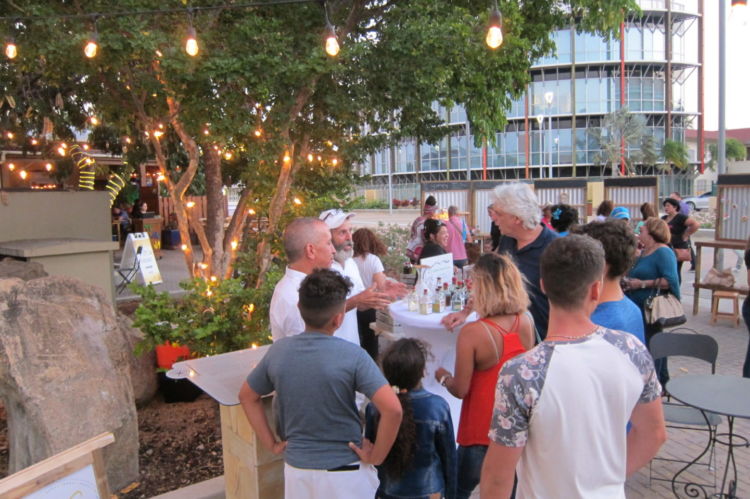 Below, a list of some of my favorite vendors:
Anna Kock, a master of the art of wood burning, presented her collection of driftwood and kwihi pieces, decorated with cunucu houses and shoco owls. In addition, she offered rocks colorfully painted with local fauna and Aruba's iconic landmarks. Anna also revealed to me her favorite piece, not on display for sale as she simply cannot bring herself to part with it—a rock painted with a baby shoco owl.  "E ta asina tuti!" she explained. ("It's so cute!")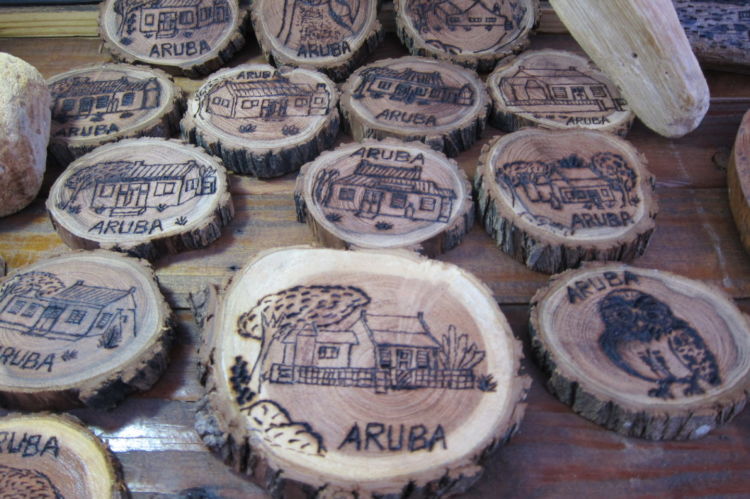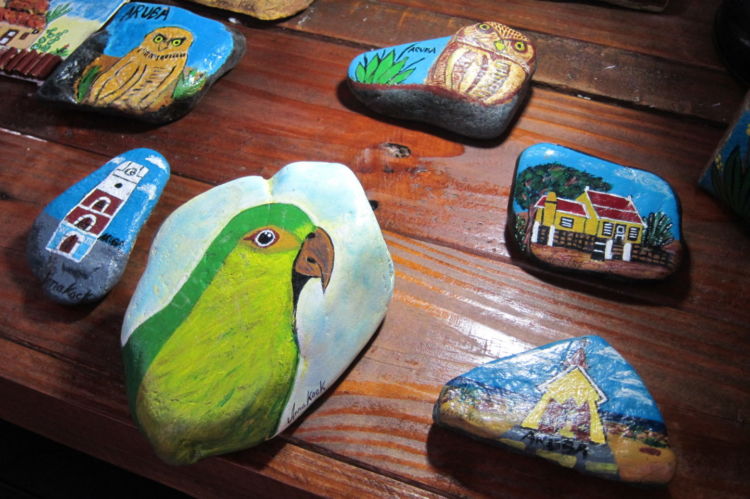 Next, I made my way to the stand of Cunucu Mondi Fierno. This local sustainable winery launched its first wine vintage in 2012 using the local fruits grown on its plantation in Santa Cruz next to Jamanota Mountain. The plantation is home to roughly 200 fruit plants at the moment, but the owners of Cunucu Mondi Fierno hope to increase that number to 2,000 within the next 10 years. Their stand at the market offered a wide variety of wines, liquors, ports, and other spirits crafted from papaya, shimarucu (local cherry), mango, coconut, pineapple, and so much more. Alas, I do not drink alcohol, so I didn't accept any of the samples, but I was given a sample of grape seed tea to try at home. Interestingly, the tea is made from the dried seeds and skin of the organic wine grapes that are left over after the pressing process. The vintner? A retired mechanical engineer from Madeira who has decided to follow his bliss and turn his passion of winemaking into a way of life.
Facebook: @Mondi.Fierno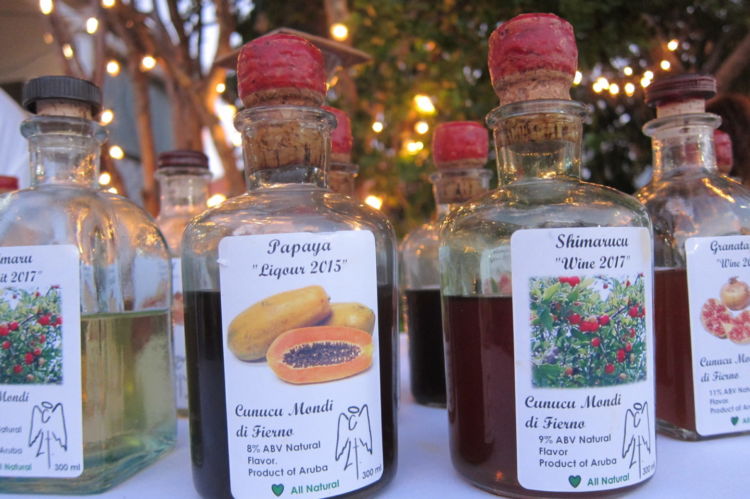 Getting into the swing of locally made products, I made my way over to the stand of Nonna's Gourmet. Here I sampled Nonna's Ginger Pica Jelly, made with locally grown Madame Jeanette peppers. The verdict? Pleasantly spicy. However, I ended up purchasing the Andicuri Mango Hot Sauce, made with locally grown mangoes, which I knew would perfectly complement the veggie stir-fries I like to make at home. According to the stand attendants, the peppers and mangoes used to make their sauces and jellies are sourced from local growers. Later in the evening, I had dinner with friends at a nearby bar and discovered that the Andicuri Sauce is the favorite of one of my friends. I don't have the bottle I bought anymore.
Facebook: @nonnasgourmet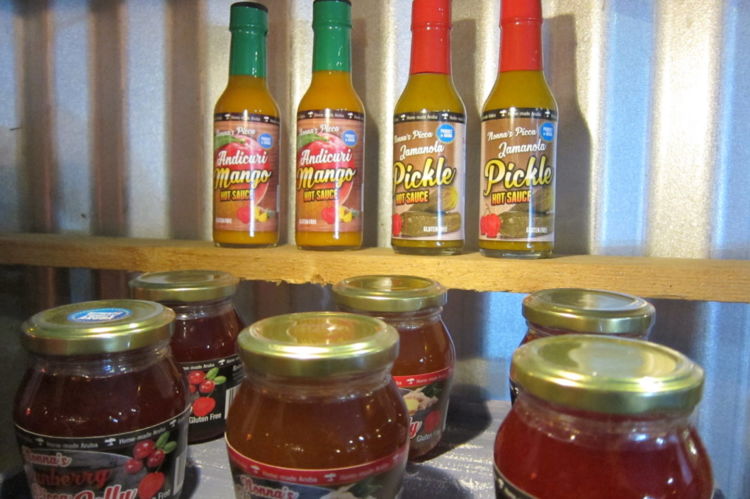 My next favorite stand was that of Harm Mulder, who has turned to artistic endeavors to help heal the wounds of his wife's passing. What originally attracted me to his stall was the advertisement for Aruban hex signs. I am from the Pennsylvania Dutch (Deutsch) part of the state of Pennsylvania, where hex signs are commonplace, but hex signs in Aruba? I was intrigued. Harm explained that at about the time the Germans were taking their hex sign tradition with them to Pennsylvania, they were also sharing the tradition with their Dutch neighbors in Europe, who subsequently brought the tradition with them to Aruba. Aha! What a small world. Harm further explained that while the symbols originally had pagan meanings, once reaching the Catholic island of Aruba, they took on religious significance. These Aruban hex signs can be seen etched into old cunucu houses all over the island. Harm sells small plaster replicas of these etchings, which make charming little wall hangings that also serve as conversation pieces.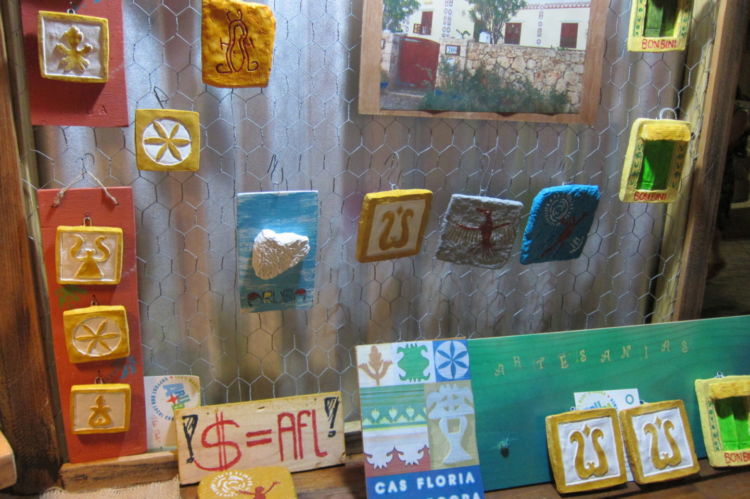 The Aruba Coffee Roasting Company (ACRC) was giving out free samples of their coffee, and although I love coffee, I don't drink it after 3 pm as a rule, so I opted for a conversation with the owners of the roasting company instead. ACRC imports green coffee beans from plantations all over the world and then roasts the beans in small batches at its facility in Aruba. In fact, ACRC is the only coffee roaster on the island. Their coffee can be bought at Ling & Sons IGA, a few smaller grocery stores around the island, and their own coffee house, Coffee Break, located on Main Street in downtown Oranjestad. I bought a bag of their Aruba Blend, infused with coconut flavoring, and it's delicious!
Facebook: @arubacoffeeroasters
Before leaving, I made a sweep around the Cosecha retail store, which was open during the event, to see some of the locally made products certified by the national seal of craftsmanship. My favorites were some small divi trees made from twisted copper wire, mounted on milky quartz, a natural stone of Aruba (artist: Estella Brown-Thode). I also fell in love with a truly magnificent neck piece made by Deborah de Weerd of Loretti Design.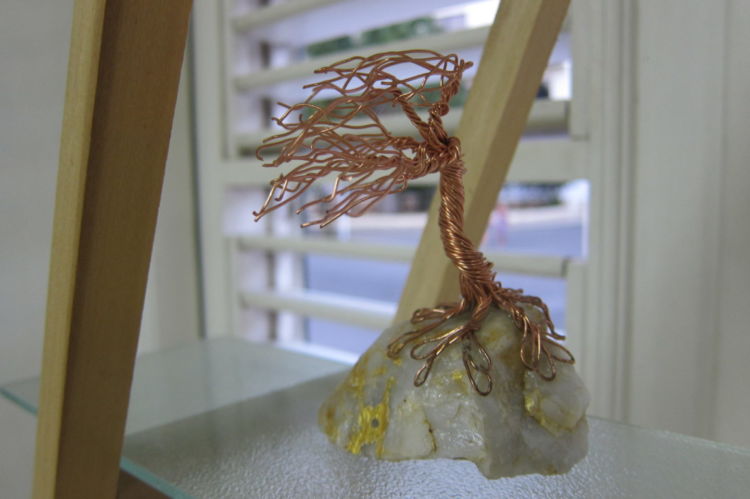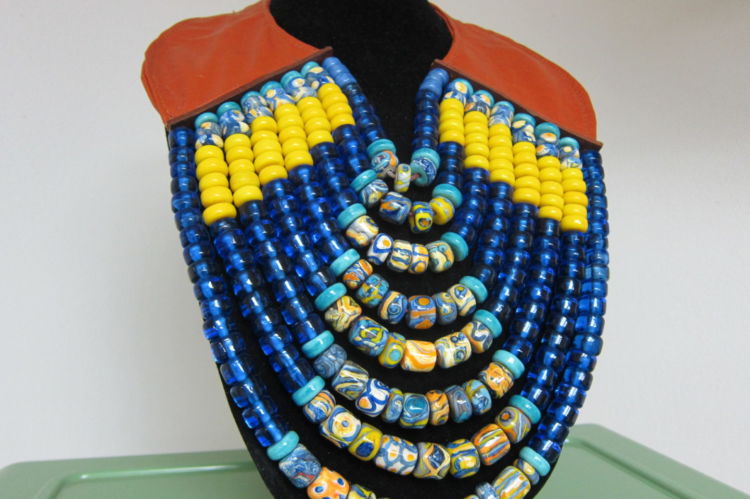 Of course, I couldn't resist peeking into Taste My Aruba, located adjacent to the retail store. Here, a gentleman was spooning out an Aruban specialty, oyster soup (sopi oester), and several patriotically decorated desserts, including coconut tart, were being sliced and diced for those with a sweet tooth.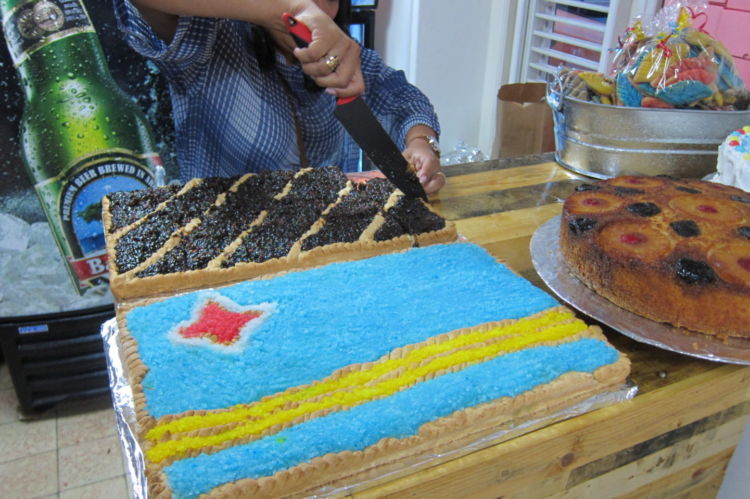 Interested in attending "Under the Stars"? You're in luck! The event takes place once a month. Please visit @tastemyaruba and click on "Events" to see the upcoming dates.