Published on:
Vegan Seafood? You Bet Ya!
Text by Meredith Marin & Images by Steve Keith
Over the past year, Aruba has made a name for itself in the area of vegan cuisine, the biggest global culinary trend of 2018. In fact, Aruba has become one of the most vegan-friendly tourist destinations in the Caribbean. There were whispers of a vegan movement when I arrived on Aruba in 2016, but with the recent launch of my new website, veganaruba.com, it's never been easier to find vegan eats on the island. One of my favorite restaurants for vegan fare? Fishes & More, a seafood restaurant at Arawak Gardens in Palm Beach.
Calamari and ceviche, but hold the fish. When you ask for the "More Menu" at Fishes & More, you can order from a completely plant-based, 100% vegan and gluten-free, sea-inspired menu. How does Chef Bruno create seafood from plants? To create ceviche, he starts by slicing lychee, a small, white tropical fruit. Bruno marinates the lychee just as he would the fish in traditional ceviche, and finishes it off with a touch of pica di papaya (local hot sauce). The Vegan Seafood Platter, where you'll find the lychee ceviche, also includes "tuna" made from tamari-marinated watermelon, Cajun tofu fillets, portobello "fried shrimp," and organic brown rice.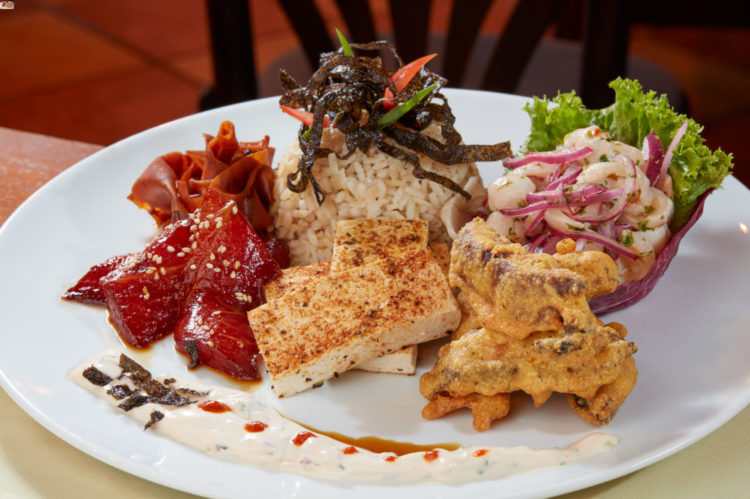 And don't forget the original "seafood" that's totally plant-based: seaweed! Nori is used as a seasoning in many of the vegan dishes at Fishes & More. The popular appetizer Calamari Vegani is a labor of love. Each slice of palmito heart must have its center removed with a straw in order to take on a calamari ring shape. The hearts of palm are then seasoned with nori powder and Old Bay, coated in chickpea-flour batter, and deep fried. The dish is completed with crispy enoki-mushroom "tentacles."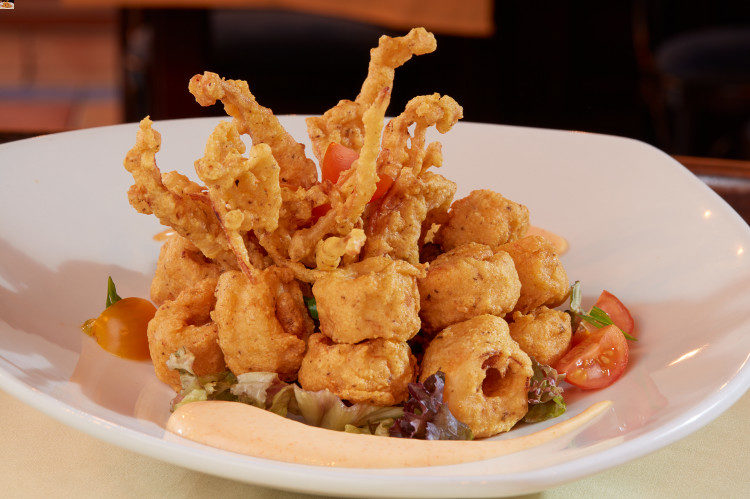 Vegan dishes are treated with the same attention and creativity as dishes from their traditional menu, making clients feel welcomed and confident that they will have a memorable dining experience.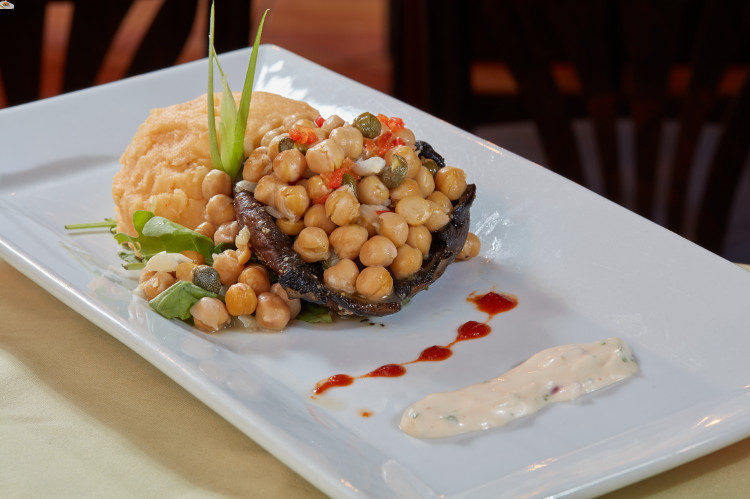 Q&A with Chef Bruno Silva:
What inspired your restaurant to launch a vegan menu?
Chef Bruno Silva: Fishes & More is an international restaurant, and we like to explore and offer new things. Now we have new customers coming to Fishes & More especially for the vegan menu, which has made us more popular on the island!
What is the experience like for you as a chef?
Chef Bruno Silva: As a chef this is a great opportunity to explore, be a step ahead, be creative, and keep growing in a different area. We don't just offer one simple dish, but a menu with a lot of variation, and the "More Menu" is 100% vegan and gluten-free. We only use fresh products and create wonderful dishes from scratch.
What kind of customer feedback are you receiving?
Chef Bruno Silva: Everybody loves it! Even non-vegans are really enthusiastic about the menu and give it a try. We have even seen customers who are having dinner in one of the other restaurants at Arawak Gardens come to Fishes and More to order from the vegan menu.
Make a reservation today!  Visit the website or call +297-586-3659.