Published on:
Well, Isn't That Just Beefy?!
Text by Tina Causey-Bislick / Images by Steve Keith
Where's the beef? In Aruba! Yes, it may seem contradictory to choose to dine at a steakhouse while on a Caribbean island where just-caught-that-morning seafood abounds, but hear me out. Aruba does steak right.
In the late '90s, the resurgence of the classic American steakhouse was underway, reaching Aruba in 2000, when the then Radisson (now Hilton) opened the doors of Sunset Grille. Cosmopolitan big-city flair and opulence, seasoned with a heaping spoonful of Caribbean chic and a dynamic open-kitchen concept, set the stage for what would become one of the hottest restaurants in the Caribbean, highlighting Certified Angus Beef, gourmet appetizers, contemporary comfort-food side dishes, and deliriously decadent desserts.
As the resurgence of the classic American steakhouse was developing steam, several more steakhouses opened their doors on the island over the past two decades, each searing its own brand on our gastronomical landscape. My fork and knife recently cut into some amazing cuts of meat, as well as some starters and side dishes, at each of these steakhouses. I highly suggest you do the same!
Just shy of 20 years old, Sunset Grille is still going strong. Although a few menu makeovers have taken place over the years, the restaurant stays faithful to its core, offering premium cuts of beef. The restaurant's main supplier of beef is Creekstone Farms, supplying premium Black Angus steaks that are all-natural with no antibiotics. Lamb and pork chops, chicken, a full menu of seafood dishes—including sea bass, grouper, snapper, shrimp, and lobster—as well as vegetarian options can be enjoyed.
Our Picks
Starters
Shake it, don't stir it! The signature Chop House Martini Salad is loaded with garden goodies like chopped romaine, hearts of palm, and tomatoes, along with sliced egg, blue cheese crumbles, a house-made sweet-pepper creamy ranch, and my favorite part—the smoky applewood bacon. Sunset Grille serves its Jumbo Lump Crab Cakes with a roasted red-pepper aioli, a tangy lime compote, and capers. There's a lot at play here, and everything symphonizes perfectly.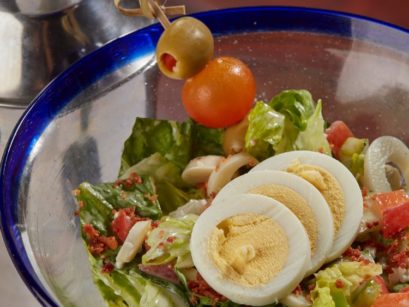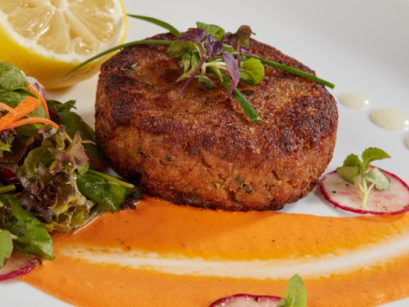 Main Courses
Bring a hefty appetite for this one…make that two hefty appetites! The 38-Ounce Porterhouse for Two is so tender and velvety thanks to dry-aging, and is cooked over a wood-fired grill.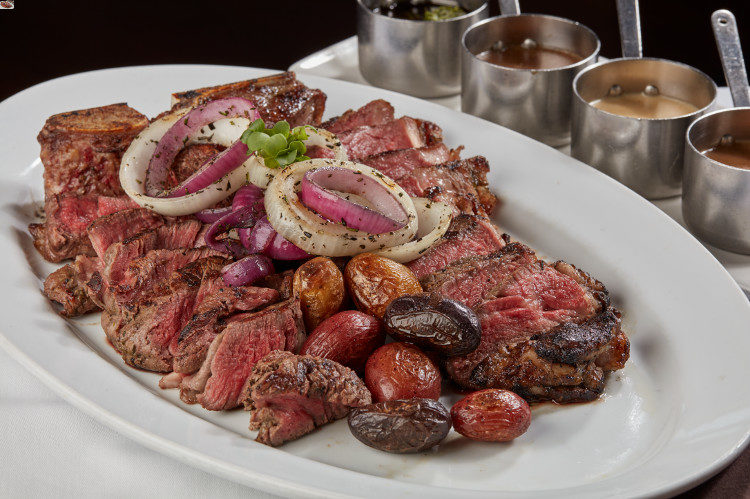 Pork chops and applesauce—I'm a Brady Bunch nerd, and I can't help but say that out loud (some of you will get this reference, while others will agree I am a total nerd). Serving the Kurobuta Pork Chop, Sunset Grille is one of the only places on the island I can find a nice, thick pork chop, something I grew up loving in the South. It's prepared on the wood-fired grill and served with apple compote—a modern version of pork chops and applesauce!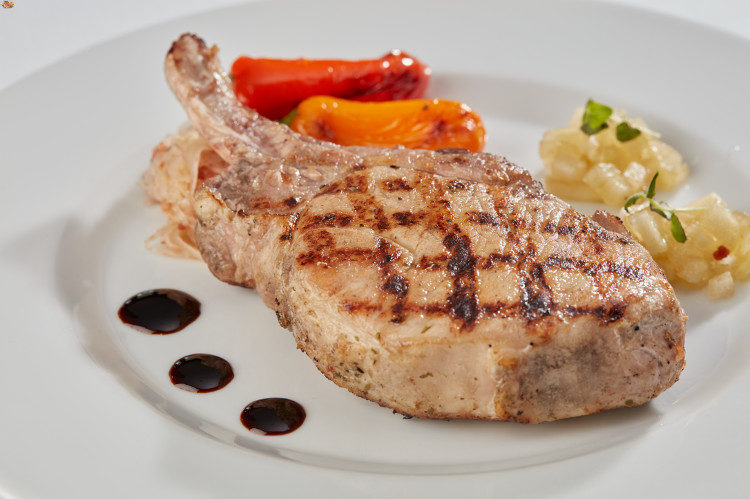 Sides & Extras
Mac and Cheese, baby! Comfort food at its finest. Add a few Jumbo Shrimp to any dish—Sunset Grille throws these big boys on the grill.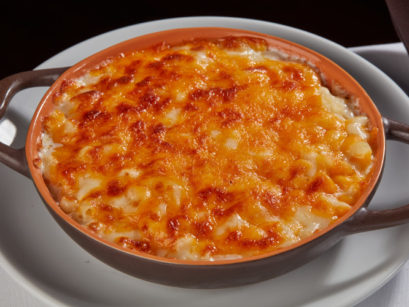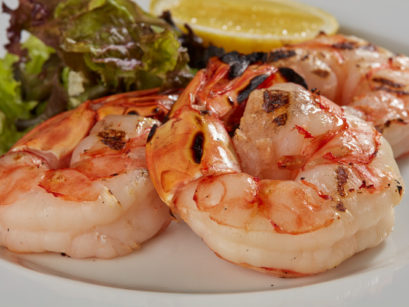 It all started in New Orleans, but this five-star steak experience has been a go-to for beef lovers on Aruba for more than a decade. Designed with rich woods and elegant lighting, the dining room embodies the swanky style of a classic American steakhouse. Steaks are seared to temperature, presented at the tables on sizzling 500-degree plates, and finished simply with butter and fresh parsley. Seafood, chicken, lamb, and vegetarian dishes do not take a back seat, especially the signature New Orleans-style barbecue shrimp.
Our Picks
Starters
Colossal "tower" presentations are on-trend for steakhouses, and Ruth's Chris' Chilled Seafood Tower is a big wow! Maine lobster, king crab legs, lump crab, and jumbo shrimp cocktail are served with a kicky Sriracha-lime sauce and traditional cocktail sauce.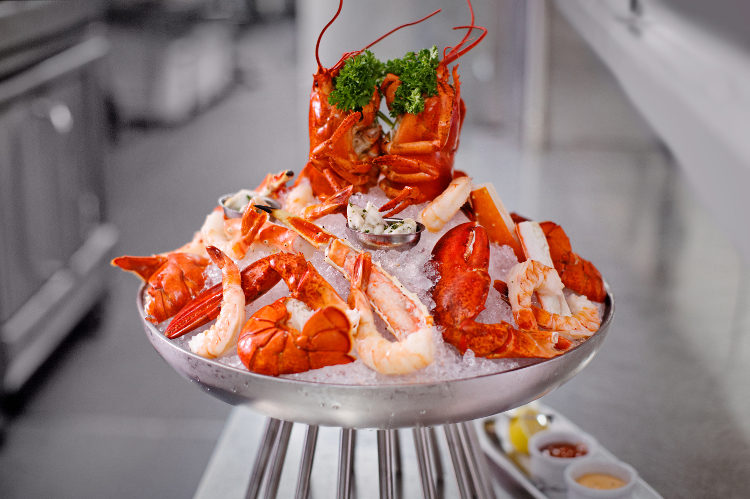 Main Courses
You're gonna need a partner for this one! Sliced and deboned right at the table, the USDA Prime Tomahawk Ribeye is a favorite. (Take it to the next level by making it "Oscar style" with jumbo lump crab, asparagus, and house béarnaise.)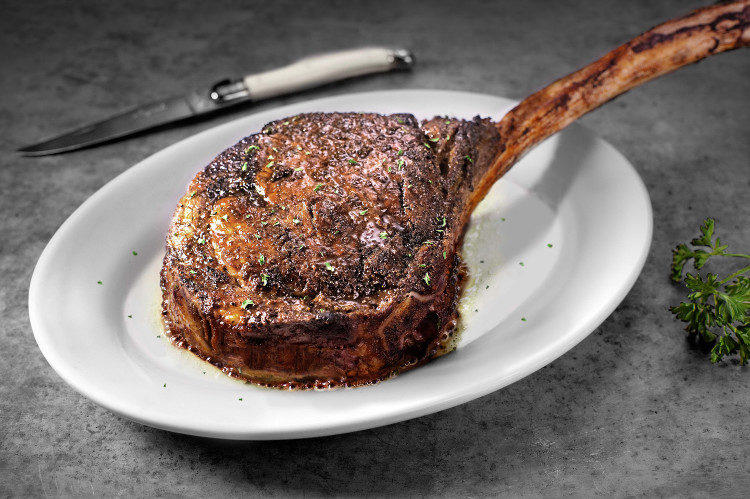 Feast on a trio of Lamb Chops. Ruth's marinates these thick-cut beauties overnight, yielding a juicy and tender lamb experience.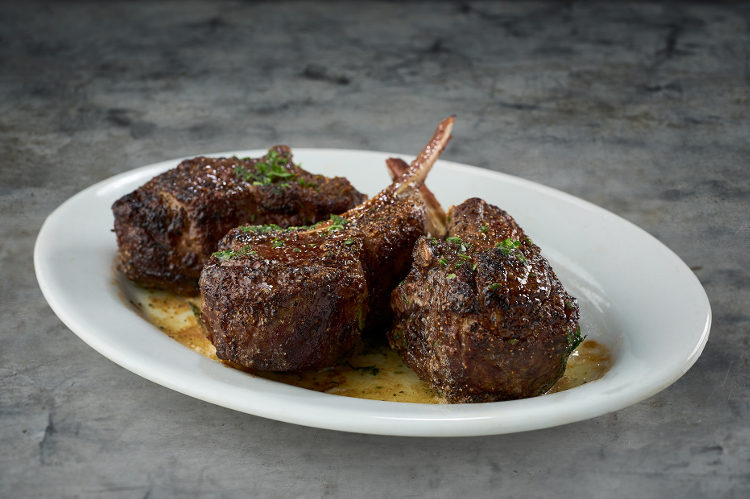 Sides
I love the bold Southwestern flavors of Ruth's dressed-up Fire-Roasted Corn, sautéed in butter and topped with salsa verde. Savory roasted pecans top the Sweet Potato Casserole, a Southern staple that's whipped smooth and creamy.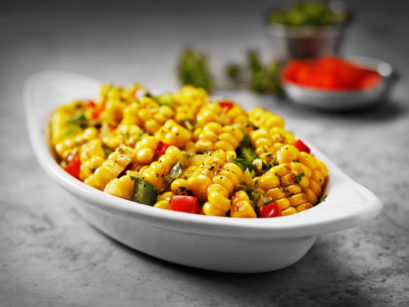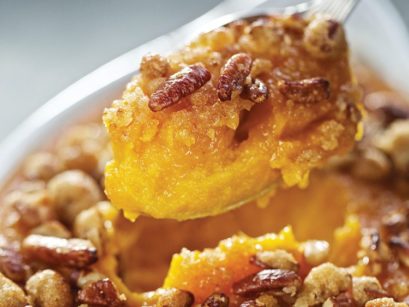 This steakhouse's chic digs boast views of the city center and harbor from an elevated locale at the Renaissance Aruba Resort & Casino in downtown Oranjestad. In addition to Certified Angus Beef and dry-aged steaks, you will find their prized rack of lamb and fresh local seafood on the menu.
Our Picks
Starters
The Asian-inspired Pork Belly is braised to fork tenderness. The Ahi Tuna is lightly seared and served in a ponzu sauce with a dab of wasabi on the side. Be sure to clear your palate for the next course with some pickled ginger.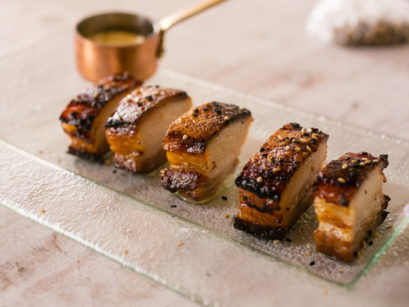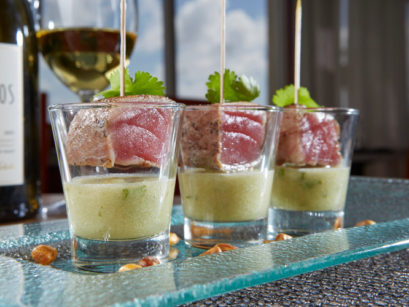 Kobe Night
On Friday evenings, a true meat lover's indulgence takes place. It's L.G. Smith's Kobe Night—a next-level carnivorous experience that can only be found at this downtown steak and chop house. Kobe beef is from Japanese Black cattle, raised under a strict code to yield highly marbled beef with unmatched tenderness. Starters include the A5-grade Kobe Tataki, briefly seared and thinly sliced tenderloin, and the A5-grade Kobe Tartar, traditionally prepared.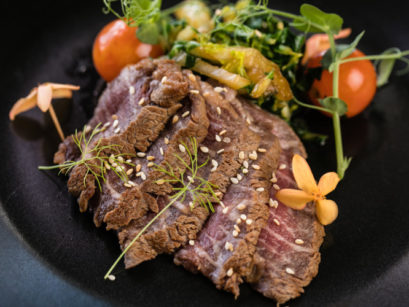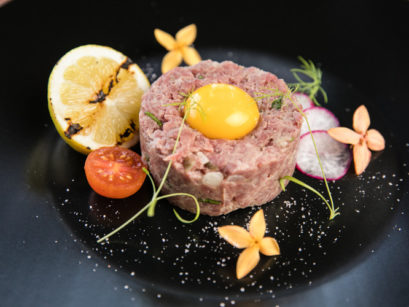 Main course steak options, like the Rosewood Wagyu Ribeye and the A5-grade Kobe Tenderloin, are prepared either grilled (served blue, rare, medium-rare, or medium) or braised in red wine and cooked to the desired temperature.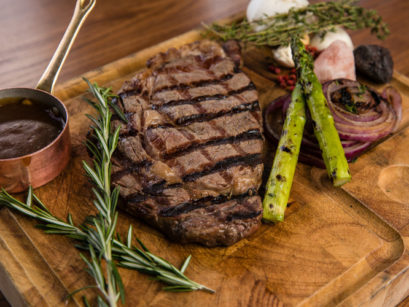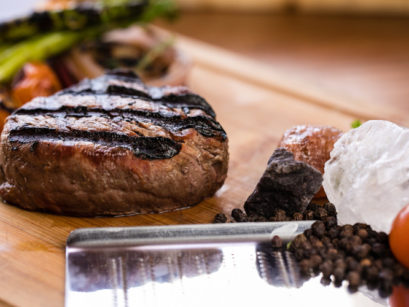 The newest kid on the butcher block, BLT Steak Aruba, wasted no time finding its rightful place on Aruba's culinary map. The second outpost in the Caribbean for the boutique chain, BLT Steak Aruba offers a sophisticated but cozy bistro atmosphere combined with upscale steakhouse fare. Premium steaks and beef, plus a weekly blackboard menu featuring seasonal flavors and local ingredients, give diners much to mull over while breaking open BLT's famous warm popovers.
Our Picks
Sides
Once you try the Vidalia Onion Rings, you won't want any other kind. Thick-cut and stacked in a tower, they are listed on the menu as a side dish, but I often split these with my dinner companions as an appetizer. Whipped smooth and spiked with jalapeño, the Jalapeño Mashed Potatoes are a kicky twist to the traditional mashed potatoes and hold their own next to a thick, juicy steak.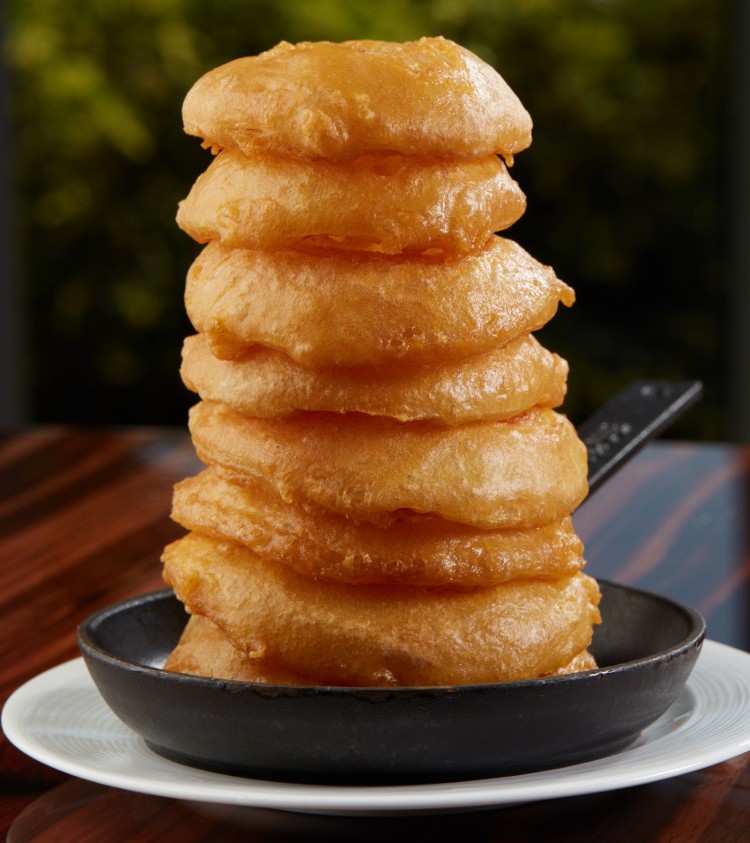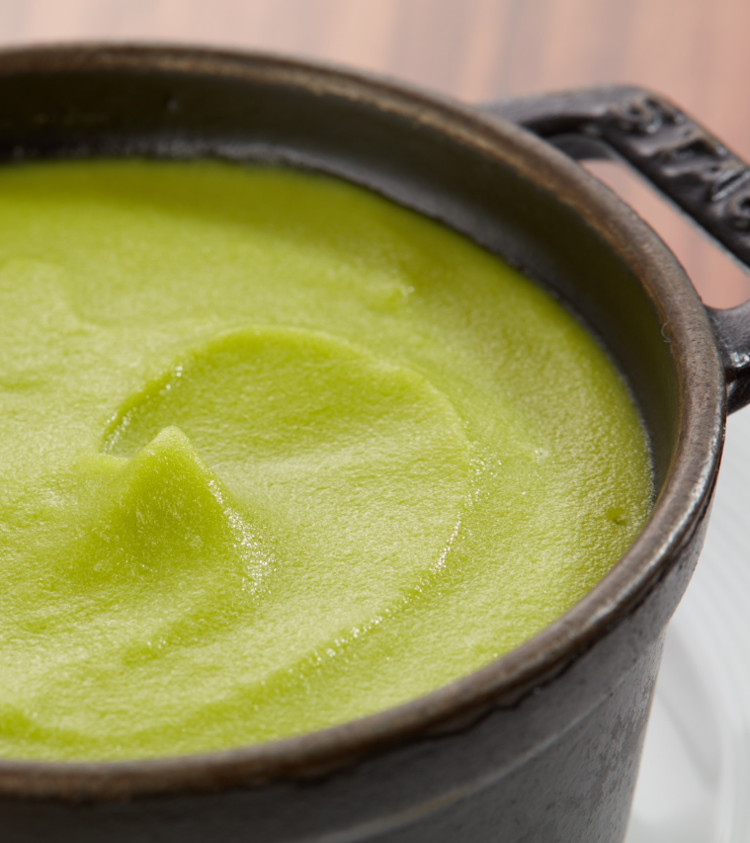 Main Courses
The Braised Short Ribs are my go-to at BLT Steak. Slow-cooked in port wine, the meat falls right off the bone and into the port wine sauce—it's heaven.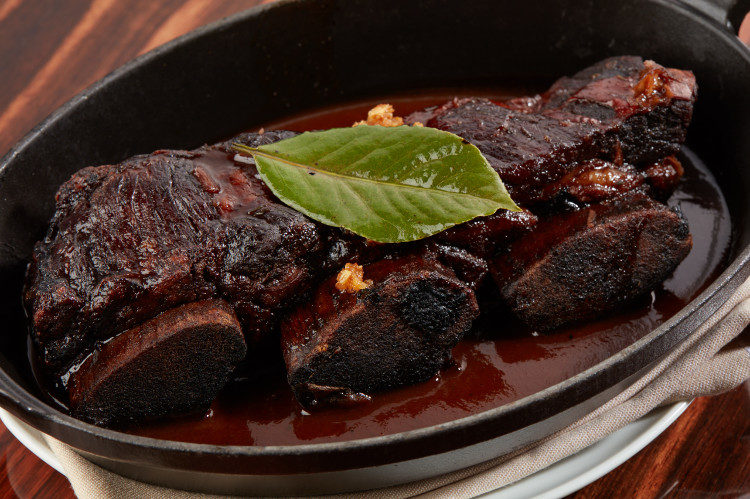 Once referred to as the "butcher's cut" for its prized tenderness, the Hanger Steak is popping up on more menus these days. BLT Steak prepares it "hunter style," with bacon, mushrooms, and onions.