Published on:
Wendy & Craig: Romance Blossoms on the Beach
Text by Tina Causey-Bislick / Photography by Victor Winklaar
Days spent under the sun, toes in the sand, and splashing in the waves; serene sunsets that paint the sky in ribbons of amber and rose followed by the first twinkle of stars as dusk settles in with a whisper; and quiet moonlight strolls along the shoreline…the beach is a setting ripe for romance! For Wendy and Craig Johnston, who were just a few months into their new relationship, much of the summer of 2016 was spent at Margate Beach on the Jersey shore, where bonds deepened and love blossomed for the couple.
For Wendy, a Chicago native, and Craig, a Philadelphian born and bred, the beach holds great significance, not only because it's where they "courted," as Wendy puts it, but it's also where they were engaged. "A little under a year into our relationship, I was diagnosed with breast cancer. Craig was with me through my surgeries and stood by my side during a very difficult time. A few days before I was supposed to return to work after having a bilateral mastectomy, Craig decided to pop the question at the beach. It was winter in Margate, and I didn't want to leave the house because it was too cold. The sun finally came out from behind the clouds for a few minutes, long enough for him to get me down to the pier, and when I turned to go home because I was freezing, he got down on one knee and asked me to marry him.  He said he had tons of things to say, but because I was 'running away,' all he got out was 'Wendy, will you marry me?'  He also set up a dinner with a group of our friends that evening to surprise me," shares Wendy.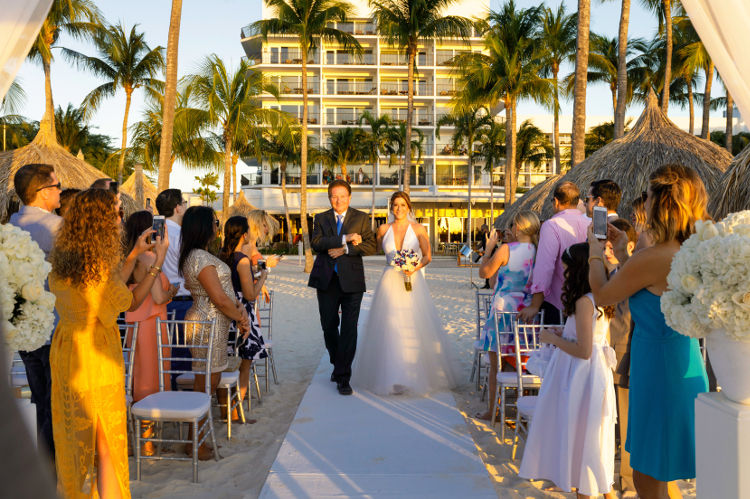 Although Wendy never spent time dreaming about her wedding day when she was younger, the thought of a barefoot beach wedding was always appealing, especially after the beach earned an extra special place in the couple's heart. "Craig and I also wanted the experience to be special for our friends and family. Aruba topped our list because there were direct flights from Philadelphia, and the beaches are so beautiful.  When we came down in May of 2017, we also began to understand why it was called 'One Happy Island'—the people were so amazingly friendly." Wendy and Craig decided on the date of December 17, planning their wedding on the island with the wedding team at the Aruba Marriott Resort & Stellaris Casino.
Décor
The couple wanted a beach-chic vibe, choosing a sophisticated silver and slate blue color scheme. White roses and hydrangeas atop white pedestals, silver Chiavari chairs with white cushions, and a bamboo arch draped with sheer white fabric provided an elegant and clean look.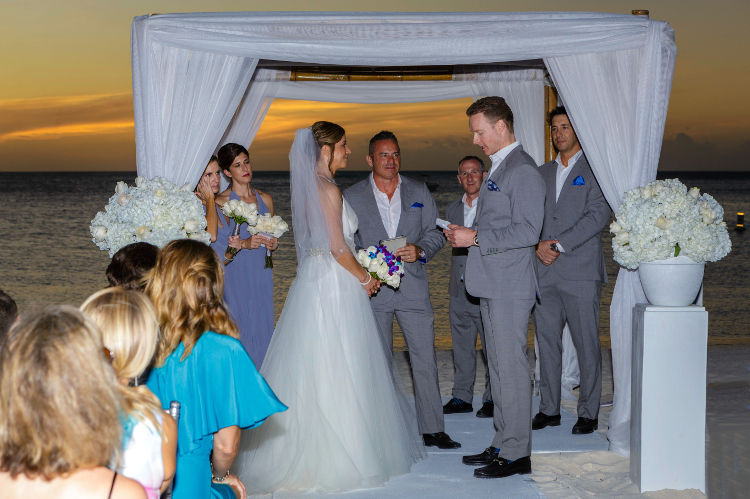 Attire
Wendy's tulle ball-gown dress was from the 2018 collection by designer Liancarlo and featured a plunging neckline. Shares the bride, "I never thought I would wear a ball gown, but it was the only dress I had an emotional reaction to. The flowing skirt, I felt, made for a beautiful beach dress, with a structured top to shape my figure." The bridesmaids wore chiffon Amsala dresses in slate blue. The groom and groomsmen had custom suits tailored by ModaMatters of Philadelphia.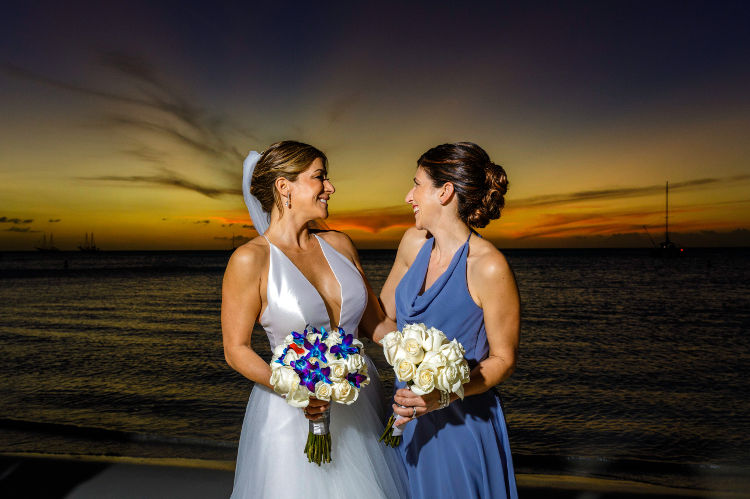 The Reception
Following the beach ceremony, guests were ushered to the resort's La Vista Patio for a cocktail reception and noshes like lollipop lamb chops, sautéed scallops, and Indonesian chicken skewers with Thai peanut sauce.
Marriott's ballroom was the venue for a plated dinner, where guests enjoyed filet mignon and fresh mahi mahi. A decadent wedding cake with three tempting layers—red velvet with cream cheese filling, vanilla with chocolate filling, and chocolate with vanilla filling—was beautifully embellished with a cascade of silver sugar roses. Later in the evening, an international cheese montage was presented.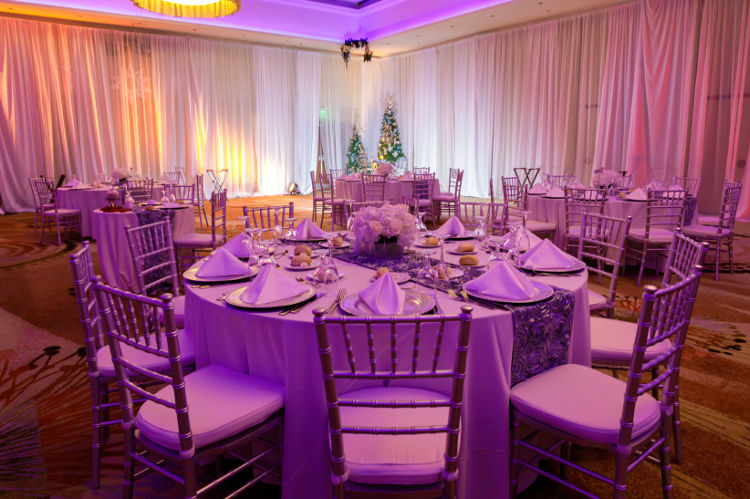 The Details
Wedding Planner: The wedding team at Marriott
Ceremony Location: Beachfront at Marriott
Reception Location: La Vista and Marriott's ballroom
Décor: Letz Aruba and The Perfect Team
Flowers: Shar's Flowers
Wedding Cake: W Cakes
Entertainment: Steelpan by Sharp for ceremony and Deejay Ruuben for reception
Hair & Makeup: Bruce Stamper
Photographer: Victor Winklaar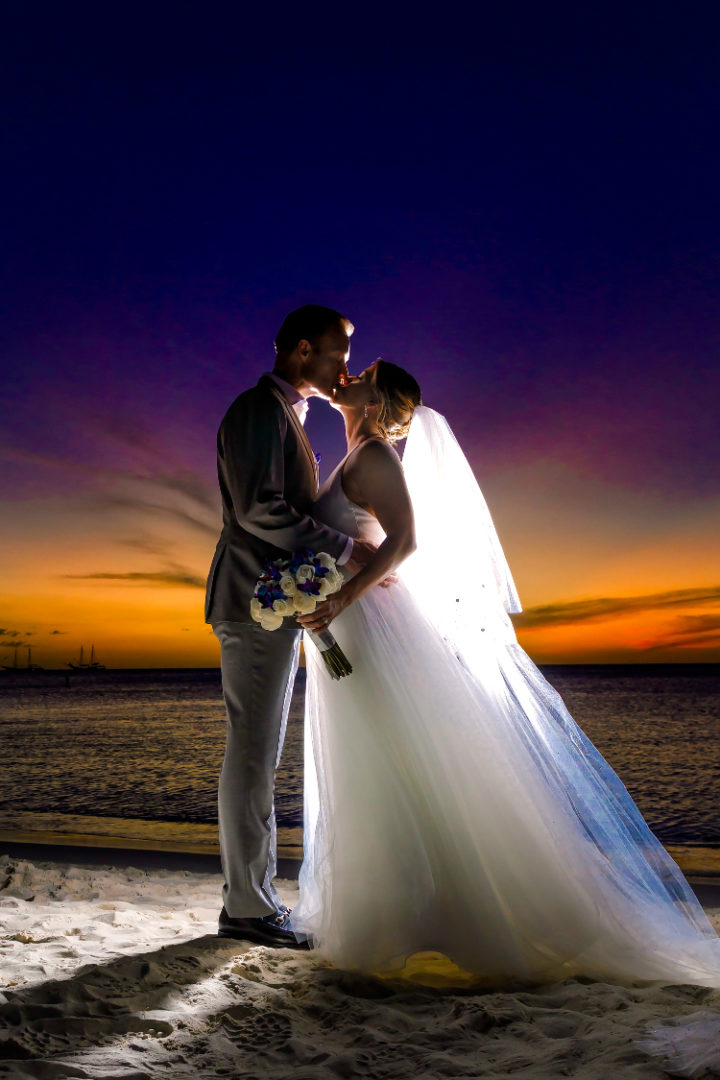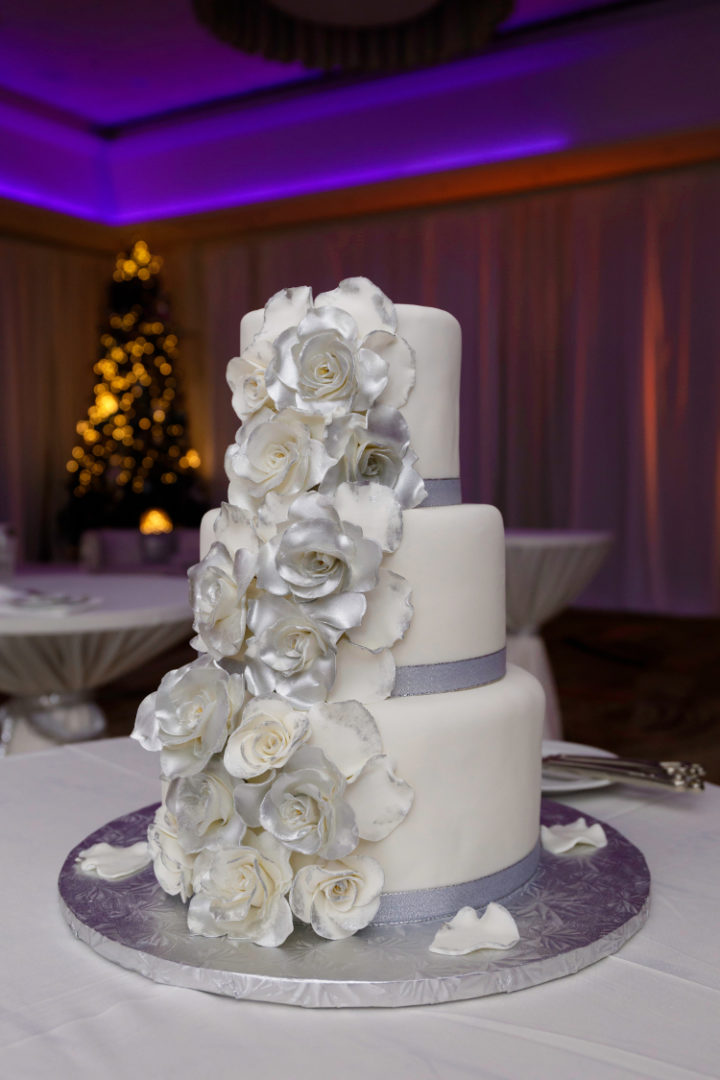 Notes from the Couple
Our wedding was truly a fairy-tale wedding, made possible only by the amazing organization of the wedding planner, Rika, and extremely professional vendors who made everything absolutely perfect. Our guests were having so much fun at the reception that we extended the party another hour, and the Marriott staff members helped everything move seamlessly—they not only obliged our last-minute request, but they did it with smiles on their faces. The bartenders and DJ joined in the fun with us, making the night very special for us and our guests.
The Marriott set up special VIP transportation from the airport, which was AMAZING. They walked us through the security and customs process, and gave us a drink and food while we waited in the VIP lounge as they got our bags. We were delivered to the hotel in a black car, and the same service was provided on our return. It was the "icing on the cake," as they say!
We are looking at spending our one-year anniversary back at the Marriott!  We could not have asked for more beautiful scenery than the white-sand beaches of Aruba and the perfect sunsets.  I would highly recommend Aruba as a wedding destination. The beaches and friendliness of everyone on the island are unmatched!