Published on:
We're Honored!
Aruba Nominated as One of the Top 10 Destinations in the Caribbean by TripAdvisor
The island is now included in the list of "Top 10 Best Caribbean Destinations," an honor bestowed on top-rated destinations based on the reviews of travelers on the world's largest travel site. To qualify, destinations must maintain a very high average rating. Additional criteria include volume of reviews and how recently they have been submitted by TripAdvisor travelers. The accolade is extended to qualifying destinations worldwide.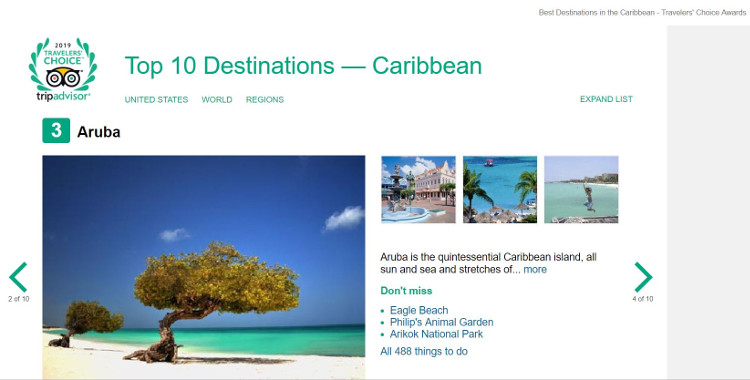 And this is what TripAdvisor recommended: Aruba is the quintessential Caribbean island, all sun and sea and stretches of powdery white sand. Time will slow to a pleasant crawl as you linger over a tropical cocktail or flutter serenely underwater, where only the parrotfish are in a hurry. The pastel façades of Oranjestad landmarks and shops lend an inviting and playful vibe to the capital city. Enjoy the shade of an Eagle Beach divi tree while the crashing waves of turquoise water create a soothing soundtrack just for you.
Aruba shares the laurels with Jamaica, Puerto Rico, Barbados, Punta Cana in the Dominican Republic, Grand Cayman, St. Lucia, Providenciales in Turks & Caicos, Guadeloupe, and New Providence Island in the Bahamas.