Published on:
When in Aruba, Care for Aruba: Easter Party for the Kids of Imeldahof
A "When in Aruba, Care for Aruba" Initiative
We hosted an outing for the Imeldahof kids just before Easter, a collaboration between When in Aruba, General Store, and Jolly Pirates, with help from other generous sponsors, such as OP=OP, Manrique Capriles, Compra NV, Hilton Aruba Caribbean Resort & Casino, DJ Party Dude Jason, Neely Cosentino, Idia Croes, Mariza Garcia, and the Banana Bus.
The kids were picked up by the Banana Bus at Imeldahof and taken to the Aruba Racquet Club in Rooi Santo, Noord. The pool was made available for them for three hours of fun in the sun on the last day of school just before the Easter vacation.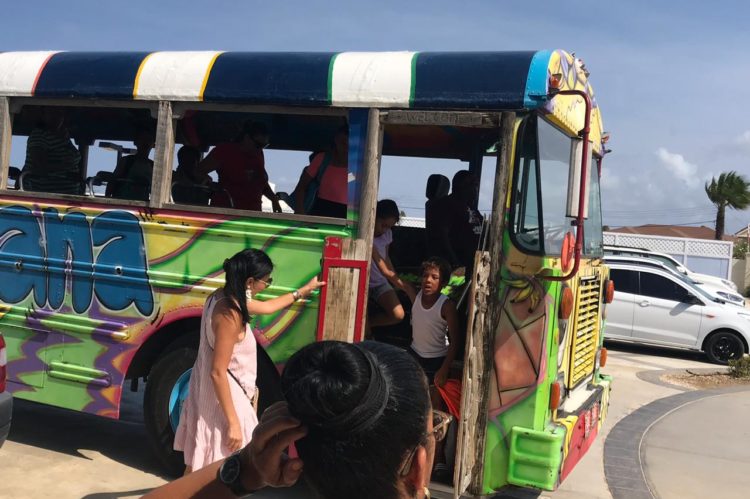 Claudia Ponson of General Store arranged for a number of pool toys, including a giant swan float, which became very popular. The kids also enjoyed music and some dance competitions with prizes, courtesy of DJ Party Dude Jason. Later in the afternoon, they were treated to grilled hot dogs, chips, Coca Cola, and vanilla frosted cupcakes, chocolate, and ice cream cones for dessert.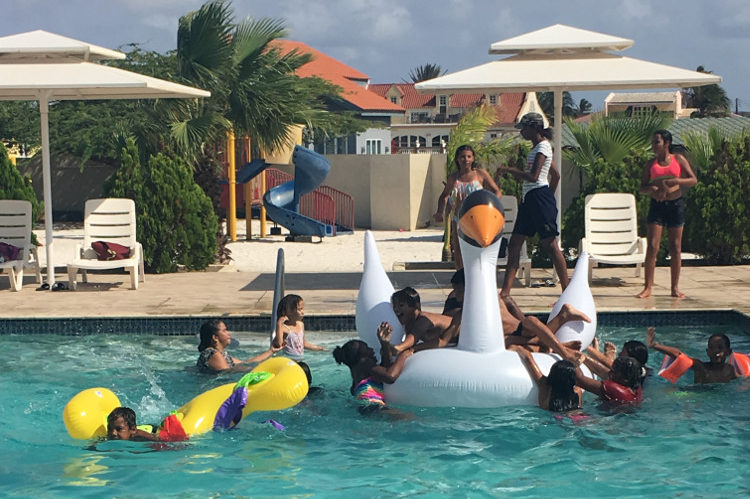 Carla Cavallaro and her crew at Jolly Pirates prepared more than 350 toy-stuffed eggs for a giant Easter egg hunt on the grounds of the Aruba Racquet Club. Just before returning to the children's home in Noord, the kids all received giant goodie bags filled with toiletries and treats.
A number of resorts on Aruba have the children's home listed on Pack for a Purpose, enabling travelers to those resorts to bring much-needed donations, such as bedding, clothing, school supplies, and educational materials, which the resorts then deliver to Imeldahof. Travelers who want to bring meaningful contributions are welcome to join the program.
Banana Bus: 593-0757
DJ Party Dude Jason, International Man of Music: [email protected]
Aruba Racquet Club: 586-0215
Jolly Pirates: Book online at www.jolly-pirates.com.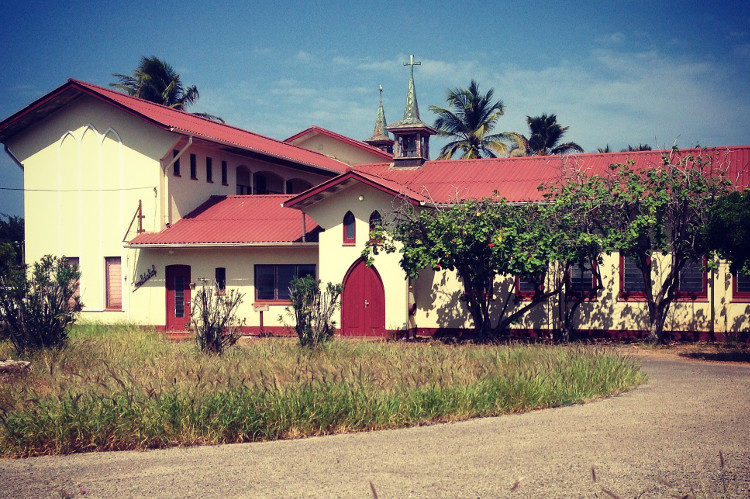 About Imeldahof:
Children's Home Imeldahof first opened its doors on November 25, 1954, with the help of the Roman Catholic Sisters of Bethani and was managed by the Bethani Dutch Antilles Foundation. In 1976, the organization altered itself, and Children's Home Imeldahof Aruba was founded as a private foundation subsidized by the government. The subsidization concerns the salaries of the personnel and approximately Afl. 11 per child on a daily basis to cover expenses. These expenses include provisions, attire, school material/fixed costs, activities, and all other expenses to manage the foundation. Furthermore, the organization is dependent on the community for financial and voluntary support in order to provide special activities or projects for the children.
The objective of the children's home is to offer a temporary home and guidance for children who, for a variety of reasons, are unable to remain in their own homes. In most cases, this is until placement with their own family, relatives, or a foster family. Some of these reasons include mental and physical abuse, neglect, and alcohol/drug abuse by parents.