Published on:
Wings of Hope AUA Airport Runway Run 2023
ORANJESTAD – Aruba Airport Authority N.V. (AAA) and Wings of Hope (WoH) recently organized the first ever  AUA Airport Runway Run on Sunday June 18, 2023, where a total of 100 runners commemorated 100 Years of Aviation on Aruba, and by doing so, together with AAA, gave back to the community.
In the presence of Minister Ursell Arends and AAA's CEO Joost Meijs, a total of 100 runners were able to experience the thrill of running on the airport runway at the first AUA Airport Runway Run 2023 by running a little over 5K, starting from Runway 11 to Runway 29 and back towards Runway 11.  As part of the celebratory events commemorating 100 years of aviation in Aruba, AAA's WoH team, assisted by the Branding & Marketing team of AAA, organized this special event. WoH focuses on executing socially responsible projects with United Nations' Sustainable Development Goals (SDGs) as its guiding principle to contribute to the well-being, further development, and sustainability of the Aruban community. By means of this event,  funds were raised for Stichting Kinderhuis Imeldahof and Luna Foundation, chosen by AAA employees who voted for these foundations through a company poll.
Stichting Kinderhuis Imeldahof is a children's home providing children with a temporary home and guidance for children who, for a variety of reasons, are unable to remain in their own homes. In most cases this is until placement with their own family or relatives or foster family can be found. Children with specific emotional and behavior problems are guided by a professional. Stichting Kinderhuis Imeldahof also provides a program including group activities such as ballet, music, taekwondo lessons, arts, and crafts.
Luna Foundation, named in honor of Luna, the first dog in Aruba's history to be removed from an abusive home, focuses on providing dogs that are sick, abused, and elderly with a home until they are capable and strong enough to take care of themselves. Luna Foundation counts on their volunteers to hit the streets daily to feed the strays. They work together with local communities to educate about the importance of spaying and neutering, as well as teaching the next generation to treat animals fairly with compassion and love.
All runners were provided with branded gadgets such as safety vests and hydration belt waist bags used during the actual runway run. After having crossed the finish line, all runners were rewarded with a special medal keepsake and were delighted with fresh refreshments including branded coconuts with WoH and 100 Years of Aviation logos and fruit. In the presence of all participants, AAA's WoH team proudly presented a donation of  AWG 7,500.00 to each foundation. To conclude the event, a total of 34 prizes were raffled among the participants, including electronics, sporting good items, vouchers, travel vouchers, self-care, and gardening vouchers among other fun prizes.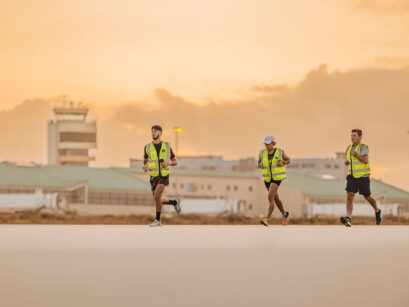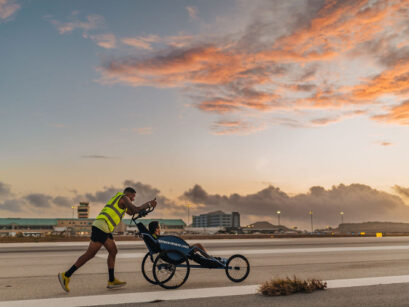 AAA and WoH is immensely grateful for all volunteers, runners, organizations, and other service groups who participated in the first AUA Airport Runway Run 2023 to make this an unforgettable and successful event. AAA and its WoH team look forward to continuing its contribution to projects that create a better future for the Aruban Community.