Published on:
Calming Your Mind and Making Connections at Hilton's Retrograde Ritual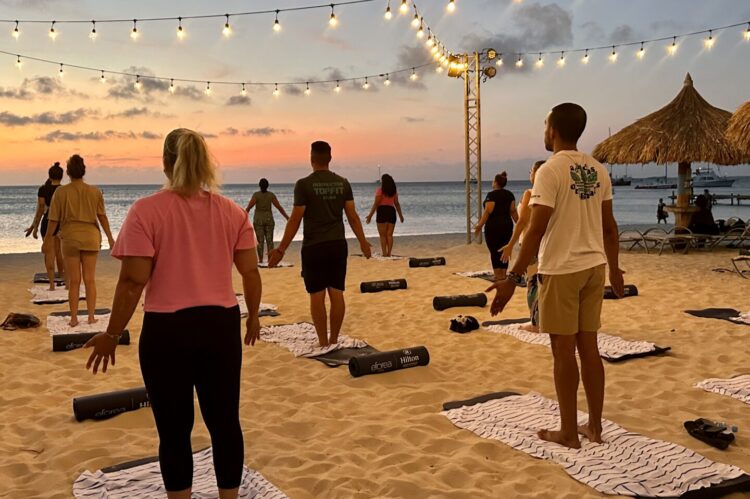 By Tina Causey-Bislick
I've been seeing and hearing a lot about "Mercury in Retrograde" floating by as I scroll through social media lately.  And here locally on Aruba, several friends have gushed about their experience at Hilton Aruba Caribbean Resort & Casino's  Retrograde Ritual held seaside at sunset.
In honor of press day celebrations, the Hilton team invited press members for an afternoon of relaxation at the resort's beachfront eforea Spa this past Friday, where we all enjoyed massages featuring healing aloe native to Aruba, followed by bubbly and noshes in the spa's lush and tranquil bamboo oasis.
The Retrograde Ritual was also taking place at sunset, so a few of us continued this day of wellness and grabbed a complimentary yoga mat and towel and joined Aruba's favorite yoga influencer, Maria Pucci, on the beach for the Retrograde Ritual.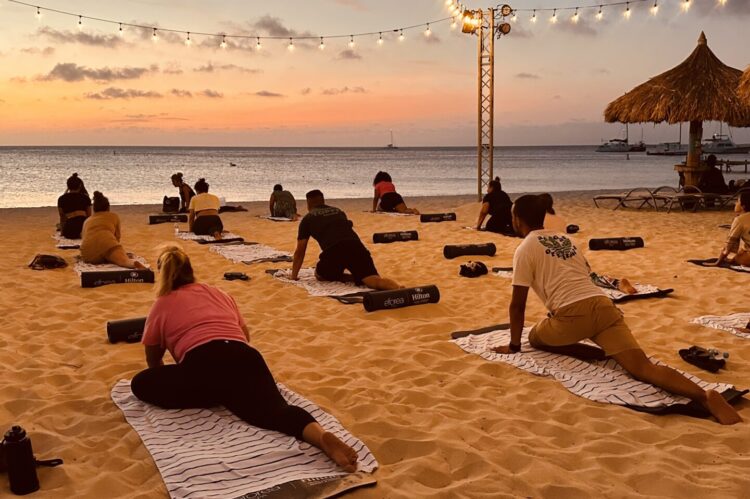 I did my homework earlier that day, researching this trending Mercury in retrograde movement.  According to the Farmer's Almanac:
"The term retrograde comes from the Latin word retrogradus, which literally means "backward step." As the name suggests, retrograde is when a planet appears to go backward in its orbit, as viewed from Earth. Astronomers refer to this as 'apparent retrograde motion,' because it is an optical illusion…Mercury and Venus appear to go retrograde when they lap us…Because Mercury completes its orbit around the Sun in only 88 days, the Swift Planet becomes retrograde three or four times in a calendar year, for about three weeks at a time."
So that's the science behind Mercury in retrograde.  Astrologers, who believe our life on Earth is influenced by celestial objects like the moon, starts, and other planets, view Mercury in retrograde more divinely.  Named after the Greek god that is assigned to rule over communication, intelligence and transportation, astrologers believe that when Mercury is in retrograde, chaos can touch our lives, especially in how we communicate, or perhaps miscommunicate, and understand those around us.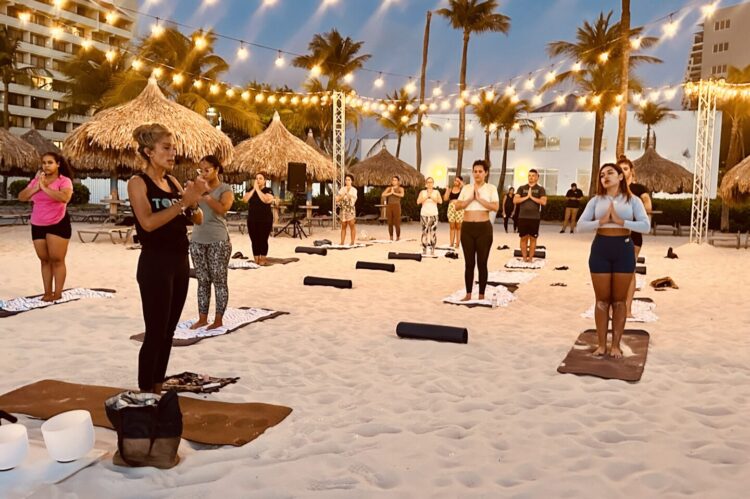 Retrograde rituals are becoming more popular, and whether one chooses to believe in the astrology and mysticism behind Mercury's retrograde, or simply apply the wellness aspects of these rituals that use techniques like gentle yoga stretches and guided meditation to bring us to a state of relaxation of the body and calmness of the mind, everyone can find genuine benefits to a Mercury in retrograde ritual experience.
Whether on vacation or living on Aruba, Hilton's Retrograde Ritual, combining the elements of soft yoga and guided meditation with the blissful seaside location on their eforea Beach, sets the scene to encourage a mindful cleanse of calmness.   Maria's gentle guidance through stretches and meditation are illuminated towards the end of the ritual with a lovely Tibetan sound bath, a healing experience to lighten your mental load and welcome serenity.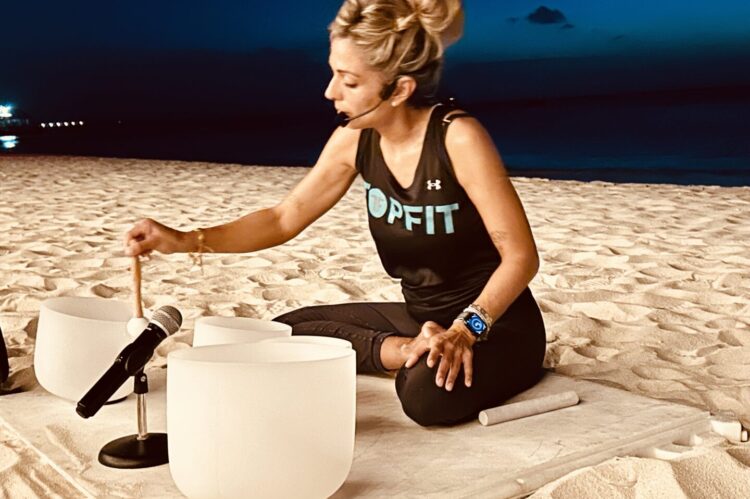 Mercury falls into retrograde every 88 days (three to four times a year).  The final retrograde will take place December 13, 2023 – January 1, 2024.  Hilton has tentatively scheduled three Retrograde Rituals during this time (December 15, 22, 29), offering a great mental escape during the often chaotic holiday season.
Hilton's Retrograde Ritual is an extension of the resort's continued eye on wellness experiences. The ritual is offered for free to anyone—guests, visitors, and locals are all welcome!