Published on:
Gone Fishin': Sautéed Shrimp & Cranberry Curry Rice
The Gone Fishin' Series
Aruba's chefs share recipes for fresh bounties from our local waters
Aruba's local fishermen, often out at sea before most of us are out of our beds, supply many of Aruba's restaurants with daily fresh catches. The waters off Aruba's coast are teeming with a variety of seafood. Some of the catches to look for while dining on the island include mahi mahi, snapper, grouper, wahoo, yellowfin tuna, Caribbean lobster, and shrimp.
We tasked seven of Aruba's top chefs with creating original dishes utilizing local seafood. The recipes, shared here one by one in our Gone Fishin' series, were crafted so that novice chefs can prepare these dishes at home. Although you may not have the geographical good fortune to procure fresh seafood, fresh frozen is certainly an option.
Recipe #6: Sautéed Shrimp & Cranberry Curry Rice with Lemongrass-Coconut Sauce
Created by Sous Chef Edward Zievinger of Hyatt Regency Aruba Resort Spa & Casino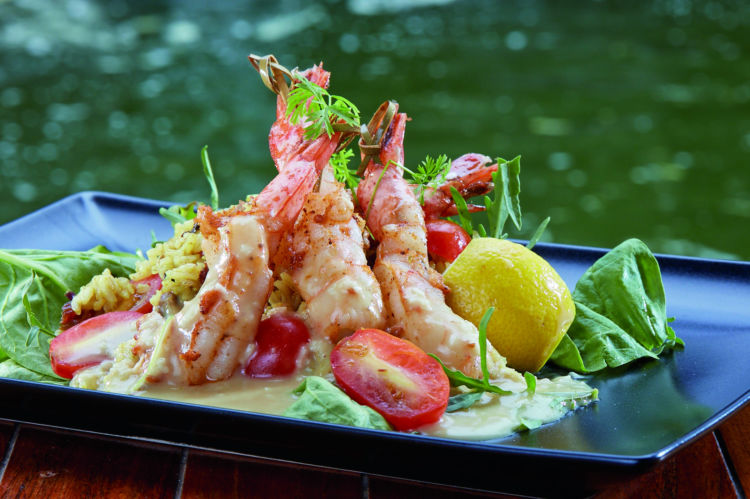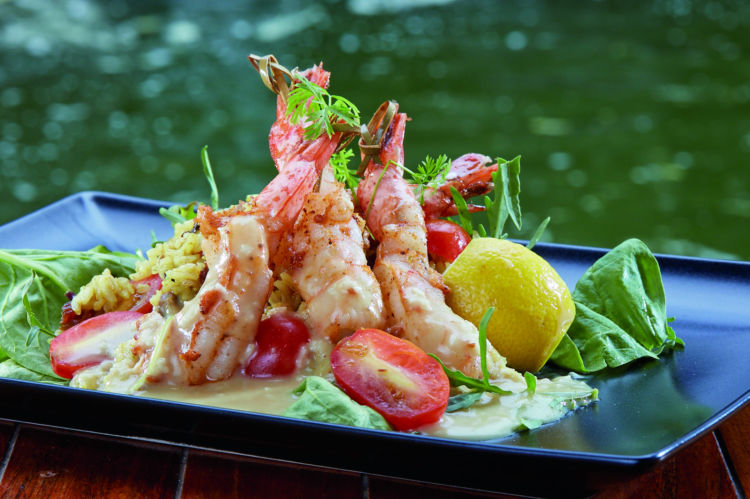 (Serves 1)
Ingredients
1 cup cooked white rice
4 extra jumbo shrimp
2 oz fresh baby spinach
1 oz fresh arugula
6 cherry tomatoes, half cut
4 oz coconut milk
2 medium mushrooms, sliced
1 tsp Old Bay spice
½ tbsp garlic, sliced
1 tbsp red onion, chopped
1 tsp tamari sauce
1 oz raisins, chopped
1 oz dried cranberries, chopped
½ stack fresh lemongrass
1 fresh lime
½ cup white wine
1 cup water
1 tbsp fresh cilantro
2 tsp fish base
1 tbsp olive oil
2 tbsp Jamaican curry
salt & pepper to taste
Preparation
Sauce:  Place water, white wine, fish base, and lemongrass in small pot or sauté pan over medium fire.  Let reduce to ⅓, strain, and set aside.  Place coconut milk in pan together with lemongrass reduction and tamari sauce; let reduce further to sauce-like consistency.
Rice:  Over medium fire, heat the olive oil.  Sauté the curry, garlic, mushroom, and red onion. Mix in the cooked rice.  When rice is hot, mix in raisins, cranberries, cherry tomatoes, and cilantro.  Set aside and keep warm.
Shrimp:  Sauté shrimp in pan until done, 2-3 minutes. Salt & pepper to taste.
Plating the dish
Place spinach and arugula mix on plate, place rice in middle, and top with shrimp.  Drizzle with sauce.  Garnish.